Thinking of hosing Fourth of July get-together with your friends? You have many things to take care of to make the party happen but we got the little details covered. We give you here Fourth of July party decor ideas. These are sure to make your gathering more festive and memorable.
---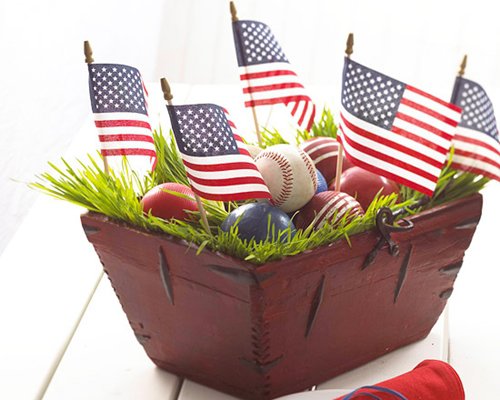 This one is very easy. You just need a small pot (make sure it's clean), some balls, decorative glass, and small flags. You arrange them with the flags waving proudly about and you're done!
This is one of those Fourth of July party decor ideas that has many uses. These ribbon stars can be used as garland or as decoration for straws at your party. These can even be used as brooches for your guests.
---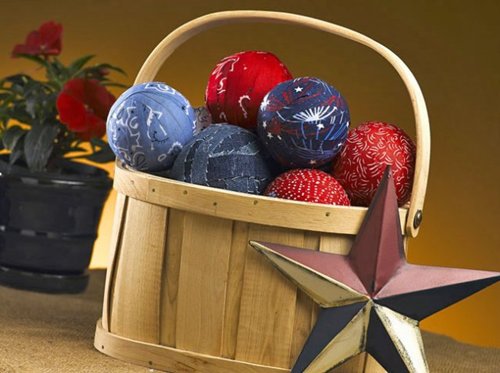 If you are looking for Fourth of July party decor ideas that will help you make use of your fabric stash, this is one of your best options. You will need styrofoam balls, fabrics (in red, white, and blue, preferably), scissors, and glue. Cut the fabrics into strips, glue them on to the balls, and that's it! Arrange the balls as centerpieces for a more festive Fourth of July party.
---
These will make great centerpiece additions, too. Check out the link for a printable pattern that you can download. You have three sizes to choose from. I suggest you print all three so that your party centerpieces will look more interesting. You can attach these pinwheels to sticks but you can also use clothespins, as seen HERE.
---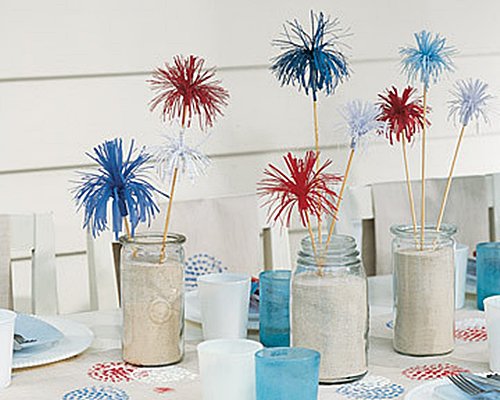 You can look up to the skies waiting for the fireworks but why do that when you can bring them to your table? This Fourth of July party decor idea calls for vellum and bamboo skewer. You cut the vellum to make the firework-like pom-poms, attach them to the skewer, and place them inside bottles. Easy!
---
These are incredibly gorgeous! If you are having a late afternoon to evening party, these candle holders with red, white, and blue sand will make perfect table luminaries. The best part: this is very easy to make. You don't need detailed instructions, really.
---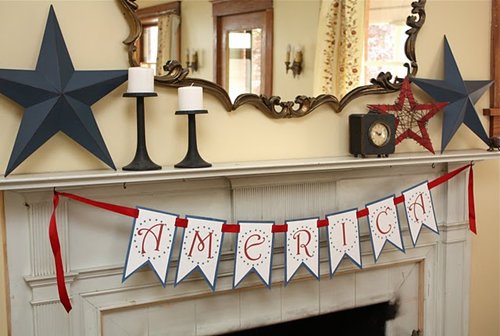 Thinking of making your mantle look more festive for your Fourth of July party? Head on over to At Second Street for a great banner idea. You don't have to freehand the letters because the link comes with printable downloads. Fun!
---
We round up this list of Fourth of July party decor ideas with fun things you can do with 1-dollar bandanas. Buy several in red, white, and blue and your party decor problems will be sorted out right away. They can be used as napkins, for wrapping favors, and for presenting that apple pie you cannot wait to bake.
Take note, some of these Fourth of July party decor ideas can easily be revised and used for other types of parties. You simply change the colors of the sand, bandana, fabric strips, and ribbons and you got yourself party decor ideas for other times of the year.
---
Popular
Related
Recent