There are so many things about butterflies I admire, even aside from their lush colors and graceful flutters. To me, they're the perfect symbol of life's transformative moments, and I love to have them in my home (not real ones, of course) as a reminder of why I love them so. If you feel the same way, keep reading! Here are 7 beautiful butterfly décor items.
---
1

Mosaic Flutters Candle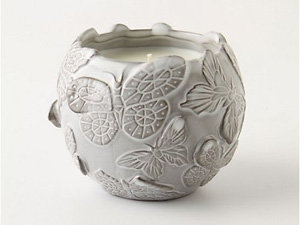 Price: $20.00 at anthropologie.com
A troop of beautifully sculpted butterflies flits and flutters across this globe candle, ready to shed some light and add some beauty to any room of your home. The vegetable-paraffin blend candle is available in two scents — mandarin juniper berry and Moroccan jasmine — and each has a burn time of 40 hours.
---
2

Fluttering Light Curtains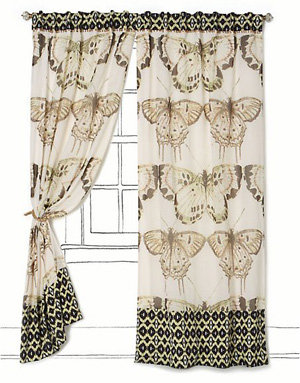 Price: $88.00 at anthropologie.com
These cotton curtains flutter and sway in the breeze, just like the butterflies celebrated in tidy rows upon them. Each panel measures just over four feet wide, and is available in three lengths (84, 96, and 108 inches). Add them to your bedroom or sunroom for a little summer-inspired lightness and charm.
---
3

Partial Wing Set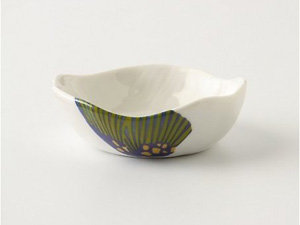 Price: $3.95 each piece at anthropologie.com
Though the pieces are sold separately, they all work together to make your bathroom countertop tidy and beautiful. The set includes this trinket dish, a soap dish, and a tumbler, each emblazoned with delicate green, blue, and gold butterflies against an ivory ceramic background.
---
4

Color Flight Wallpaper
Price: $108.00 at anthropologie.com
While this wallpaper s much too bright and busy to be used in an entire room, imagine how gorgeous it would be on one wall, or in a small divided space! It features an entire colony of brilliantly-hued butterflies in every color of the rainbow, each floating upwards on a wisp of a breeze. Each roll of wallpaper is 27 feet long by 27 inches wide.
---
5

Wingbeat Rug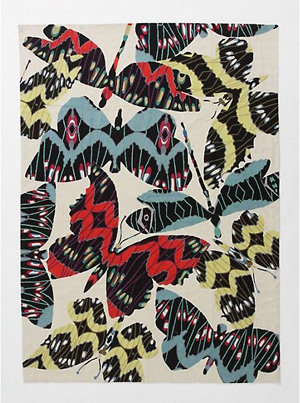 Price: $78.00 to $1,198.00 at anthropologie.com
While most butterflies take to flight, these are content to add their color and allure to your foyer or front room as a rug. The rug is available in four sizes, from runner to area rug, made of bright wool crewel work.
---
6

Khari Bluewing Pillow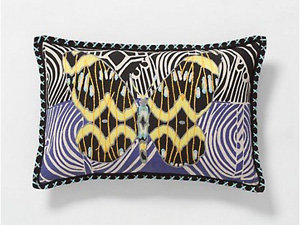 Price: $88.00 at anthropologie.com
At first, it's difficult to detect the butterfly in this intricate ikat pattern, but there it is, woven in beautifully. The pillow itself measures 24 inches wide, and most of it is the wingspan of the butterfly, surrounded by gorgeous zig-zags and concentric circles.
---
7

Butterfly Series Framed Art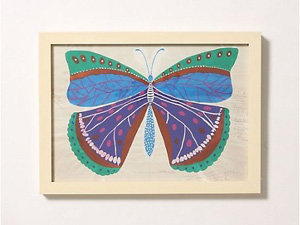 Price: $399.95 at anthropologie.com
This print, made by French artist Paule Marrot, was inspired by writer Marcel Proust, and fearures a beautifully detailed butterfly in rich blues, greens, and reds or orange, red, and purple. It's framed in pale wood, and made to hang alone or as a pair.
---
8

Butterfly Doorknob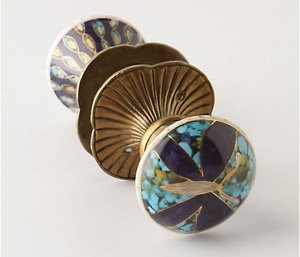 Price: $98.00 at anthropologie.com
How often do you notice a doorknob? If you came across this one, you'd be sure to notice, and admire it. It's made of porcelain and bronze, in a cloisonné style, all in purple and blue. What a gorgeous finishing touch to your room!
With so many beautiful butterfly décor items on my list, there's bound to be something for nearly every room in your home! I love the candle, and that wallpaper is marvelous! Which of these butterfly décor goodies do you like best, and where would you use it?
More
Popular
Recent