Summer is here, and so it's time for a tan. Fake tan is so much healthier than hitting the sunbeds or sunbathing, though, so I've been looking into the best ways to get looking bronzed and beautiful. There's nothing more gorgeous than stunning, sun kissed skin, so if you want to get the look, here are the tan commandments you should be obeying...
---
1

St. Tropez Self Tan Mousse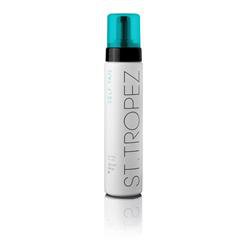 Price: $45 at sttropeztan.com
Ever wondered how celebs like Elle Macpherson and Victoria Beckham keep themselves looking tanned? Well, they might holiday more than us, but their bronzed bodies are down to this amazing stuff. And while it may cost a little more then some other varieties of self tan, it's certainly worth it! You'll get a natural looking, streak free tan, which will make you feel super confident. Yes!
---
2

Fake Bake Original Self Tan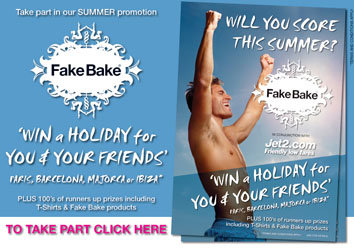 Price: $40 at fakebake.co.uk
This cult classic is perfect for giving a deep, Californian glow like the one Jennifer Aniston is never seen without. It glides over the skin easily, and comes with a colour guide to show where it goes, meaning its extra easy to apply. It's great for giving sun kissed, sultry tans!
---
3

Xen-Tan Absolute Luxe Dark Lotion
Price:$55 at xen-tan.co.uk
Want that deep, caramel tone that Gisele always rocks? Well, this is the perfect formula for that! You'll look as if you've been on holiday to a super exotic location, and it looks amazing on. I'm far too pale for it, unfortunately, but if you can carry off an authentic olive glow, definitely use this.
---
4

Estee Lauder Bronze Goddess Bronzing Gel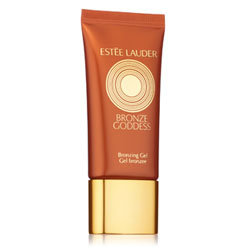 Price: $40 at estee-lauder.co.uk
This is a very luxurious gel, which gives a sheer, natural and glowing tan. It looks sun kissed and natural, and very authentic... It's not for those who want a heavy tan, but it does look amazing, and is so easy to maintain!
---
5

Piz Buin Self Tanning Lotion Colour Dial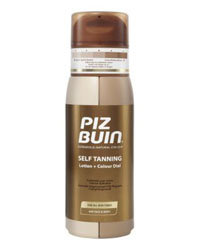 Price: $30 at boots.com
This is an interesting idea... simply select your shade, and spray away. Want darker spots, or a new, darker tan? Twist the top to the new shade, and re-spray. It looks very Kate Beckinsale to me... like a gentle L.A. tan! A very clever, natural looking tan.
---
6

Clarins Delectable Self Tanning Mousse
Price: $35 at uk.clarins.com
This smells divine... it smells like it would taste delicious. It's a thick, creamy white mousse, which smoothes over skin to give it a very delectable golden glow. It's even got added SPF 15 protection, which means it protects you from the sun while it makes you look sun kissed! One of my Summer essentials.
---
7

Decleor Aroma Sun Expert Self Tanning Milk
Price: $40 at lookfantastic.com
I love the scent of this milk... it's a mixture of jasmine, vanilla and rose essential oils, which will also give you smooth, silky skin. The tan itself is light yet noticeable, and very natural looking. It looks fantastic with my blonde hair, but it might be slightly too light for those who like a deep, tropical tan.
---
8

Sun Shimmer by Rimmel

Price: $10 at boots.com
This is the first self tan I ever used, and it's great. It washes off, which is great for if you make mistakes, and it gives a fantastic, deep, golden tan. The cream is a dark colour which is easy to see, and isn't at all sticky. It's quick to apply and doesn't rub off on your clothing, either. It's an ideal tan-in-a-hurry!

These tanning products are amazing... whether you want light, medium or dark, sunkissed or shimmery, there is one for every outfit, every occasion and every skin tone. They are truly fantastic. Have you found a brilliant tanning product? I'd love to try it!
More
Comments
Popular
Recent