Along with winter-themed perfumes and gorgeous scented holiday candles, I love celebrating the season with festive body washes and bubble baths. It's just another way to add a layer of fragrance, and there are so many scents to choose from! I've found so many great holiday body washes at my favorite online shop, Philosophy, I just had to share! Here are 7 festive, fun holiday-scented body washes…
---
1

Philosophy Have a Cherry Christmas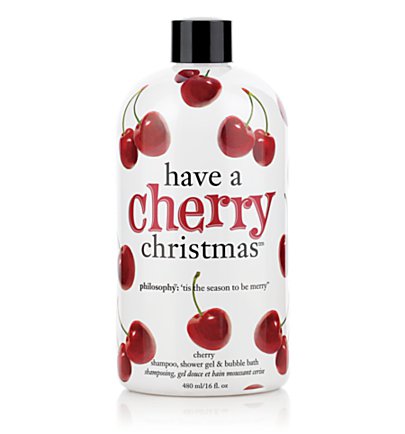 Price: $16.00 at philosophy.com
I never really thought cherry was much of a holiday scent, but now that I think of it, a lot of my favorite holiday sweets are topped with cherries… and this 3-in-1 very cherry scented shampoo, shower gel, and bubble bath reminds me of all of my favorite cherry treats.
2

Philosophy Candy Cane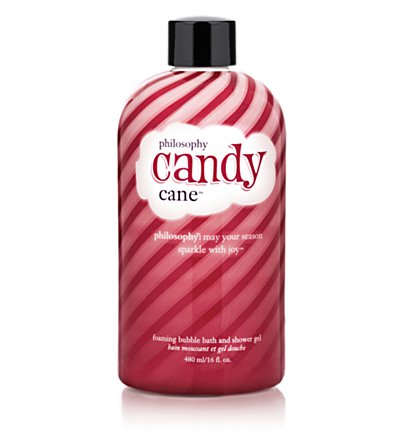 Price: $16.00 at philosophy.com
Is there any scent as holiday-ish as a peppermint candy cane? One tiny whiff will bring visions of red-and-white striped candies to mind. This bubble bath and shower gel is ultra-rich and exhilarating… I love the fresh scent and it makes me feel so festive!
---
3

Philosophy the Heart of the Season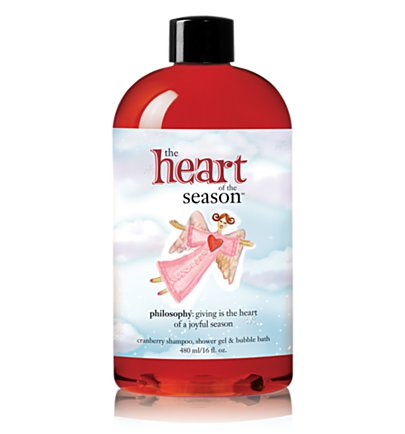 Price: $20.00 at philosophy.com
Philosophy believes that giving is the heart of the holiday season, and it's true. This 3-in-1 shampoo, shower gel, and bubble bath celebrates that notion — every purchase of this lush cranberry scented stuff will benefit the Joyful Heart Foundation.
---
4

Philosophy Evergreen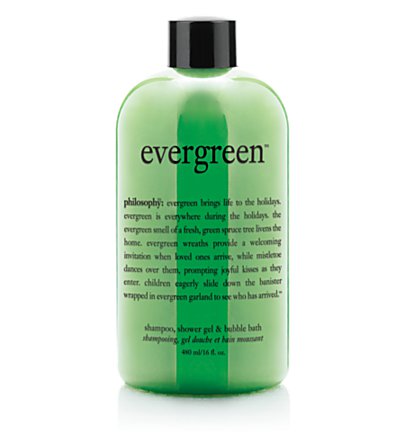 Price: $16.00 at philosophy.com
If you love the fresh scent of evergreen or balsam, then this is the holiday body wash for you! It smells just like a live Christmas tree, fresh, woodsy, and authentic… some reviewers thought the scent was an odd choice for a bubble bath or shower gel, but I really like it!
Heidi
Would like to try this scent but cannot find it an...
---
5

Philosophy the Gingerbread Girl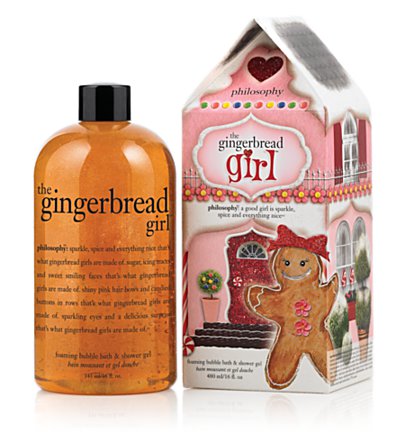 Price: $16.00 at philosophy.com
This is my new holiday body wash favorite from Philosophy. It smells divine, sweet and rich, gingery and spicy… but what I love most are the subtle gold sparkles! It leaves my skin so soft, and smelling so sweet, with an extra little glimmer. You have to try this!
---
6

Philosophy Peppermint Bark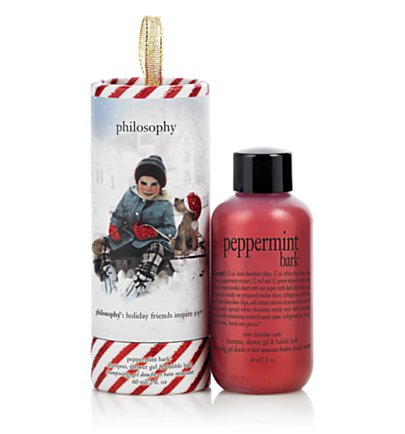 Price: $6.00 at philosophy.com
If you liked the candy cane body wash, then you'll love this adorable ornament, stuffed with a small bottle of peppermint bark-scented 3-in-1 shampoo, shower gel, and bubble bath. It smells so nice, half rich chocolate (a girl's best friend all year round) and half festive peppermint … what a combination!
---
7

Philosophy Cookie Exchange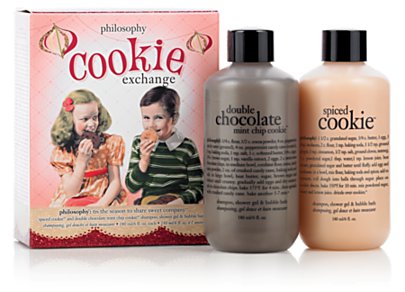 Price: $15.00 at philosophy.com
I can't think of a hostess gift I'd love to give, or get, more than this 2-piece cookie-scented body wash set. One bottle is scented with chocolate chip mint, the other with spiced cookie (a lot like the gingerbread girl). Both are lush 3-in-1 gels, and both will leave your skin soft and sweet!
Those are my picks for the best, most festive holiday body washes from Philosophy (or anywhere else!). They're all so sweet, and smell so divine, there's no way you'll be able to choose just one! My favorite is the Gingerbread Girl, but they're all wonderful… which one do you like best, and why? Or do you wish they'd bring back the Eggnog scent? Please let me know!
---
Comments
Popular
Related
Recent