Regardless of the season, we all suffer from dry skin or just want to have smoother, softer skin… and if the body lotion we use has a fresh, sweet scent or another added benefit, like skin firming, well, that's even better! I have a whole bin of fantastic body lotions I use all year long, and I'm always adding more! A couple of weeks ago, Philosophy added a few new body lotions to their marvelous line, so I had to try them! Here are 7 of my favorite body lotions, all from Philosophy.
---
1

Philosophy Rainbow Sherbet Body Lotion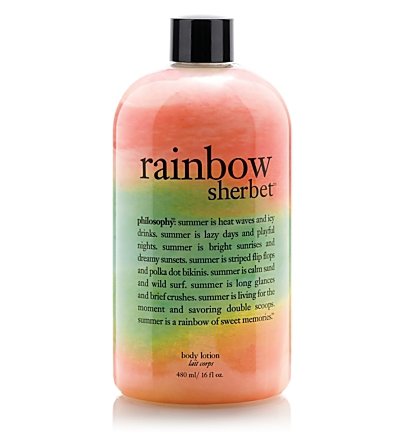 Price: $24.00 at philosophy.com
No matter how gloomy the winter's day, one whiff of this sweet-smelling lotion will have you feeling sunshine summer love. It's scented just like the real thing, fruity and sweet, and the bottle itself LOOKS like the real thing, too! The lotion is infused with olive and macadamia nut oils and rich shea butter to keep dry, itchy winter skin at bay, too.
---
2

Philosophy when Hope is Not Enough Body Lotion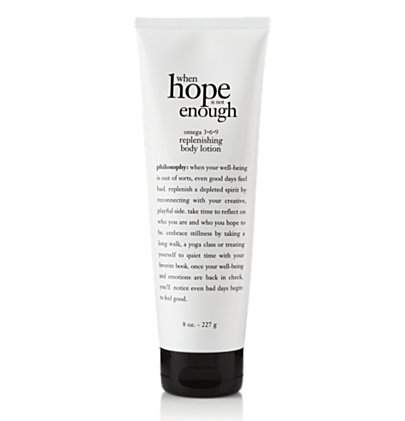 Price: $35.00 at philosophy.com
I've been hoping and wishing for better, smoother skin for years, and now I've realized I need something more. When Hope is Not Enough is a line of skin-care products that do more than just moisturize and protect your skin — they contain rich omega 3-6-9 acids to go one step further, conditioning your skin like no other lotion, leaving it smooth and supple.
---
3

Philosophy the Big Skinny Self-Tanning Firming Cream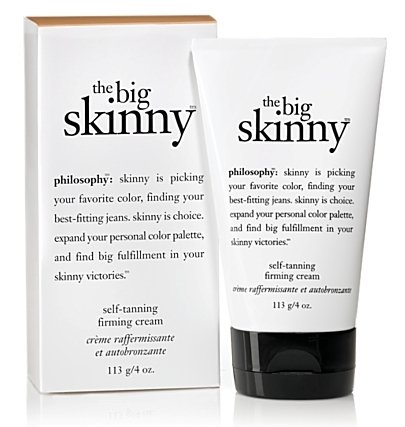 Price: $28.00 at philosophy.com
While I loved the old version of this marvelous lotion, I'm okay with the new one, too. It smells a little medicinal, which is odd for a Philosophy product, but there's no denying how smooth and gorgeous it makes my legs look! The self-tanner evens my skin tone and the firming ream, well, firms those slightly-squishy areas on my thighs.
---
4

Philosophy Field of Flowers Body Lotion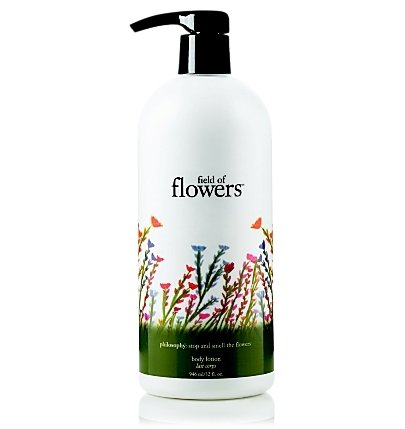 Price: $24.00 to $38.00 at philosophy.com
In the middle of February, when it seems like spring will never come, and we'll all be living in the frozen Michigan tundra forever, I like to use this lotion to remind myself not to be so dramatic — spring is just a few short weeks away. This lush, lightweight lotion smells like the sweetest of summer flowers, and can be worn all year 'round to celebrate spring, even when it feels forever away.
---
5

Philosophy Be Somebody Green Tea Body Lotion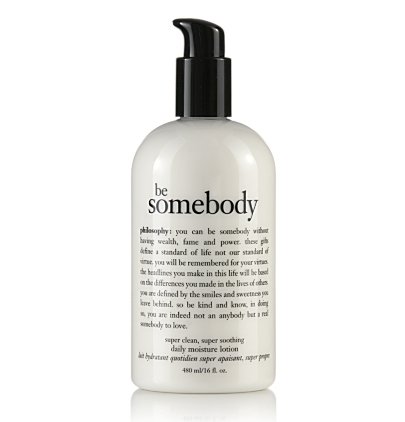 Price: $24.00 at philosophy.com
This is a marvelous every-day body lotion, with a light, pleasant scent and a formula that leaves your skin smooth and soft. The green tea soothes skin and protects it, and the scent is gentle and won't overwhelm your senses. I love it!
---
6

Philosophy Dreamy Tangerini Body Lotion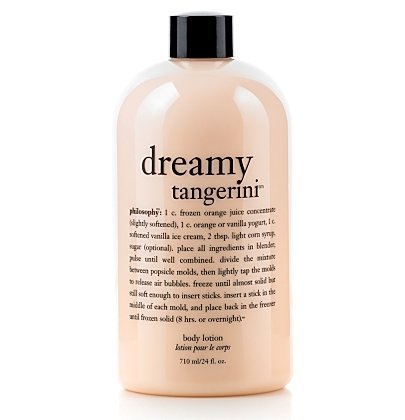 Price: $30.00 at philosophy.com
I love the sweet citrus scent of this lotion, and I love how it makes my skin feel, but mostly, I love this lotion mostly for how fun it is to say the name: dreamy tangerini! Doesn't that sound like the ultimate fruity drink, served by a hunky cabana boy while you're basking on a sunny beach somewhere sinfully tropical?
---
7

Philosophy Soothe Me Body Lotion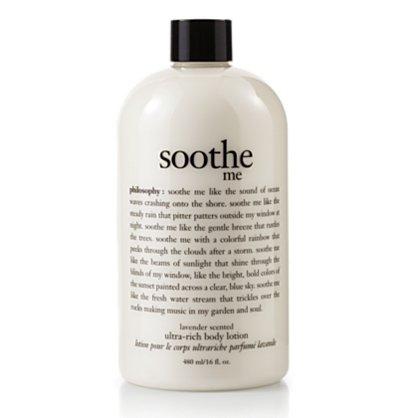 Price: $24.00 at philosophy.com
This lotion soothes your skin and your senses with the lush scent of fresh lavender, calming and sweet. It's as rich as all of the other body lotions in the Philosophy line, but it may be my favorite because of how beautiful it smells… I love it! And it doesn't interfere with my perfume.
Those are my favorite body lotions from Philosophy, and every few months they add something new… it's hard to keep up with which one I like best. All of them! Have you tried any of these? Which one of these fab body lotions do you like best? Or is there another body lotion from Philosophy you like more?
More
Comments
Popular
Recent