What is it about engagement rings that makes any woman stop and stare wistfully. No seriously, I just spent the last two hours gaping at gorgeous engagement rings at since1910.com. And now here I am to share my favorites with all of you. Since1910.com have been in the business for 100 years now and that would make them certified experts in of all things related to engagement rings. Now to bring you my favorites...
1

Tacori Engagement Ring with Pave Set Diamonds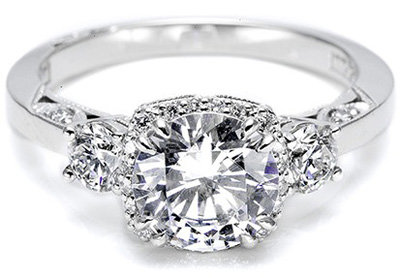 Price: $4,110 at since1910.com
Trinity rings have always been my favorite because I love the "past, present, future" symbolism that they stand for. This stunner with a gorgeous 1.50 ct round brilliant cut center diamond and round side stones won my heart in an instant! The best part is you can customize it to get a stone that is less than 1.20 ct or better, MORE than 2.00 ct. Phew!
2

Scott Kay Pave Engagement Ring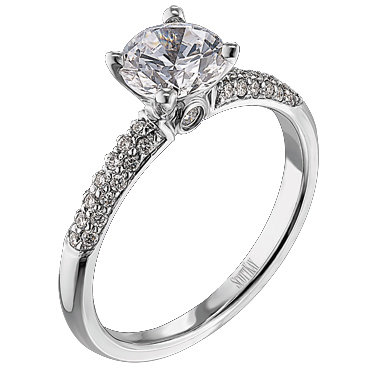 Price: $1,540 at since1910.com
Here a diamond, there a diamond, everywhere a diamond diamond! What's not to love about this elegant ring with diamonds half way around the band! This one is sure to bring a special sparkle to her eye.
3

Tacori Solitaire Engagement Ring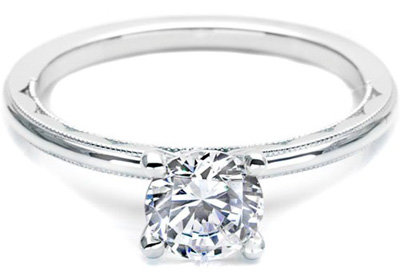 Price: $1,140 at since1910.com
Ah the timeless solitaire! How can one possibly go wrong with a ring that is so simple in design yet so gorgeous! The 1.00 ct round brilliant cut center diamond is sure to make any girl's dreams come true!
4

Scott Kay Emerald Cut Engagement Ring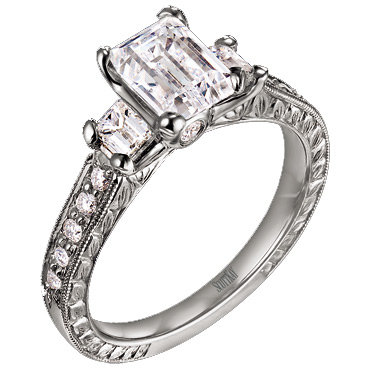 Price:$3400 at since1910.com
I would envy any woman who ended up with this ring on her finger! A stunning 1.50 ct center diamond nestled between two gorgeous emerald cut diamonds and add ten more small round brilliant diamonds to that. Sigh!
5

Tacori Diamond Engagement Ring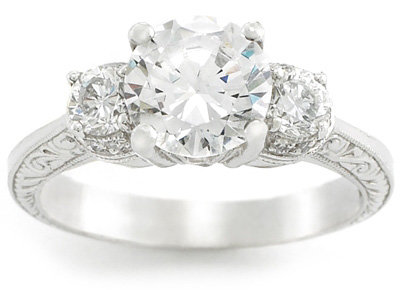 Price: $3740 at since1910.com
Isn't this ring just oh-so-dreamy! Handmade by Tacori featuring two .20 cut round brilliant diamonds on either side of a gorgeous center stone of your choice. Must.stop.drooling.
6

Scott Kay Vintage Collection Engagement Ring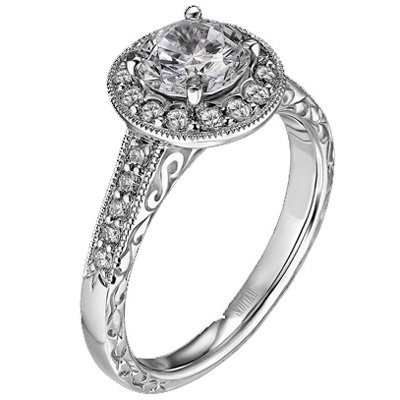 Price:$2450 at since1910.com
I am a fan of anything vintage inspired and the moment I saw this elegant engagement ring, I knew I would find a spot for it on my list. From the diamond halo surrounding the center stone to the engraving and milgrain detail, this ring is simply fabulous!
7

Tacori Engagement Ring with Pave Set Diamonds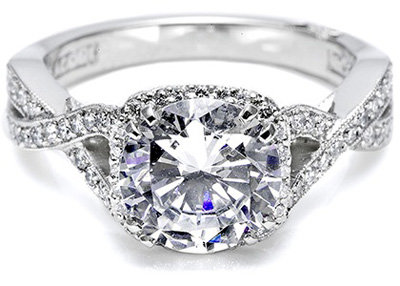 Price:$3850 at since1910.com
Okay, this is the kind of ring every little girl's wedding fantasies are made of. This is the kind of ring that will make strangers stop and stare (and probably shed a tear).
I am in love with the ribon twist band! It makes the ring so unique and GORGEOUS! Someday, someday.
Since1910.com offers a diamond eternity ring builder that no one else has. Basically, you only pay for the exact number of stones required to build your own eternity ring! They also offer a generous military discount on engagement rings. Phew! Picking an engagement ring is a hard job and it certainly doesn't help that all these rings by since1910.com are fabulous!