Apple figures are defined by their slender arms and legs, and their fuller midsections, broader shoulder and narrow hips. If your body type matches this description then you'll know that looking fab is all about creating a sense of balance – the apple is, typically, a little top heavy – and making your assets do as much work as possible. I've done some research and put together a list of 7 staple items to suit an apple figure; fill your wardrobe with a combination of these, and wait for the compliments to start rolling in.
---
1

Bootcut Jeans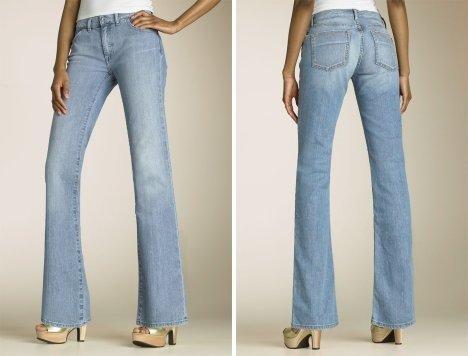 Photo Credit: in-conclusions.blogspot.com
If you're an apple, you almost certainly have fantastic legs and should absolutely show them off. You might be tempted to go for skin-tight skinnies, but stylists recommend that you don't. A fitted bootleg that's not overly snug is the best cut for you. The slight flare in the leg will help to balance against your breasts and shoulders, and the little bit of extra room in the leg and around the waist will avoid any unsightly bulging.
---
2

A Structured Blazer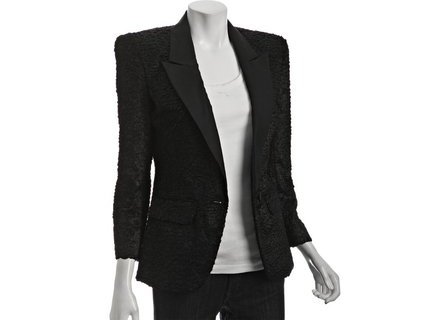 Photo Credit: ly.st
A blazer is a great item for your apple figure, but only if you can manage to find the right one. You should stay away from padded shoulders, and avoid anything that hits you above the hip. Ideally, you want something sharply cut so that when it's worn open, the lapels create an illusion of narrowness through the midsection. Stylists suggest you go for darker colours – think aquamarine denim or charcoal linen for a more casual look – and recommend pinstripe as a chic, flattering option.
---
3

An a- Line Shift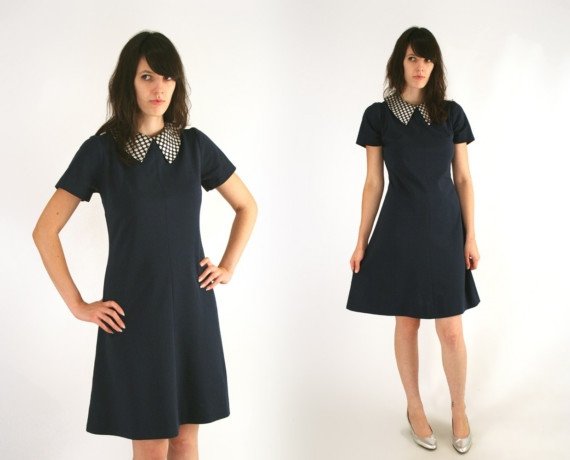 Photo Credit: etsy.com
Apple figures can wear this wardrobe classic like no other body type. A simple shift, cut to skim your mid section and with a wide hem is a chic, versatile way to dress to your strengths. Accentuate your fab legs with a shorter variation, and wear it with a few, fun accessories and a cardigan or structured blazer.
---
4

A Wrap Shirt

Photo Credit: stylehive.com

While the ordinary tailored white shirt – a wardrobe staple for every working woman – might not be very flattering on your apple figure, the wrap shirt will definitely suit you. Its v-cut neckline helps to elongate your torso, and the 'wrap' detail, especially if it's ruched around the tie area, creates a curve in your waistline. Be sure to go for a shirt that's the right length: one that's too short won't flatter your shape. Ideally, you're looking for something well-made in a beautiful cotton that hits you just below your hip bone.
---
5

Wide Leg Linen Trousers

Photo Credit: ematernityclothes.com

This is a great casual look, and one that can be dressed up with a pair of heels, a jacket and the right accessories. A wide leg trouser is cut on the same kind of 'A' line as the shift mentioned earlier and will help to create balanced silhouette.
---
6

The Right LBD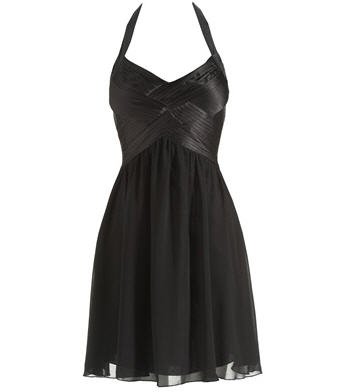 Photo Credit: prlog.org
Every girl needs one, and as an apple, you've got quite a lot of choice. Your little black dress should show off your beautiful arms and legs, while elongating your midsection and revealing just a hint of cleavage. In the right fabric – something a little with a little stiffness to it – an empire line, cut to the smallest part of your waist and flaring out, will look great. Go for a V neck to draw attention away from your shoulders and towards your great bust, and avoid anything tailored to taper over your stomach and hips.
---
7

Heavier Knitwear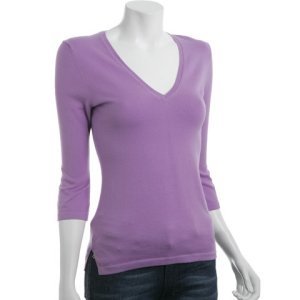 Photo Credit: made-in-china.com
While light knits can be clingy and a little unflattering if your midsection isn't very defined, a heavier gauge of jersey won't hug every single curve. Remember the idea isn't to add bulk, so don't go for the chunkiest woollen top on the shelf, but try to avoid anything that might be described as 'drapey' or 'floaty'. Look for sweaters in cuts and styles that flatter your torso – v-necks, empires and wraps – and don't be tempted to go for giant, oversized variations: these will only accentuate top heaviness.
To be honest, apples have more strengths than weaknesses: great arms, smashing legs and a fab bust. Dressing this body type correctly is all about finding a balanced silhouette, and with a little thought and some careful shopping (what a chore!), this isn't a difficult task. My list of 7 wardrobe staples to suit an apple figure is just a guideline; do you have any thoughts or suggestions to add to it?
Top Photo Credit: *Micky
More
Comments
Popular
Recent