What could be more exciting than the process of choosing your prom dress!
High school prom, formerly known as promenade dance, is by far one of the brightest and most anticipated experiences in every teenager's life. As soon as we join high school, proms, prom dates, prom Queens, and most importantly, prom dresses all become huge discussion points among young women.
And whether you are a high school student yourself, or a parent of a young woman soon to be asked to prom, this article is a must-read for everyone preparing for their prom and resolved to find the most perfect prom dress.
With our prom dress tips you will not only find the dress that will make you look like a goddess, you will also be armed with all the information necessary to make the search for your perfect prom dress a breeze!
---
1

Choosing a Trending Style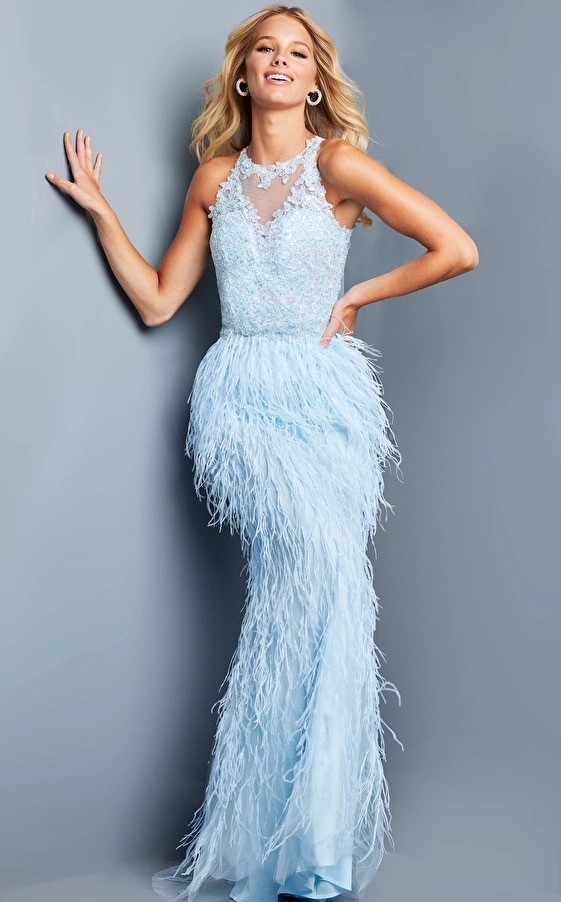 Prom dress tip number one is: first and foremost, the style of the dress will either make or break your look. It's essential that you prepare in advance, scroll through social media accounts and take note of the most trending styles this year. Whether it's a mermaid style prom dress or a princess dress, you need to make sure the style is trending, so that you look as stylish and on point as possible. Opting for classic silhouettes is another option. They always look wonderful in pictures even decades later. Whichever style you choose, you need to make sure that it's not outdated so that you feel your most beautiful self during this special night!
2

Making Sure The Style Suits Your Body Type

Once you know which styles are "it" right now, the choice should be made taking into consideration the specifics of your body type. Some women look amazing in A-line dresses while others look perfect in body cons. Depending on your figure and its shape, choose the style that will highlight your best features and draw attention away from other things. As an example, if you have beautiful upper arms and shoulders, it will be a fashion crime not to go to prom in a strapless gown. If you have narrower shoulders and would like to give them more width, off-shoulder or so-called Sabrina cut could be perfect for you. For girls with a tiny waist, no matter the style, the waist must be accentuated. For girls with wider waist, an empire waist style dress could be the ticket. Think of the clothes that suit you in your daily life. These style laws transfer to the prom dress as well.
---
3

Do Your Research Online

We are so lucky to have such a rich online shopping environment these days. A while back all choices were narrowed to whatever merchandise the local mall was carrying. Nowadays, any girl from any location can purchase the most exquisite and beautiful prom dress her high school has ever seen. Not only you can search and compare, you can select by styles, by colors, by price, which makes purchasing the perfect prom dress a breeze.
---
4

Engage a Trusted Ally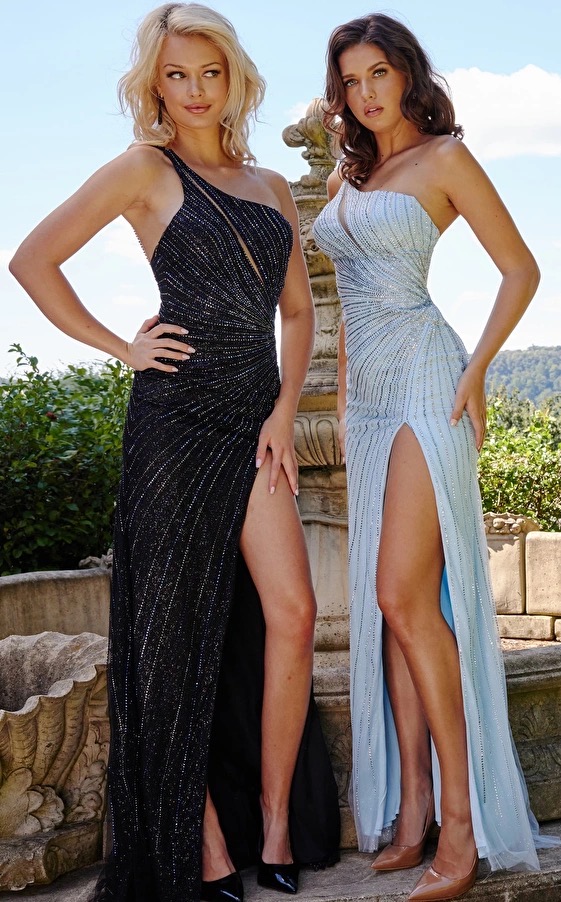 Second opinions are always important when it comes to style and clothes in general.We would suggest opting for the person whom you trust the most (believe us, there might be some hidden foes in those giggly groups of friends you naively trust) and whose personal taste your respect.From your mom, to your cool ant, from your hip neighbor to your oldest sister who is already in college, choose the right team to help you choose the right prom dress for your body.
---
5

Always Choose The Most Flattering Neckline

There will be so many pictures made that night, but nothing will get more press than the neckline of your dress. It will be visible in every single selfie and group photo, that's why it's crucial that you choose the one that flatters you the most. If you have a beautiful neck and shoulders, you should consider baring it all - adding a piece of jewelry will make it exquisite. If your upper body is not something you want to show, choosing a more conservative neckline would be a great idea. Many girls face the problem of having a beautiful cleavage, while detesting the look of their upper arms. Our suggestion is to still go with the open style that will highlight your best feature, and adding a silk scarf to cover the areas of your arms you are not happy about. It's all about highlighting our best features in the end.
---
6

Choosing The Right Color for Your Skin Tone

There are so many fantastic colors that prom dresses come in this year. From gorgeous emeralds to romantic blues, from trendy neons to classic pinks... It's such a wild variety, it's almost impossible to choose. However, we suggest choosing by the color that generally compliments your skin tone. We are sure you know by now which colors make your skin glow and your eyes pop. Cold blond types with blue eyes will look staggering in blue gowns, their eyes will be bluer than ever. Girls with dark hair and dark eyes look incredible in jewel tones - from emerald and deep purple to ruby red. Go through your closet and see which colors look amazing on you - it will be true for your prom dress as well. When choosing the color of the dress, let's not forget that darker shades make us look slimmer and lighter shades give us more volume. So for all thin girls out there, lighter, pastel colors would make a fantastic choice.
---
7

Choosing The Right Size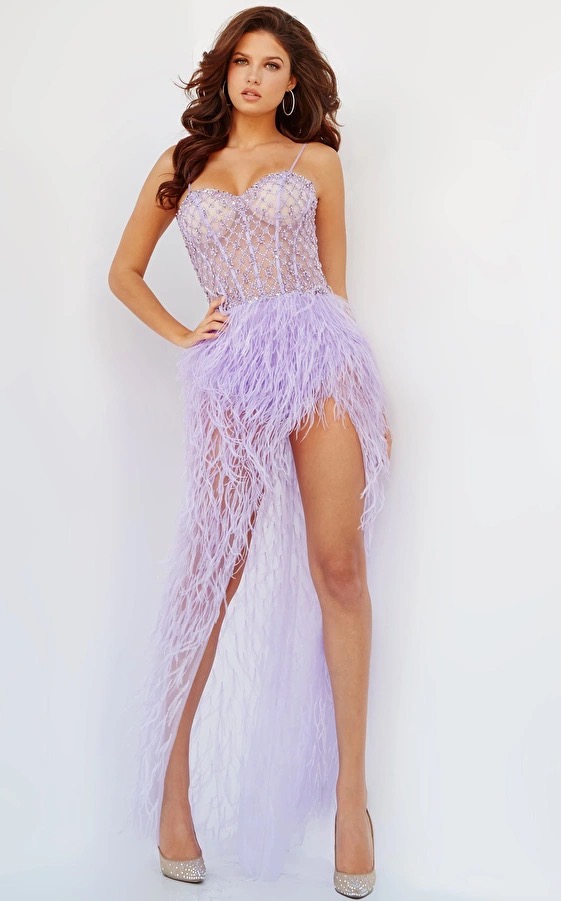 When it comes to sizing, one has to be extremely careful.If your budget allows you to order 2 sizes, try them at home and ship back the one that was not the perfect fit.However, the size that you ordinarily take, should work just fine for you.In every online store in "Size and Fit" section, the store tells whether the item runs true to size. They even provide size charts in inches, that can come in handy for those who do not want to take any chances.
---
8

Pay Attention to The Fabric

Fabric is as important in a dress as the cut and the color. We suggest opting for natural fabrics. However, some styles come in synthetics only, such as neon dresses and body cons. The most important thing to check whether the fabric is stretchy. Some prom dresses are made of 100% silk and this fabric is very unforgiving. If there is even a slight chance of weight gain before the actual prom, we would advise to only look at dresses with a certain percentage of elastin.
---
9

Reviews Are Key

Whether buying online or from a brick-and-mortar shop, reviews are important. See what the ratings are for this or that particular style. If there is users' feedback - it's even better! Make sure you invest some time in reading and researching what former customers say to make sure you get just the right dress for your big night.
---
10

Ordering in Advance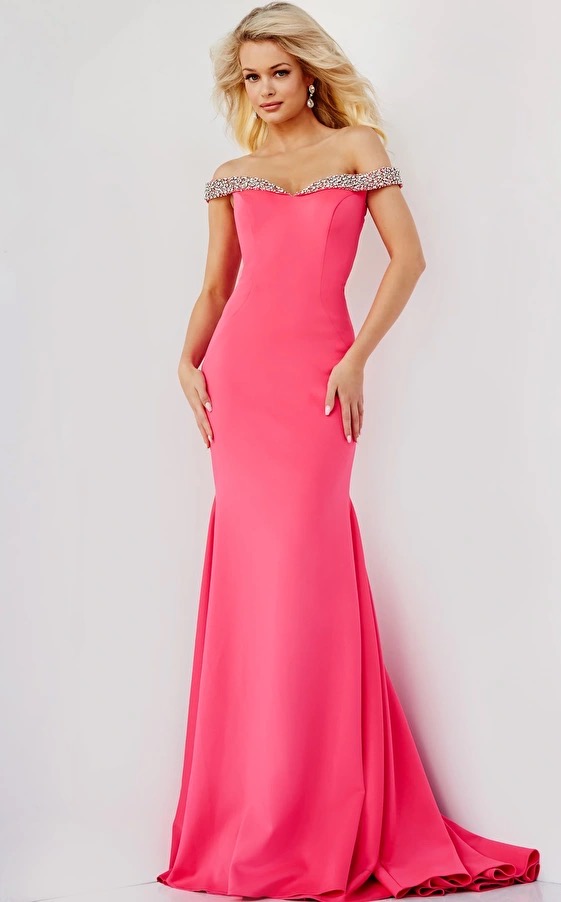 This might seem as an obvious tip, but a high percentage of girls put it off until the last moment and then have hard time with their purchasing choices due to little time left for shipping or shopping around. Ordering a couple of months in advance will give you a piece of mind and the luxury of choice - if you do not like the dress that was shipped to you, you still have the time to make it right and order another one, that fits you perfectly. Just like with everything else, preparation pays off.
---
11

Let's Accessorize

Once your dress comes and you are sure this is the number in which you are going to the most exciting night of your life, it's time to look for accompanying accessories. Shoes are extremely important. We always recommend heels, they make your posture more elegant and give your legs extra length. If you are tall, little heel will still do you wonders, you will feel like a Cinderella in her glass slippers. Another accessory to consider is a small purse or a clutch that will go with the dress and the shoes and will hold your lipstick and your phone. Your mom, your older sister or any relative who has designer bags could be your best bet. A beautiful baguette or an elegant clutch are just the ticket for the night. And the last but not least - jewelry. Even if it's just a simple line of pearls or a little pair of earrings, it will complement your look and give it a final touch.

Now that we covered every aspect of choosing a perfect prom dress, we are confident you will look stunning at your prom. Prom promises to be a night of excitement, dress-up and lots of laughs, please enjoy and create your special memories in style!
---
Popular
Related
Recent