A gorgeous bag can take your look over and beyond and while boys may call it "want", only we can justify why we "need" more gorgeous bags, right? ;)
So I'm back with yet another fantastic website that offers some of the best deals I have ever seen on bags. Here are 7 of the many gorgeous bags from Bags.Bonanza.com.
---
1

Khaki Brown Croc Slouchy Bucket Bag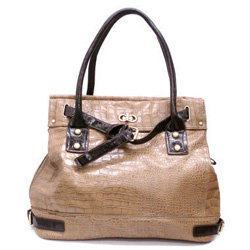 Price: $40.87 at bags.bonanza.com
Let's start off with a practical, everyday bag shall we? I love the classic croc embossed detailing and the neutral khaki color which ensures that this would go with absolutely anything! And while I usually love oversized bags, sometimes you just need a smaller, more functional bag like this one. All in all, it's a fabulous bag for everyday running around!
---
2

Audrey Hepburn Retro Vespa Sling Messenger Bag Purse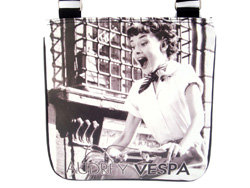 Price: $20.00 at bags.bonanza.com
I am a huge fan of messenger bags! I'm an even bigger fan of Audrey Hepburn! Put those two together and you get this adorable, must-buy Messenger Bag! Wouldn't it be just perfect for school? On a side note, I'm also a big fan of Vespas and hope to own one someday!
3

Balenciaga Cyclade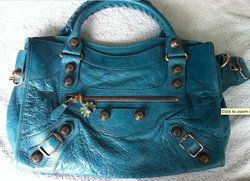 Price: $1590 at bags.bonanza.com
On days when you're just too lazy to make an effort with your clothes, you *need* this gorgeous bag by Balenciaga to add that much needed pizazz to your look. The color is absolutely delicious and perfect for summer and anyone would look tres adorable with this on their shoulder!
---
4

Kate Spade Purse Beach Tote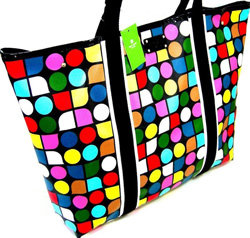 Price: $199.99 at bags.bonanza.com
Beach days are soon going to be here and since vintage is so in right now, how about this retro, Kate Spade bag with a multicolored (and eye catching) dot noel signature logo for your day at the beach? Pair with oversized sunglasses and get ready for some fun, fun, fun! (Damn you Rebecca Black!)
---
5

Leather Handle Canvas Tote Bag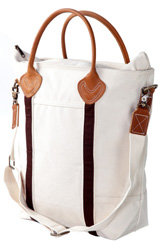 Price: $63.99 at bags.bonanza.com
I've said it before and I'll say it again, every woman needs a classic white handbag. And while this gorgeous tote bag is slightly on the larger side, I still
think it looks super chic while being super functional at the same time. Think it'd look better without the long strap? Well, just detach it and flaunt away!
---
6

Michael Kors Braided Grommet Shoulder Bag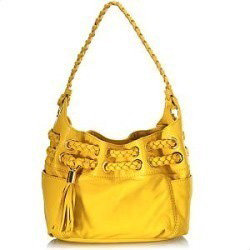 Price: $348 at bags.bonanza.com
This adorable shoulder bag perfectly embodies sunshine, bright colors and all things summer. I love the braided shoulder straps, the tassels and most of all, the vibrant yellow! I have a feeling that this is the kind of bag that you wouldn't want to let go of all summer long!
---
7

Austrian Rhinestone Clutch Evening Bag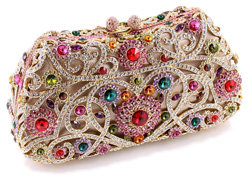 Price:$569.95 at bags.bonanza.com
Artsy, edgy and certainly not for everyone, this stunning albeit slightly over the top Rhinestone clutch bag is perfect for a night out or when you want to make a statement and ensure that all eyes are on you!
Bags Bonanza is easily one of the best handbag stores I have come across in a while. They have everything from regular everyday bags to handmade creations to exquisite designer pieces. Don't forget to also visit their Tumblr page and if you come across another gorgeous bag from Bags Bonanza, do share!
---
Comments
Popular
Related
Recent