8 Ways to Winter-Proof Your Pout ...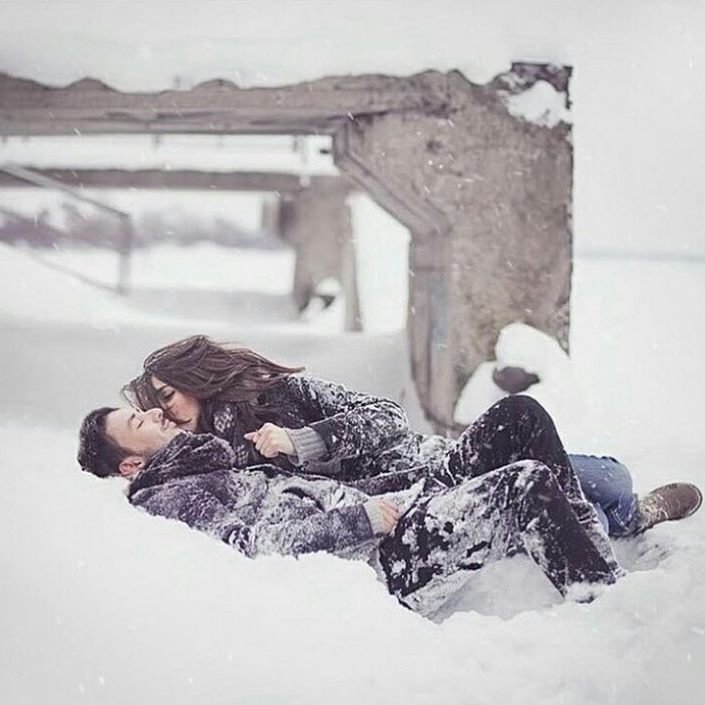 We all know that chapped lips are common for this time of year. As much as we hate it, we all have to face it as soon as the cold winter wind starts blowing! So rather than toughing it up and preparing yourself for 6 months of scaly, dry, cracked lips, why not do something about it? That's right, winter-proof your pout! You can have a smooth, sexy mouth in just 8 easy steps! Fearlessly wear that red lip-stain and see-through gloss to the New Year's Eve party because right here is the guide to knock-out lips in the dead of winter!
Do your lips feel tight around this time of year? Many of us resort to licking our lips in this dry winter air to moisten them. That's a big no-no! Enzymes in your saliva can irritate your lips over time and lead to cracking and flaking. Make sure that doesn't happen to you! Don't lick your lips! If you feel the urge coming on, apply chap-stick or do something to get your mind off of it instead. Carry a little tube of chap-stick in your coat pocket so that you will always be ready to apply!
One of the top ways to keep your lips moisturized is by using a thick lip balm to moisture daily. Not a chap-stick, but a lip balm. Chap-stick is designed to prevent and treat chapped lips, while lip balm helps moisturize and soften your lips. I like to apply lip balm after I brush my teeth and throughout the day when my lips feel dry. Play around with several different ones till you find the best brand for you. I can now say I'm pretty much addicted to lip balms!
3.

Avoid Citrusy/Acidy Foods
Any types of citric foods, such as oranges, lemons, limes, mandarins, etc. or any types of acidy foods like tomatoes will aggravate and sting your lips if they are already chapped. And they tend to dry out perfectly moist lips in this dry winter air. It's best to avoid it as much as possible. If you must eat it, do so in moderation and be sure and apply lip balm directly after you finish eating so you can prevent your lips from feeling tight or dry.
It's no secret that chapped lips are dry. Drinking more water will hydrate your whole body and help lock moisture into your skin. If you have already-chapped lips, drinking water will be a good way to remedy them. If your lips are holding up well under this harsh weather, good for you! But I would advise you to drink lots of water so that your pout stays plump and pretty! Besides, water will make all of your skin glow, not just your lips!
5.

Switch Toothpaste Brands
I can already hear the groans! I know, I know, many of us (like me!) tend to get attached to our toothpaste flavor and brand! But here's the scoop: synthetic flavors can cause an allergic reaction that causes peeling. A natural toothpaste is a great alternative if you have or expect to have chapped lips. If you know your skin and that it tends to dry out around your mouth in the winter time, then plan ahead and pick up a natural toothpaste like Tom's Of Maine and give it a try. Or if you're brave enough, good 'ol baking soda should do the trick!
Once winter arrives, humidity levels drop. Now that's good for those of us with frizzy hair! But it's not so good for anyone who has dry skin. Try using a humidistat device to monitor moisture in your home. if you get a reading below 45, you should switch on a humidifier at nighttime to make the air- and of course- your skin, dewier! Running a humidifier is also great for anyone who struggles with allergies or asthma problems.
Tortured by nasty, flaky lips?I hate it when that happens! Here's how to cure it! You need to exfoliate your lips. You can use a washcloth or a toothbrush to gently rub your lips until the flakes are gone. Or you can use a lip-scrub! They are available at nearly every drugstore. You can also make your own! Simply mix a tablespoon of either sugar or sea-salt with a half a teaspoon of honey and a half a teaspoon of vaseline. Rub it gently into your lips, then rinse it off with warm water. Apply a medicated lip balm after to help lock in moisture and to keep your lips from being aggravated.
You know your body better than anyone else. So listen to the things it tells you and pay attentions to the signs it gives you. If you your lips start to feel tight, don't ignore it! Take care of it right away so it doesn't grow into chronic chapped lips that you have to deal with all winter long! We all have experienced that pain at one time or another! Take care of yourself and you won't regret it!
I hope these tips help you to have soft moist lips all season long! I'm sure you will be able to find a great lip balm to help you lock in moisture and protect your pout from the winter elements! Do you have any great tips for winter-proofing your pout?
Top Photo Credit: Feeling Croppy
{{#comments_count}} Show Commnents ({{comments_count}}) {{/comments_count}}