Whether you plan to wear pink, red, or black this Valentine's Day, one thing's for sure: you'll want to consider wearing red shoes, too! They're sexy, fun, and eye-catching, the icing on the cupcake of your carefully chosen cupcake. But a lot of the red shoes I've seen lately look trampy and cheap, not pretty and sweet. I did a little more digging, and found a bunch of marvelous red shoes at one of my favorite online shops, ModCloth… and here they are! Here are 8 gorgeous red shoes to wear this Valentine's Day.
1

Sure Shine Heel in Crimson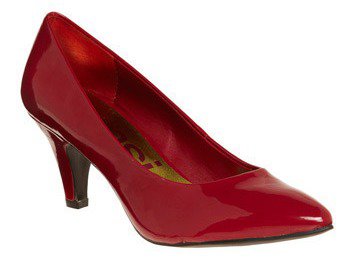 Price: $49.99 at modcloth.com
The name of this shoe tells most of the story, for you're sure to shine in them. They're made by Kensie Girl, with a 3-inch stiletto heel, made of glossy red faux patent leather, curvy and sleek. Pair with a fave LBD or with a pair of skinny jeans and a sequined tunic, and you're ready to shine on Valentine's Day!
2

Words Can't Express Heel in Red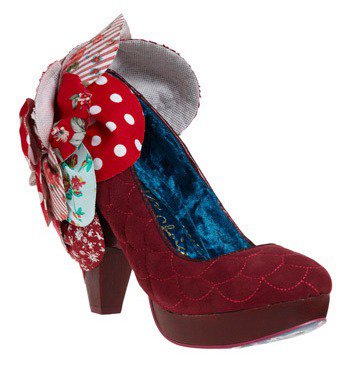 Price: $137.99 at modcloth.com
Super-fancy, richly detailed, wildly funky — I can't decide how to describe these shoes! Let's start by saying they're red, made by Irregular Choice. Add that they feature quilted suede uppers, a 4½-inch heel (including the 1-inch platform)… and a frilly flower whose every petal is a different fabulous fabric, perched upon the heel. Wear these with an understated outfit, and get ready to be noticed and admired, not-so-secretly.
3

Red Carpet Roll out Wedge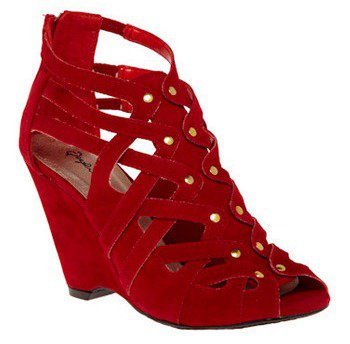 Price: $47.99 at modcloth.com
Wedges are hot this season, and to make this pair even more sultry, they're made of a fiery red vegan-friendly faux suede with cutout detailing on the uppers, a covered wedge, and dual rows of shiny gold-tone studs on the top of the foot. Pair with a long black skirt (or skinny jeans) and a sassy red top (or white, if you can't match the reds).
4

Patently Perfect Heel in Ruby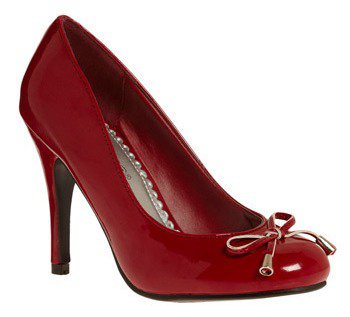 Price: $34.99 at modcloth.com
These are the perfect shoes for wearing to the office with your menswear-inspired grey pinstripe pants and a ruffled sheer blouse, then wearing out after work to meet your sweetheart for drinks. They're made of glossy faux patent leather with a 4-inch heel and a perky red and white bow on the toe.
5

Bold Endeavors Heel in Risk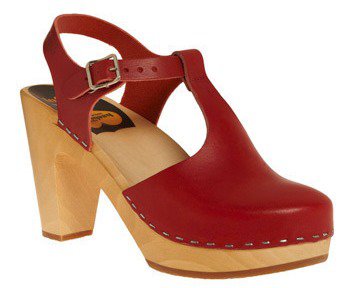 Price: $249.99 at modcloth.com
This T-strap shoe by Swedish Hasbeens is just a little more edgy, a little more Boho, than what you'd normally wear on Valentine's Day, but then again, it is the right color, with a soft leather upper and natural wood heel. Pair with absolutely anything in your closet, from those dark-wash skinny jeans to that A-line floral-print dress.
6

Melt the Pavement Heel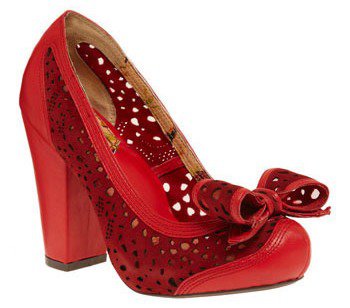 Price: $134.99 at modcloth.com
Oh my! If Dorothy had these ruby slippers, perhaps she wouldn't have been so keen to reach the Emerald City and take them off! They're made by Miss L. Fire of lush red suede with dainty cutouts on the uppers (with a matching bow on the toe), plain leather detailing, and a very thick 4-inch heel.
7

Last Laugh Bootie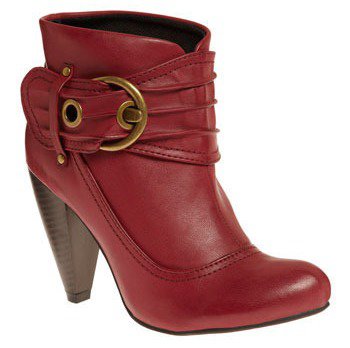 Price: $47.99 at modcloth.com
Perhaps standard heels are just not your thing, and you prefer boots. This Valentine's Day, my dear, I have just the boots for you. These stunning mid-calf boots are a vivid reddish magenta (more pink than in the photo) and feature a wide gathered strap with a buckle and a slightly stacked heel. Pair with your favorite skinny jeans or patterned leggings and a long, lush top.
8

Make a Pact Heel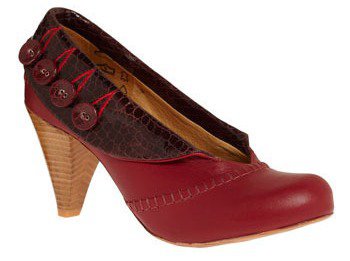 Price: $144.99 at modcloth.com
These striking heels are the opposite of ho-hum, and look as if they've been designed by Cupid himself, intent on making a love-match this Valentine's Day. They're a rich red, with a cuff detail fastened down by a row of pretty buttons. Wear with a cream-colored sheer blouse and your best, most comfortable faded jeans, or with a neutral-colored shirt dress and wide belt.
See? Why settle for cheap-looking trampy red shoes when there are so many other, much nicer shoes to wear on Valentine's Day? I love the ones with the cuff, and those booties are gorgeous, too! Which of these red shoes are your favorites, and how would you wear them on Valentine's Day?