I just came back from the mall with a new pair of Mary Jane floral flats in tow. They are my favorite shoes (at the moment); I want to share my shopping luck so I give you here pretty Mary Jane flats to choose from. Hope you love them!
---
1

Floral Flats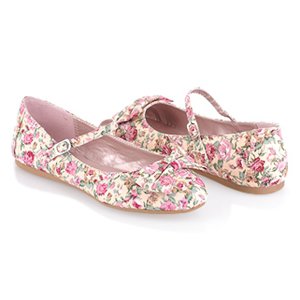 **Price: **$16.80 at forever 21
Aww look at them! While I think that these would still be pretty without the bows, they are beyond adorable. How can you resist that floral print? This pair will be perfect to wear with cutoff denims and a loose white top. You can pair them with a sundress, too, of course.
---
2

Canvas Mary Jane Flats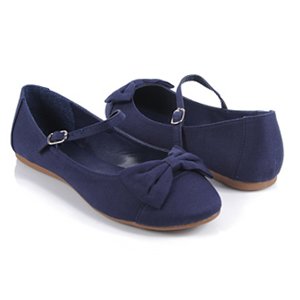 **Price: **$16.80 at forever 21
If you don't think you will have anything to wear with the floral pair above, you can go for these navy pretty Mary Jane flats. The bow actually adds to the cuteness factor here, unlike the pair above. So adorable!
---
3

Bike Path Flats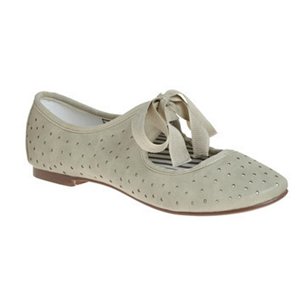 **Price: **$49.99 at modcloth
From the very cheap pretty Mary Jane flats above, we go to pairs that are a pricier but still easy on the pockets. This Bike Path pair has a middle strap that you lace up with a ribbon. Pair with cropped jeans and a printed top and give that cute boy at the coffee shop the best afternoon of his summer.
---
4

Shoestring Licorice Flats in Cherry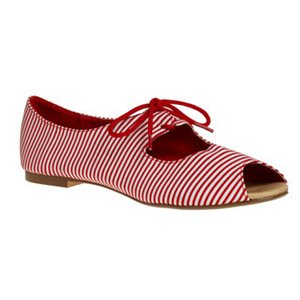 **Price: **$44.99 at modcloth
Take the pair above, chop off the tips for an open-toe style, add thin straps in red and you get this beautiful Mary Jane pair. These are perfect shoes for a nautical look. A simple white top tucked in high waist navy pencil skirt will be more than adequate to wear with these shoes.
---
5

Perusing the Piazza Flats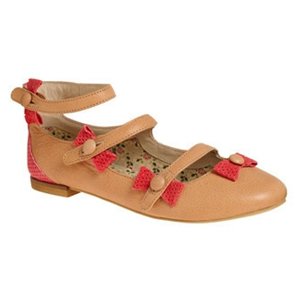 **Price: **$84.99 at modcloth
I know, Mary Jane shoes typically sport only one strap but I cannot resist this pair. Made of leather, fabric lining, and perforated bows, these pretty Mary Jane flats are begging to be invited to your shoe cabinet. This, here, is the height of adorableness in shoes, ladies.
---
6

Kimchi Blue Canvas Mary Jane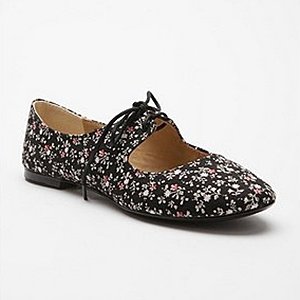 **Price: **$39.00 at urban outfitters
Another pair with straps that you lace up, these flats are floral but not the loud too-pink kind. If you want cute shoes to pair with your summer dresses, this Kimchi pair is a great option. This also comes in white/floral if you don't fancy the black background.
---
7

Cooperative Linen Sweetheart Skimmer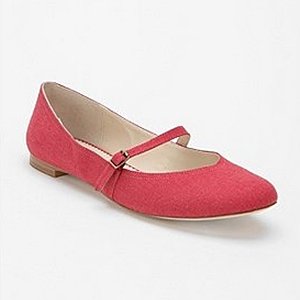 **Price: **$34.00 at urban outfitters
These are the shoes that Dorothy wears when she wants to give her sparkly red shoes a bit of rest. Made of washed canvas and rubber sole, these are pretty flat shoes that will complete any outfit you want to rock.
---
8

Marsielle Black Double Strap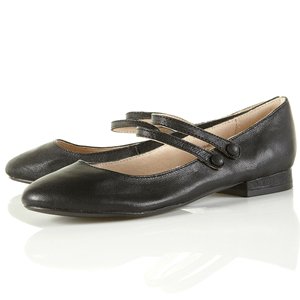 **Price: **$56.00 at topshop
Just because these look like a pair that school girls wear, it doesn't mean that they can't be pretty. In fact, I think these are the perfect Mary Jane flats to wear with your vintage mini dresses with peter pan collar or crocheted bib details.
I hope some of you ladies don't think that you are too old to wear pretty Mary Jane flats. You need at least a pair for casual days or when you need to give your feet a rest from battling it out in heels.
So tell me, which of these do you find pretty?
More
Popular
Recent