Playful Printed Mugs are great to have at work or at home, because they really show off your personality. Whether you are a tea person or a coffee person, a good mug is a handy thing to have. I like to go for a signature mug – one that others will be able to recognise as my own, which is of course why so many people prefer playful printed mugs to plain ones. This especially comes in handy in a workplace kitchen setting. Below are just a few playful printed mugs that will help you stand out from the crowd.
---
1

Modcloth All Work and No Playlist Mug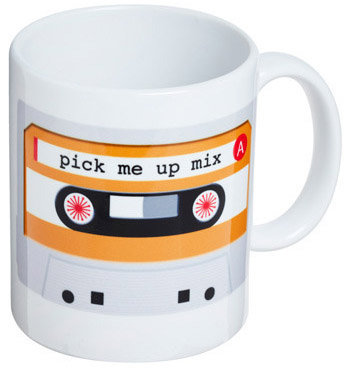 Price: $14.99 at modcloth.com
Playful printed mugs are a great form of self-expression. If you consider yourself a bit of a music buff, then you'll love this retro cassette printed mug. This ceramic mug features the cassette print on one side only. Keep this in your office kitchen for times when you need a little pick me up.
2

Crate and Barrel Jittery Coffee Mug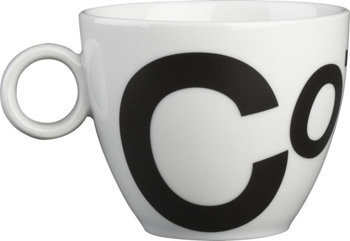 Price: $2.95 at crateandbarrel.com
This porcelain mug features a word decal, which spells out 'coffee.' That way, you can let everyone know exactly what you're drinking when you use this mug. It features a flare shaped design and is finished with a ring handle. The black and white design is both playful and stylish.
---
3

Modcloth Clever Critter Mug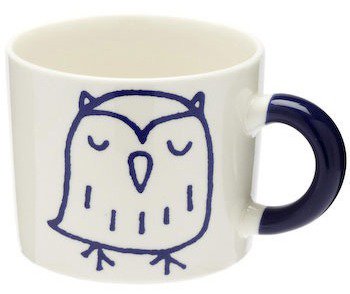 Price: $17.99 at modcloth.com
ModCloth has a lot of playful printed mugs, and this is just one of their cute choices. This ceramic mug is simply adorable. I love the sleeping owl design. The handles are also dipped in colour, which I think is a nice design detail. I can just imagine sipping on a hot cup of tea from this mug and admiring the outdoors!
---
4

Rockstar Grandma or Grandpa Mugs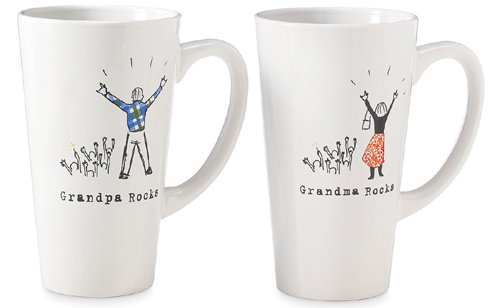 Price: $12.00 at uncommongoods.com
If you think that your grandparents are rock stars then show them with these playful mugs. Each mug features a grandma or grandpa figure rocking out in front of an appreciative crowd. The original illustrations on these ceramic mugs are by author and designer Patricia Carlin. Next time you're buying a present for your grandparents, keep these playful printed mugs in mind.
---
5

Crate and Barrel Stripes Mug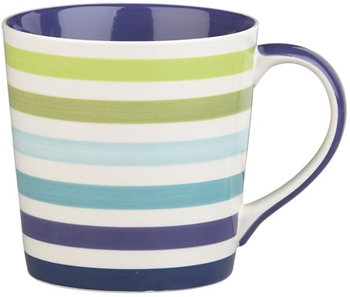 Price: $5.95 at crateandbarrel.com
As you can see, Crate and Barrel has tons of playful printed mugs too. This printed mug is almost like an optical illusion! It's a classic diner mug design and is printed with rows of colourful stripes. It's made from dip-glazed porcelain and is dishwasher and microwave safe. And at that price point, I'd be tempted to collect quite a few!
Carl
where can this be found?...
---
6

Modcloth Something is Brewing in the Woods Mug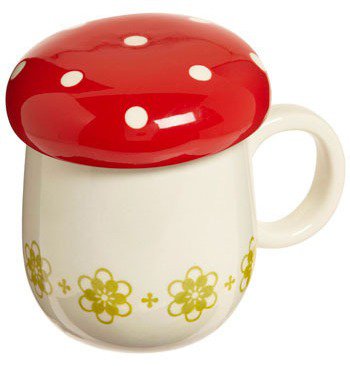 Price: $27.99 at modcloth.com
This ceramic mug has such an ingenious and appealing design. The mug comes with a lid (which gives the mushroom-like appearance) and a tea strainer. The lid will be a lifesaver for when you want to keep your beverage nice and warm. If you don't want to use this for tea, simply remove the strainer and pour in anything else that tickles your fancy.
---
7

Modcloth Café Olé Mug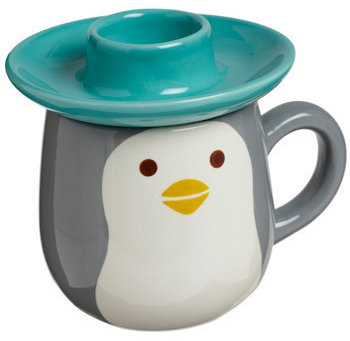 Price: $28.99 at modcloth.com
This is one of the most adorable playful printed mugs I've ever seen! This ceramic printed mug comes with its very own 'sombrero.' The body of the mug is designed to be a penguin, while the lid is the sombrero. You can easily store an assortment of items such as sugar cubes in the handy lid. This mug is perfect for those who like collecting cute and kitschy kitchen accessories.
Using playful printed mugs gives you the opportunity to really express your individuality, which is why they're so popular. You can easily find playful printed mugs that showcase your personality and preferences. Everyone likes to drink their beverages from a different kind of mug. It all comes down to personal taste. Which of the above playful printed mugs are your favourites?
---
Comments
Popular
Related
Recent