Every girl needs at least one miraculous LBD (Little Black Dress), a dress that fits perfectly, flatters her figure, and makes her look and feel marvelous. But what about shoes to go with it? Doesn't every girl also need the perfect LBH (Little Black Heel)? Absolutely! Here are 8 gorgeous Little Black Heels.
---
1

Hometown Reunion Heel
Price: $37.99 at modcloth.com
Any of the candidates for your new LBD would look smashing with these peep-toe heels. They're gorgeous, made of sleek black faux leather with an inky black velvet ruffle at the heel. The heel measures a leg-lengthening 4¼ inches, and they're imported. Now, which LBD to wear with them?
---
2

Buttons and Bows Heel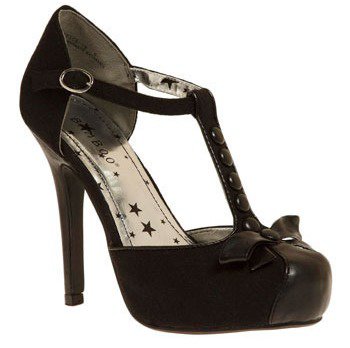 Price: $37.99 at modcloth.com
These somewhat vintage-inspired heels are all stunning details, from the pert bow at the toe to the covered buttons all along the t-strap to the delicate silver buckle at the heel. The heel is 4 inches long, with an additional half-inch platform…
---
3

On a Lark Heel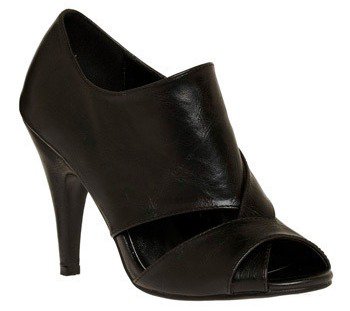 Price: $39.99 at modcloth.com
Are these a bootie, or a heel, or both? Does it matter? They're gorgeous! Pair these peep-toe booties (heels?) with a sequined sheath dress and an armful of bangles and enjoy a holiday party, girl's night out, or date night! Or wear with skinny jeans and a tunic for a day of shopping. So versatile!
---
4

Built to Scale Heel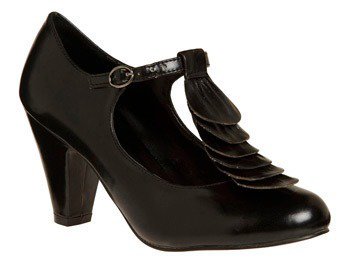 Price: $59.99 at modcloth.com
A girl cannot live on stilettos alone. We need work shoes too, right? These fit the bill nicely, with a row of ruffles down the t-strap and a sensible but sexy low cone heel. Pair with high-waisted pinstripe pants and a ruffled sheer blouse for the office, or wear with a fru-fru cocktail dress for a night out.
---
5

Next Step Heel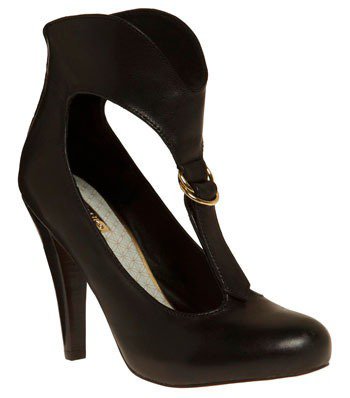 Price: $142.99 at modcloth.com
These heels are only for the bold; the meek need not apply. The highly arched sides will draw attention, for sure, but isn't that what you want anyway? Pair with a short dress or tunic and glam gold accessories, but skip the patterned tights and let the shoes capture all of the glory (and stares, and compliments).
---
6

Quick Stud-y Heel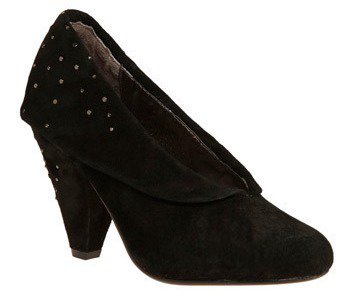 Price: $79.99 at modcloth.com
Any of your more mod LBDs will compliment these shoes, and not the other way 'round, mind you. A sleek black bodycon dress with loads of kohl liner for smokey eyes… or a patterned tunic with skinny jeans and a statement necklace… the possibilities are endless, like the shiny studs on the heels of these funky suede shoes.
---
7

Presto Heel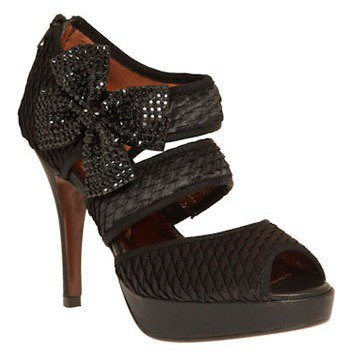 Price: $133.99 at modcloth.com
As a retro pin-up magician's assistant, your work is never done. Luckily, these glittering heels will help you take center stage in style, with a sparkling bow at the ankle, tall stiletto heels, and winding straps. The audience, fellow lovely assistants, and even the bunny in the hat will be wowed. Pair with any of your Little Black Dresses…
---
8

Your Presents is Requested Heel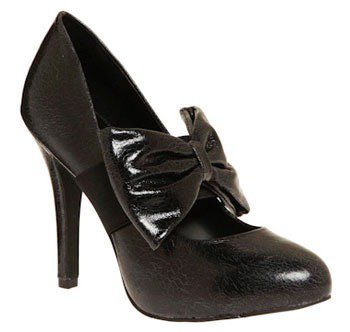 Price: $49.99 at modcloth.com
I've worn these stunning heels with almost everything in my closet, from my sleekest, most mature LBD to my favorite skinny jeans and a black tunic to my pinstripe dress pants and a fitted cardi. I love the Mary Jane inspired bow, and the rich pebbled texture of the faux leather. I can't think of any LBD these wouldn't go with, and beautifully. And if you're feeling inspired, add a black netted fascinator, too!
Those are just a few of the gorgeous LBHs — Little Black Heels — on ModCloth that would look smashing with any LBD in your closet. They're all beautiful, with lots of lush details and so much style! Which of these black heels do you like best, and what would you wear them with (besides your best LBD)?
More
---
Comments
Popular
Recent