I love putting together a gorgeous holiday table, especially for Thanksgiving, because autumn colors are so dazzling and gorgeous. I'd love to be able to make my own centerpieces, but no one allows me around a glue gun and I'm not really adept at arts and crafts. So I'm left looking for awesome centerpieces, and here are some of the most gorgeous ones I've found so far!
---
1

Leaves of Autumn Cascade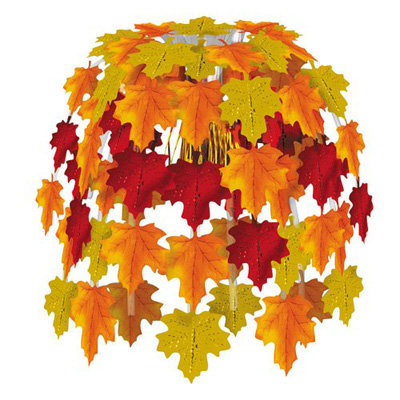 True to the name, I love the way the leaves cascade on this centerpiece. It's like an autumnal waterfall, and the colors are gorgeous. It's not incredibly expensive and would make a great fall piece in general, so you could use it for more than just the Thanksgiving holidays.
2

Floral Scented Candles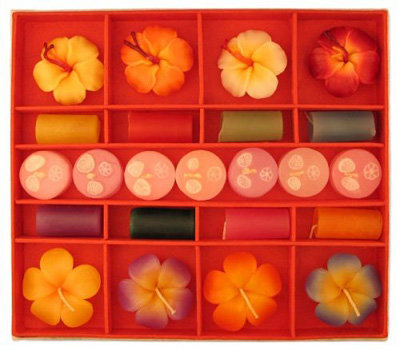 I like these because of the colors. Although this set is kind of pricey, it does come with 23 pieces, and I think there are so many possibilities here. You could make a really beautiful arrangement with these candles -- though granted, I think anyone out there who is good with crafts could do a beautiful job for half the price!
---
3

Buri Turkey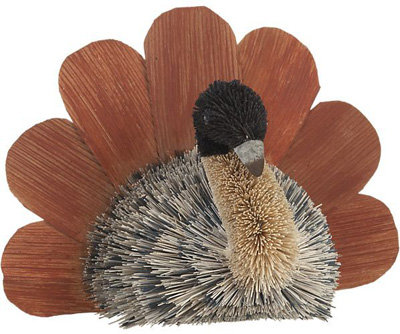 I personally am not a huge fan of turkey centerpieces, because I do tend to prefer something that can work for the entire season. Plus, in spite of their brilliant colors, most turkeys are ugly. I like this one, though. It's different and it's interesting. Spice it up with some gorgeous fall leaves, grasses, and flowers, whether real or artificial, and I think it could be smashing.
---
4

Wheat Sheaf, Pumpkin, and Maple Leaves Centerpiece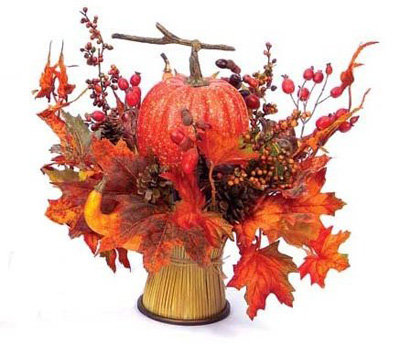 I love the colors of this centerpiece. It has acorns, berries, pine cones, and lots of other fall foliage. The way it blazes is absolutely gorgeous and, again, it can sit on your table from September to November, if you like. This is also something that someone good with crafts could easily replicate.
Lilo
the best! as for me ;)...
---
5

Fall Pillar Candle Holder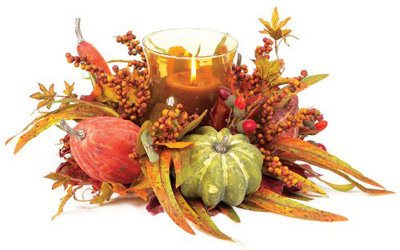 There's nothing like candlelight during a meal, especially if that's all the lighting you use. Candles also work beautifully with fall colors. The shades here are so harmonious, I love it! Especially the amber colored glass of the holder itself. The gourds and berries are perfect complements.
---
6

Four Seasons Centerpiece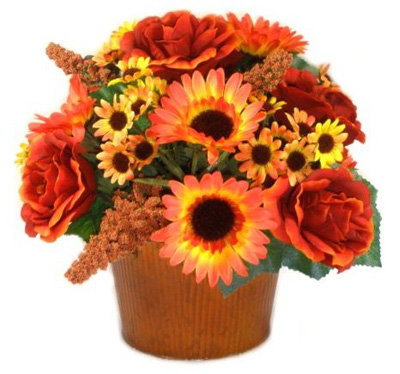 These flowers are absolutely stunning. You don't have to go with the same old, same old to find a fabulous Thanksgiving centerpiece. Rather than pumpkins, grasses, and leaves, this one is all about the flowers -- and really, it can be used during all four seasons, not just during the fall.
---
7

Pumpkin and Fruit Bowl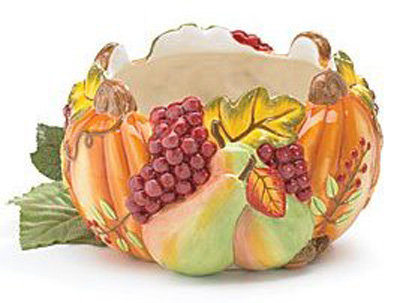 This has the potential to make a really versatile centerpiece. The bowl, which is hand sculpted, could be filled with so many things -- fruit, artificial grapes, acorns, leaves, you name it. I love how some of the colors on here are so iridescent, and the mix of purple grapes with the pumpkins.
---
8

Fall Harvest Camel's Foot and Grass Candle Rings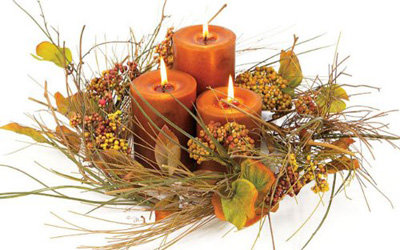 This might seem expensive, except you get a pack of three of these lovely rings, and I think that's a pretty good deal. What I love about this is the design, the way the grasses wisp out around the circle. It looks like a little fall fairy's garland.
So those are my picks. Do we have any craft wizards out there? I'll pay you in internet hearts if you can tell me how I can replicate any of these! Or have you spied another amazing Thanksgiving centerpiece? Please share!
Top Image Source: camillestyles.wordpress.com
---
Comments
Popular
Related
Recent