Girls who love beauty invest a lot in what can make them beautiful. We pay for a better skincare effect and try to upgrade our skincare, but sometimes no matter what we buy, it does not deliver significant results.
Rumor has it that the famous American beauty icon Kim Kardashian spends nearly hundreds of thousands of dollars on taking care of her whole body, and just her hair care accounts for tens of thousands of dollars.
In order to prevent dull hair, she only uses shampoo to wash hair twice a week and prefers moisturizing hair masks. She said she uses hair dry cleaning spray to keep her hair fresh between the washes. In addition to that, she also pays much attention to her face. She showed her skincare routines on social media, she shared the four skincare products of La Mer she likes the most and uses every morning. The products' cost reaches $1230, including additional extremely expensive medical grade skincare (such as Dr. Sturm Vampire, $1000 per ounce). However, not everyone can afford such a high cost. In fact, except for the expensive skincare, we can bring the skin and the hair great improvement through a change of our lifestyle habit - that is - using silk pillowcase.
Thank you for sharing your thoughts!
Your voice matters to us. Happy reading!
1

Silk pillowcases are beneficial for sleep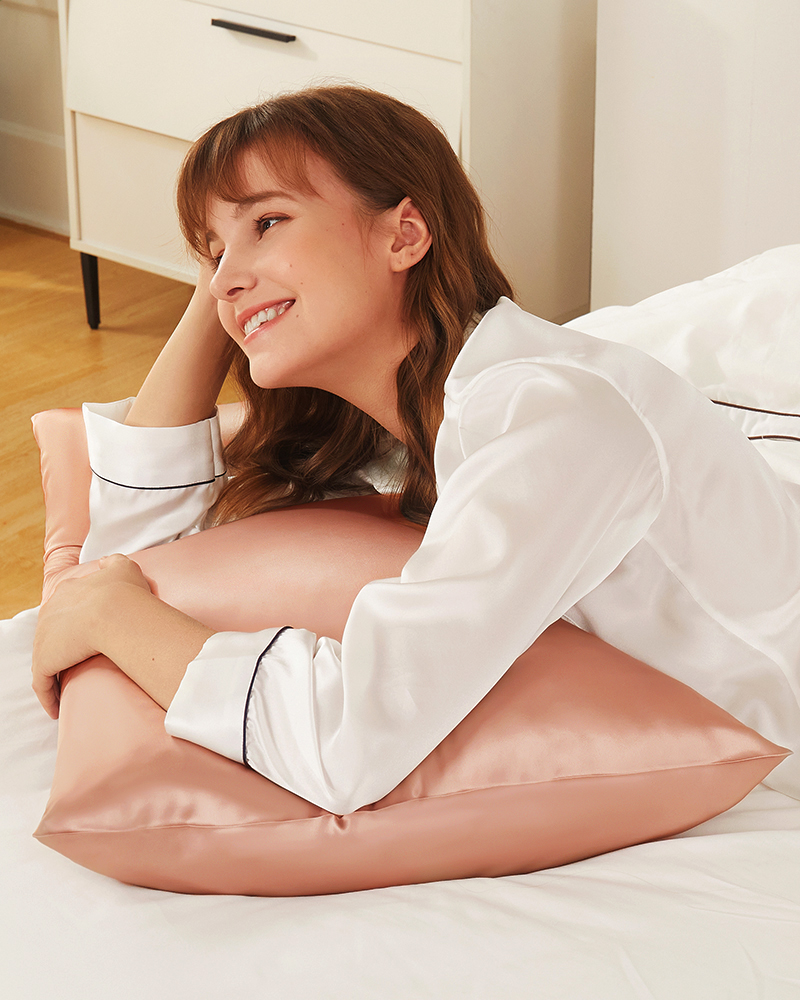 High-quality sleep plays an important role in improving skin conditions and silk pillowcases can help people get better sleep. The smooth texture of silk pillowcases and the regulation of temperature brings people high comfort, making it easier to fall asleep and stay asleep. Meanwhile, silk sleep masks with anti-allergy effects can cover your eyes without any additional weight load, helping you quickly sink into a sweet dream after a long day of work.
In addition, silk is a super premium fabric. The main components of silk are mainly proteins and amino acids, the latter accounts for 50%. Silk is a poor conductor, which easily adsorbs static electricity, but it can also keep you warm in winter. The natural fiber biodegrades in 1 to 5 years. The friction of silk against human body is the lowest, only 7.4%.
If you are tossing and turning and it's hard for you to fall asleep at night, why not try a silk pillowcase and silk sleep mask from Lingsilk? All products on Lingsilk had gotten the certification of OEKO-TEX STANDARD 100. OEKO-TEX® STANDARD 100 is one of the most famous textile labels in the world that tests harmful substances. It represents the confidence of customers and the high quality of products. The pillowcases that combine durability, that are breathable and keep your skin's natural moisture.
2

Silk pillowcase can solve plenty of problems with your facial skin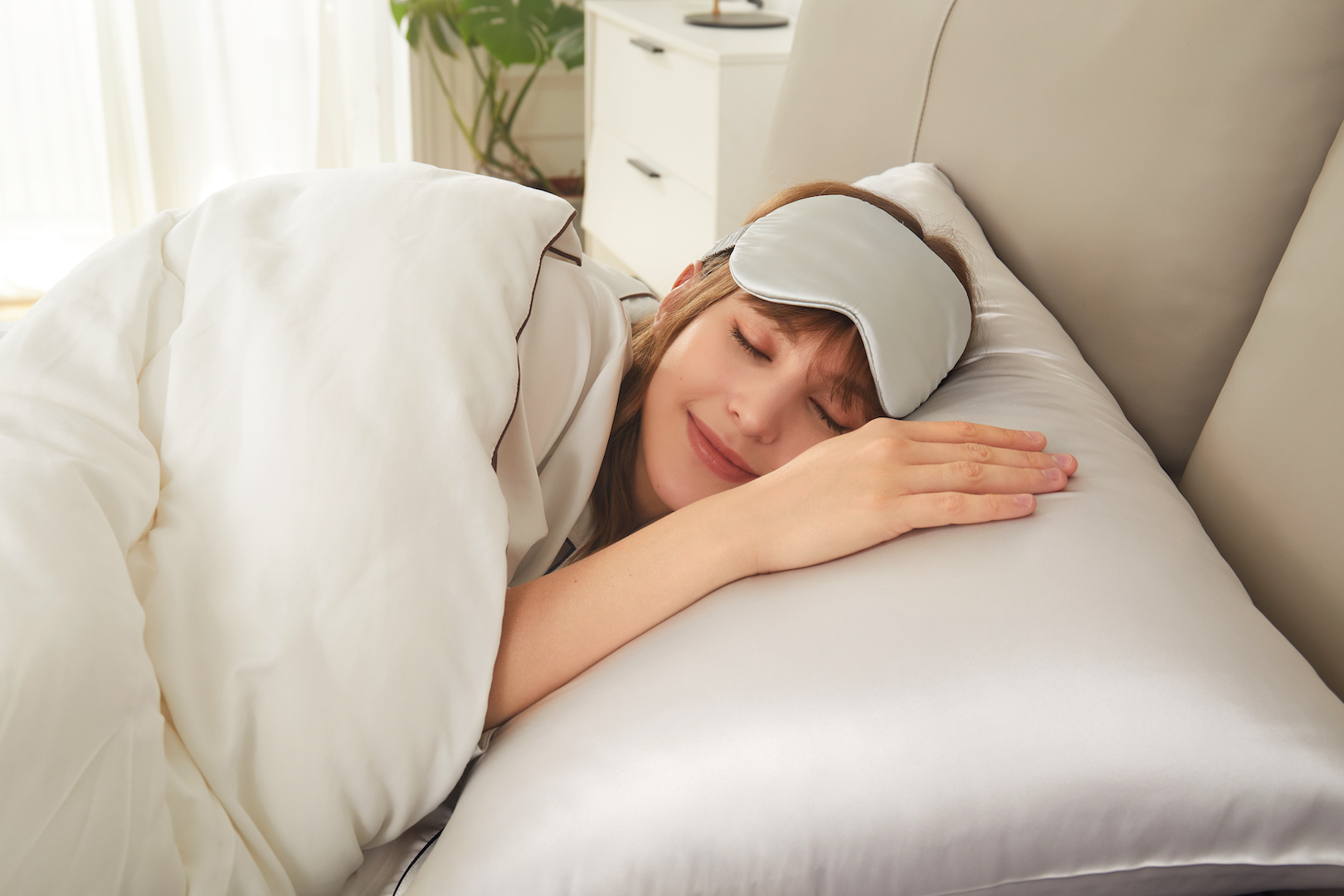 What we commonly refer to about the care of the face is always skincare, causing us to ignore that the clothes we wear, the pillowcases, and the eye sleep masks are of vital role. Silk became most people's favorite with its high criteria on the safety of materials and the comfort of wearing. As the superior representative of fabric, but silk is rarely known by the wide audience.
First of all, due to the smoothness and softness, silk pillowcases can add a relaxing and luxurious feel when you sleep.
Secondly, in contrast to cotton pillowcases, silk pillowcases are five times more breathable than cotton or linen and two times softer than cotton, creating a smooth surface for the face and hair to touch upon. Silk pillowcases minimize friction between both skin/hair and the surface of your pillow. It is essential for reducing or preventing wrinkles that we develop during sleep.
3

Silk pillowcases can reduce frizz and tangled hair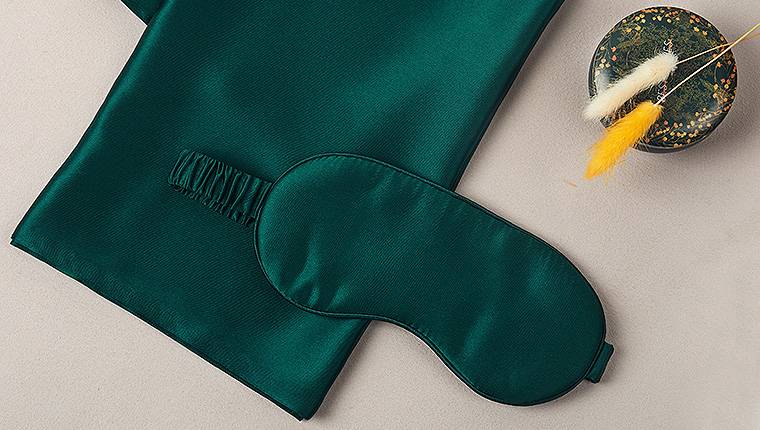 The proteins contained in the silk benefit not only the skin but also your hair. Do you spend hours weekly combing out your tangled hair and are tired of getting split ends? Are you angry with the worsening condition of your hair as time goes by? Don't worry. Silk pillowcases will solve this issue! It is scientifically proven that silk pillowcases can keep hair in the most optimal state while you sleep, they prevent hair from dryness and irritation. They help you maintaining your hairdo reducing the need for heat and additional blow dries, which is especially important to women who are used to styling their hair daily. No wonder the silk fabric has been deeply loved in the past and now. Notably, it is a coveted fabric in the world with no crimping, no grabbing, and no friction to your hair. If you want your hair to glide over the pillowcases smoothly without any friction that cotton pillowcases would cause, the Lingislk pillowcase is still a perfect choice.
4

Give yourself a safe guarantee in life

We always want to find the fastest way to become more beautiful but rarely realize that the fabric that is close to our skin takes a vital role in improving our skin condition. Throw out your cotton pillowcases which tug at your facial skin and damage the delicate skin. Choose a silk pillowcase on Lingsilk to change the quality of life and improve your wellbeing. In this wide and intricate world, loving yourself is the beginning of a lifelong romance.

Follow Lingsilk's social accounts to know more and be up to date on their fabulous products: Instagram: @lingsilkbrand, Youtube: @lingsilk brand,Tiktok: @lingsilkbrand.