Trembled Blossoms Prada Party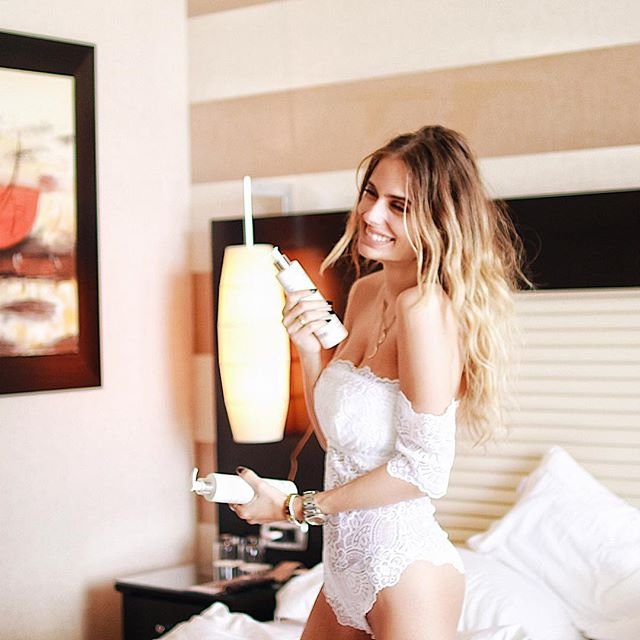 Bag Snob was invited the Prada party at their Rodeo Drive epicenter last night. It was star studded but not the big names I was hoping for, except for my all time favorite, my childhood idol, Brooke Shields. I love her! And she was so nice (I had camera failure but she was so patient and made sure I got this picture. There was a wall of paparazzi behind us continually flashing so that's why this picture is not the best, but at least I was able to get something!!). This party was to promote their new Trembled Blossoms line and show their animated short film, which you can view at the Prada website (you have to click "The Animation"). The store was completely emptied, except for the Trembled Blossoms merchandise, which were so adorable and chic! I loved all the fairy dresses and the shoes were crazy! In the film, a nymph starts out naked - bugs crawls on her feet and turn into shoes, which is exactly what the shoes look like, but they are surprisingly wearable and are fabulous on! I wore black strappy Prada heels that suddenly felt so boring and mundane, if there was shopping involved I surely would have bought a pair of them shoes =) Another thing I, my sister and friend who came with me would have all bought were the sunglasses. They are slightly shaped like butterfly wings and are big and amazing. Of course by the end of the film, the nymph was outfitted with bag, dress and sunglasses to complete her transformation.
More after the jump......
One interesting note, of course a good number of girls had Prada bags (mostly the ombre styles, which are their best of late) but the predominant bag was Chanel, by a landslide (myself and date included). It was quite odd actually, I knew wearing Chanel would be acceptable but I didn't realize there was a mass email that went out with that memo. But all the tall skinny girls there, which I assumed are models but didn't recognize any, were wearing Prada's spring line. This line is so refreshing and you can tell on everyone's face that this will bring Prada back to the lust status it once had for many of us.
Unfortunately, Miuccia herself did not attend. I am pretty sure I spotted every celebrity that was there so here is a list: Nicole Richie, Nicky Hilton, Juliette Lewis, Minnie Driver, Angie Harmon, Rosario Dawson, Brittany Murphy, Steven Cojocaru, and of course Brooke Shields. I am sure there were people from the Hill, Laguna Beach or High School Musical that I did not recognize. So like I said, it wasn't like the Oscars red carpet or anything. Everyone sat on the steps watching them come in which almost shut down the party because it was a fire hazard. It was a super fun night and definitely one of the major perks of being a fashion journalist (is that what I am? I am happy being a lowly blogger at a fabulous Prada party any day!!).
{{#comments_count}} Show Commnents ({{comments_count}}) {{/comments_count}}