7 Tips for Wearing Orange ...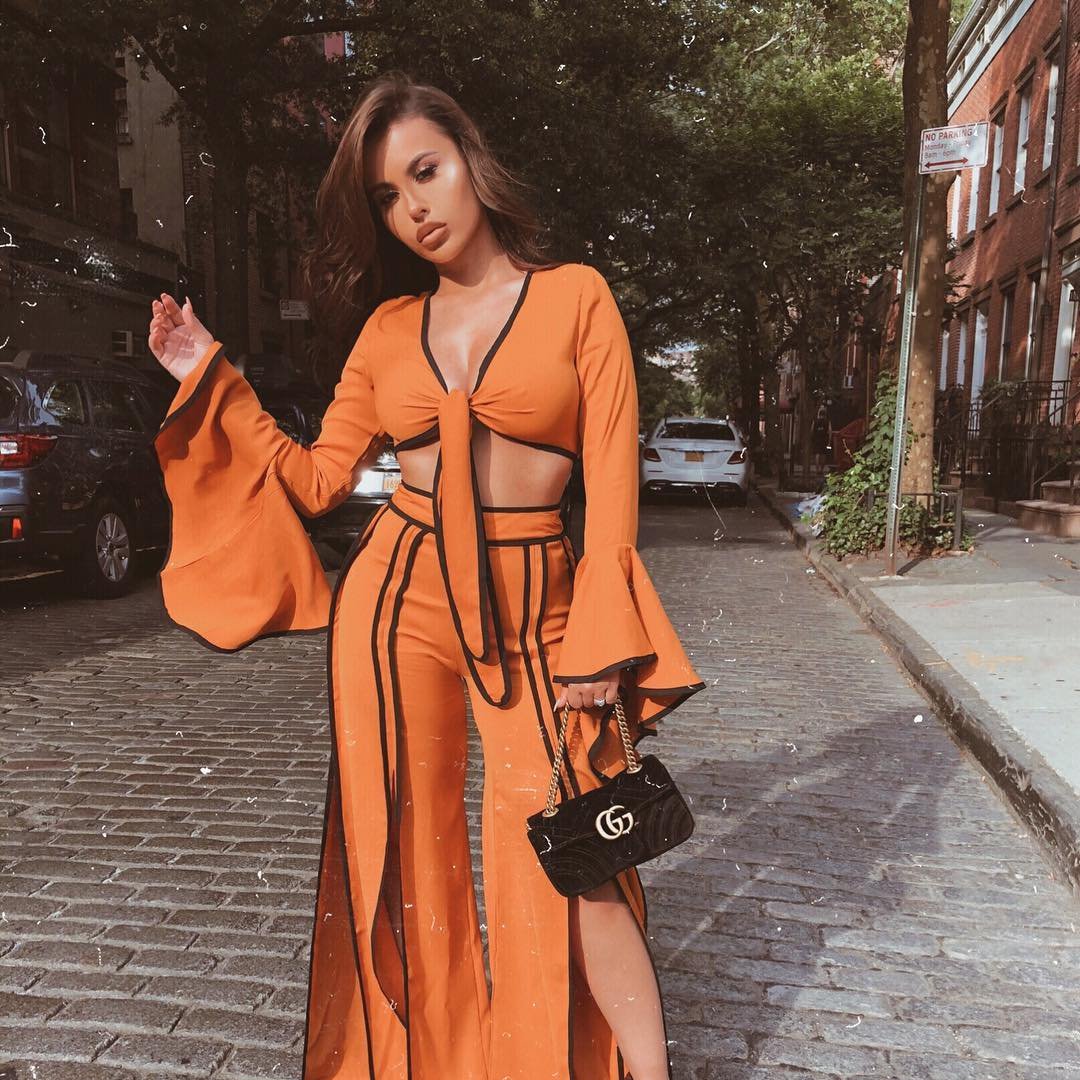 Many people find that orange is a really hard color to pull off, and it usually isn't the color that we reach for first when we open our closet. Surprisingly though, if you follow some good tips for wearing orange, it can be a very flattering color for most skin tones since in instantly adds a natural glow to your skin. But there is a certain style power behind it all! You need to make sure you know how to wear the color before you go prancing out in something neon and flashing! You should check the shade to make sure it's right for you, and always wear orange in moderation with flattering colors. Want to know 7 tips for wearing orange? Keep reading this article and you will be spot-on!
There's nothing that screams summer like tangerine and lemon mixed together. It's a color combo that works for anything. The beach, the mall, the movies, dinner-whatever is on your schedule! Some of my fave outfit ideas are: jeans with a tangerine shirt and lemon accessories, a tangerine dress with a lemon bag, a white dress with tangerine wedges and a lemon bag, or a tangerine blazer with a lemon scarf and denim capris. Experiment to find your perfect combo of tangerine and lemon!
2.

Throw on a Denim Jacket
Nothing makes the color orange pop like a denim jacket does! Pair it with an orange dress for sweet style. And the cool thing about this tip for wearing orange is that a denim jacket will really up the hip quotient of a girly dress. Add some lace-up boots to the mix and you've got yourself an outfit with serious attitude!
3.

Don't Risk It with Black
Can anybody say "Halloween"? Because that will be the only thing you bring to mind if you pair orange with black. Just don't ever do it! I cringe at the mere thought! The only time that black and orange might work together is if you have an item of clothing with a pattern on it that ties black and orange together. Say, a black scarf with orange and green and blue flowers on it. Or black flats with orange and white detailing. But please do steer clear of pairing black an orange together unless it's October!
Nothing says chic like a basic sheath dress in an unbasic color. A bright sassy orange color or even a burnt orange hue will help you to stand out in a crowd-in a fabulous way! Wear it with strappy nude sandals and carry a dark brown or bronze bag and you will be the bomb! This is one tip for wearing orange you won't be able to resist!
5.

Avoid Head to Toe Orange
Only little old ladies or people doing time for crime can get away with wearing head-to-toe orange. I think of those little matching pant suits and I cringe inside! Not only will head-to-toe orange make you look like a pumpkin, but you will be spotted a mile out. An orange dress is one thing , but if you are wearing two pieces, do mix and match colors. Don't be afraid to think outside the box! If you DO have a matching suit, break the pieces up and wear them with other clothing items you already own.
Here's your best tip for wearing orange yet: Think white! Hot orange paired with white works like magic! And for this color combo, do accessorize with blue. Preferably navy blue! You will look so pulled together and so summery it will make all the other girls cry. And maybe the men too!
If you would like to start playing with orange, but don't know where to start or haven't got the nerve to be that bold, here's your plan: start out small! You can always add more later if you like it. Some ideas for starting with orange include, flats, wedges, bangles, earrings, hats, a cocktail ring, a scarf, a tank, a pair of shorts, a headband or a bag. If you aren't bold enough to wear it, purchase a vase or a picture frame or a pillow for your home. You can enjoy looking at the mood boosting color and maybe eventually work up the nerve to actually wear it!
See? You CAN wear orange and look fantastic while doing it! Just remember: Orange is only going to be appropriate in certain places and for certain occasions, say a picnic or a day out shopping. And now that you have these great tips for wearing orange, you will be the star of the show at that picnic or shopping trip! Do you have any tried and true tips for wearing this vibrant color? Please comment below and share them with us!
Top Image Source: weheartit.com
{{#comments_count}} Show Commnents ({{comments_count}}) {{/comments_count}}