Polka-dot tops, flower-printed skirts and jackets, Levi's jeans with circular laser cutouts. Sounds like something from a couple of decades back? Not really. These are the items from the House of Holland Spring 2009 collection.
The designer's theme was 80's and 90's inspired, though. According to Henry Holland himself:
It's all about Beverly Hills, 90210. I bought a box set of the first series—1991, not the new one."
Okay, so we should expect Brenda, Brandon, Kelly and Dylan-like costumes in the collection, right?
Let's all check out the collection.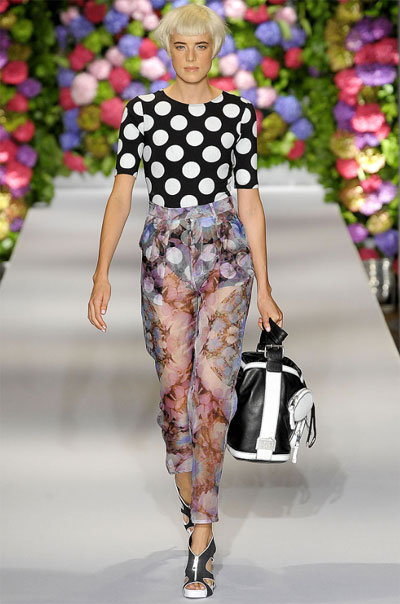 I can definitely see the 80's influence in this first outfit. The silhouette of the sheer, floral-printed pair of pants is something that we've seen a lot in the past runway shows for NY Fashion Week. And talk about bold! That black-and-white polka dot shirt's all the fashion statement that you need.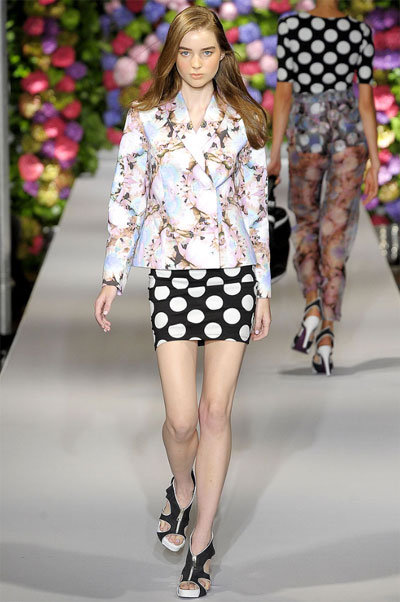 Again, designers are bending the rules by mixing printed tops and bottoms. This floral jacket and the polka-dot miniskirt is fun and casual.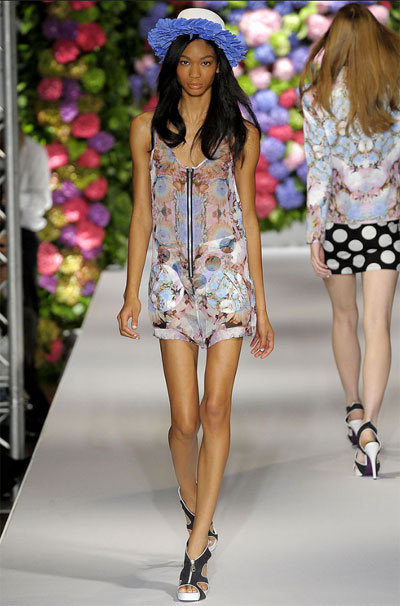 This floral smock's the perfect outfit for**summer**.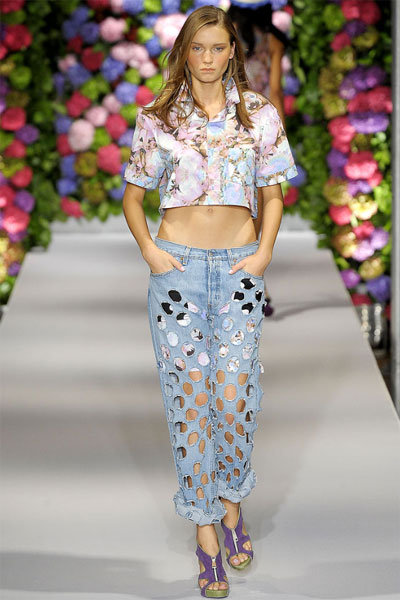 In this collection, the House of Holland collaborated with bigwig denim company** Levi's** – and the result is this pair of laser-cut jeans. I don't think everybody can pull off that top, though.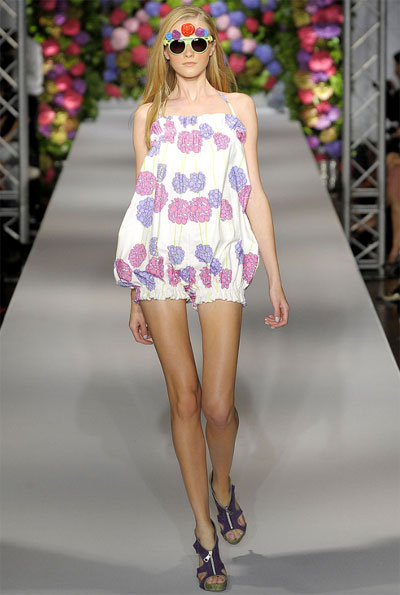 This is one of my personal favorites among the collection. The one-piece f**loral print shorts-dress** is just sexy and sassy!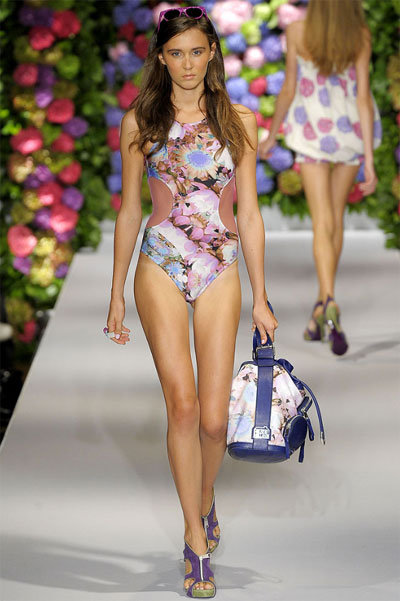 Take Henry Holland's brand of fashion to the beach with this floral swimsuit.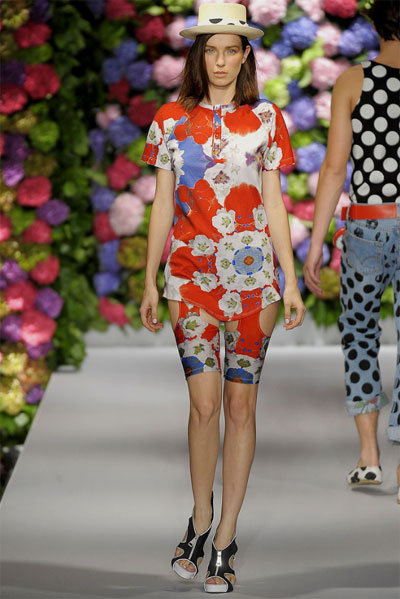 If there's one way to describe the entire collection, it's bold and casual. This shirt and short **combination **is a perfect example of that.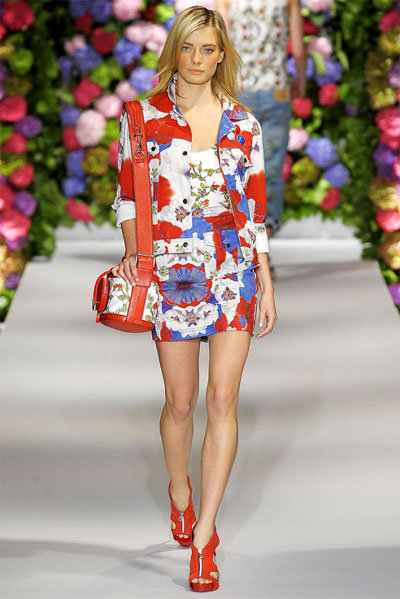 You'll definitely not have a mismatched outfit with this top, suit and jacket combination which have bold floral prints.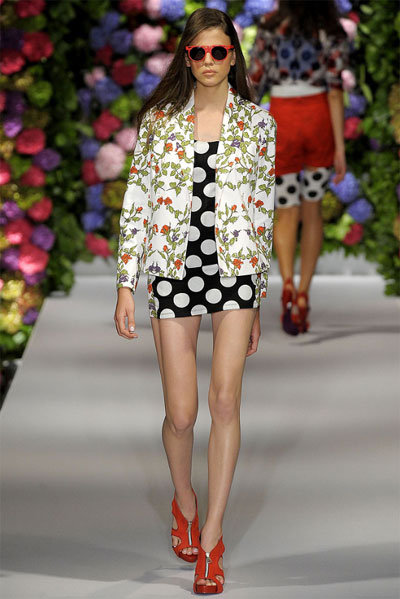 I think the polka dot dress would've been sexy by itself, but **Henry Holland **decided to incorporate the floral jacket to make a unique ensemble.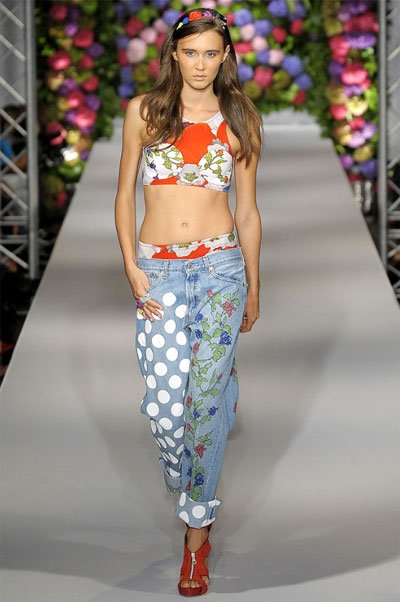 Can you believe that those pair of jeans are actually from Levi's? They're definitely fun **and **fab!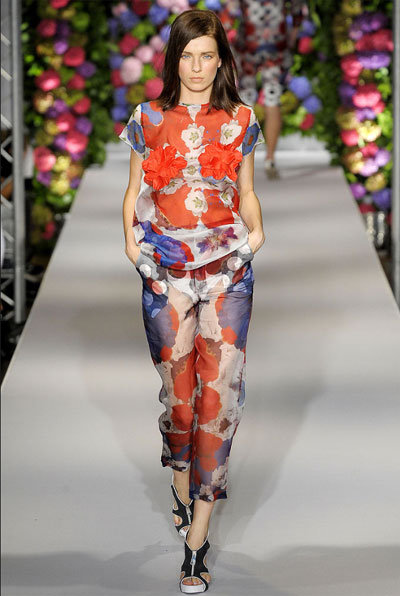 I can definitely see Brenda's character in the Beverly Hills 90210 show wearing this matching sheer, floral printed outfit.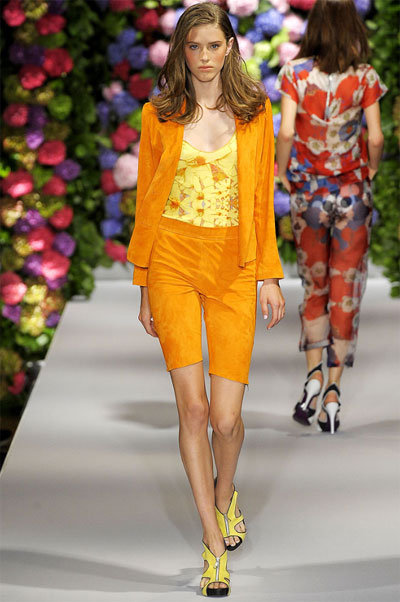 I absolutely love the color of that top – and the shocking hue of the jacket and pants is surely a standout!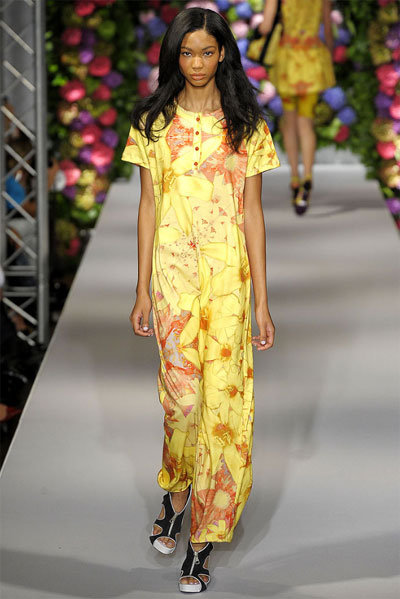 This floral, one-piece frock looks more of a lounge suit to me.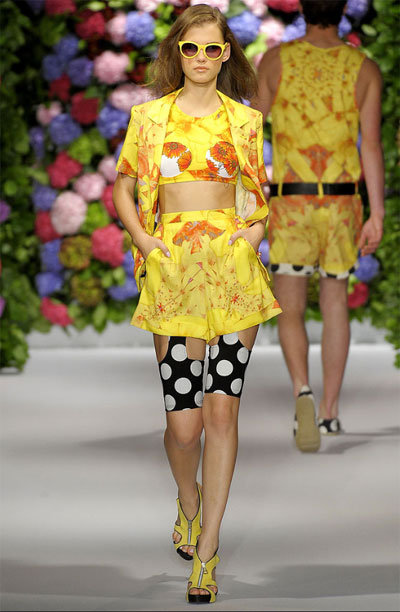 The House of Holland's style is nothing if not unique – and those accented polka dot cycling short worn over the 3-piece floral ensemble is nothing if not original.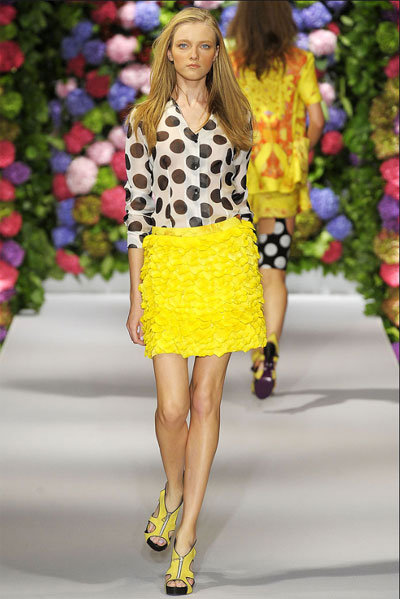 You can't help but smile at the sunny-ness of this skirt and top combination.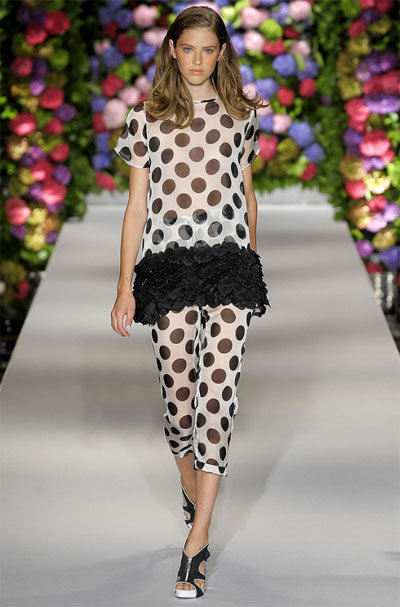 This is another version of the House of Holland signature look for this collection.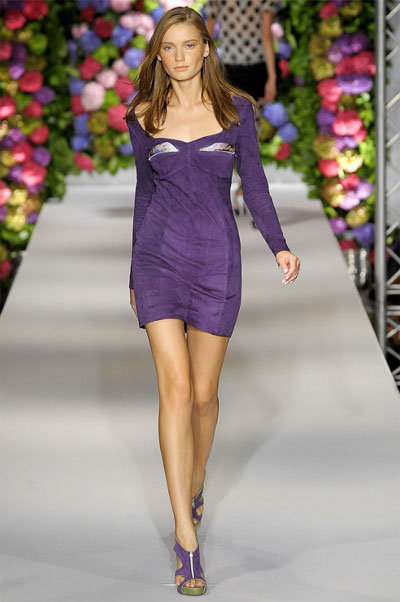 Finally, the formal wear that we've all been waiting for. I love the silhouette of this long-sleeved dress – and the colors are fab, too!
So what's the verdict on the collection? Sharon Feireisen of TheFashionSpot.com put it succinctly:
… with the exception of a bustier dress with a voluminous floral bottom worn by Agyness Deyn that made for a nice silhouette, the season's House of Holland collection, despite consisting mostly of t-shirts and jeans (done in collaboration with Levi's), felt more costume-like than anything one might actually wear.
Photo Credit: Style.com