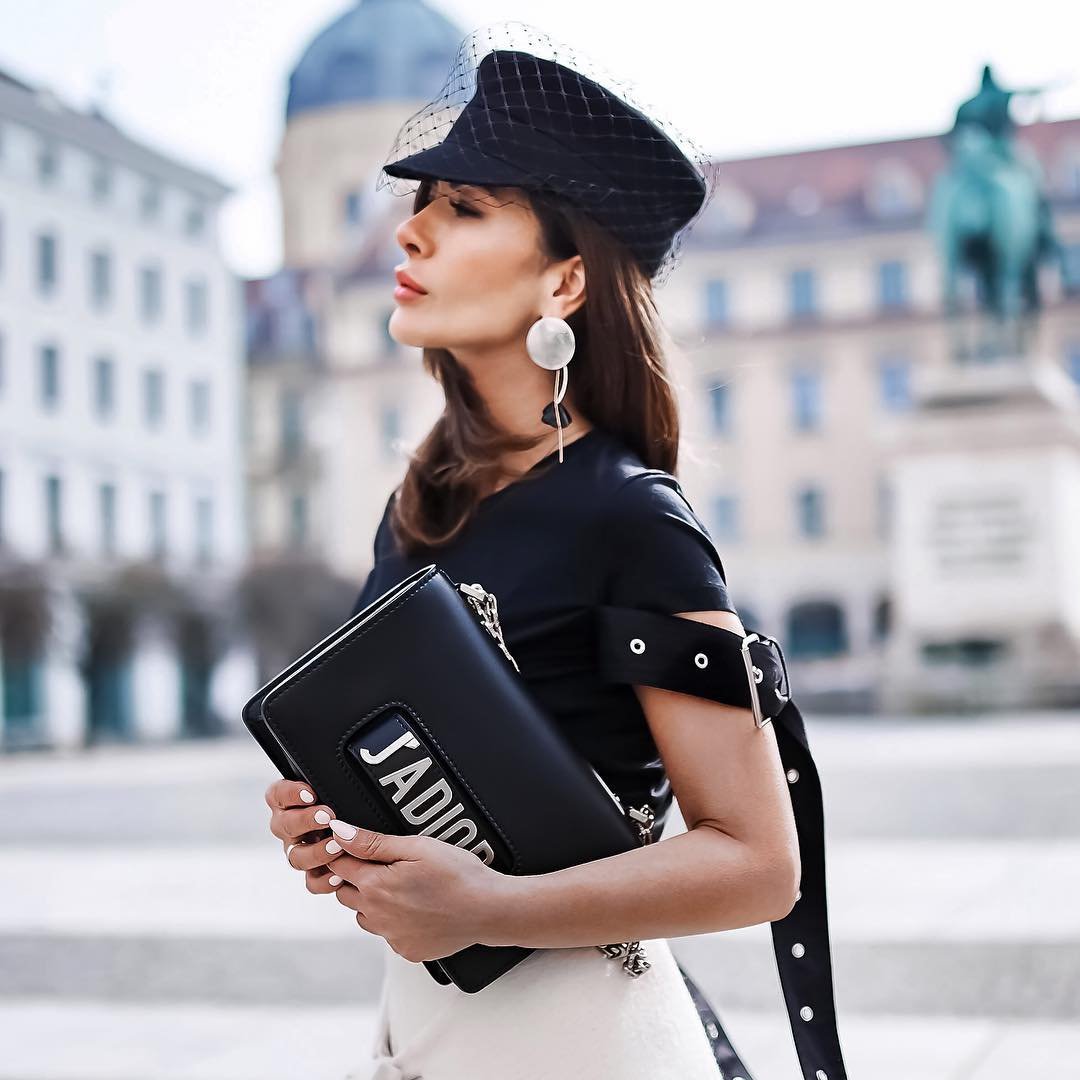 Nothing can be as high-Italian fashion as the Prada label. Founder **Mario Prada **managed to embed the luxury goods produced by the company in our culture since 1914.
Today, the highest standards in Italian leather goods are set by Prada.
Check out our list of the top 16 Prada handbags which are a real "arm candy".
16.

Prada Nappa Mordore Handbag
I absolutely love the shape of this handbag – it's a designer accessory which is roomy enough to hold all your knickknacks in. Made from 100% black leather, it's the ultimate statement of luxury.
15.

Prada Tessuto Nappa Tote
This Tessuto Napa tote is similar to our entry for number 16. The lush combination of fabric and black leather makes this handbag a must-have for all the fashion aficionados out there.
14.

Prada Shaded Deer Leather Bag
I absolutely love the color of this Prada handbag with chain handles. Wear it to add a touch of color to your all-black ensemble, or go through your closet and look for a more complementary tone.
13.

Prada Cervo Antik Handbag
The structured lines of this Cervo Antik bag makes you look like you know what real, Italian luxury goodness is made of.
12.

Prada Tessuto S Bowler Bag
That extra detailing surrounding the bodice of this **bowler bag **makes me think of gorgeous butterfly wings. This is one hot handbag that I wouldn't mind saving up for!
11.

Prada Mordore Nappa Leather Satchel
This is a different, tamer version of Tesutto S Bowler bag. I really think that those flaps on the side are quite charming!
10.

Prada Nappa Mordore Tote
It's amazing how the detailing in front of this bag can make the entire piece look like one big flower. Now that's one fall fashion trend that I wouldn't mind wearing!
Measuring 4.5" in height and 6" in width, this Nappa tote bag from Prada makes for a drool-worthy arm candy!
8.

Prada Nylon Flap and Nappa Leather Bag
I've always hated wearing mini-purses without shoulder straps – I'm always paranoid that they can easily get lost. So it's refreshing to see a purse-sized Prada handbag with that charming chain shoulder strap – you can put all your essentials in it without ever worrying about leaving your purse somewhere.
7.

Prada Nappa Leather Trim Bag with Eco Patent Leather Flap
The glittery black material of this Prada handbag is definitely a sight for soreyes. Wear it with matching shoes with a distinct sheen to it and shine your way through any event that you'll be attending!
6.

Prada Gaufre Embossed Nappa Leather Bag
The chocolate brown chain shoulder strap and the cream color of the bodice makes for one delicious Prada handbag combination!
5.

Prada Shopping Tote with Removable Hand-Shaded Patent Leather Shoulder Strap
To honor the ombre trend which has dominated this year's fashion scene, Prada decided to incorporate the dark-to-fading color effect in this stunning brown handbag.
4.

Prada Shaded Calf Buck Leather Shopping Tote
Shining, shimmering, splendid… breeze your way through being a **stylish sophisticate **in this roomy, silver handbag from Prada.
3.

Prada Calf Buck Leather Satchel
Travel in style with this mini-suitcase look of a handbag. Aside from the polished design, the color is divine, too!
2.

Shaded Calf Leather Shopping Tote
Get a lotta room for your girl stuff in this spacious oversized handbag from Prada.
1.

Prada Shaded Calf Leather with Mordore Finish
Finally, our top pick for our Prada handbag collection is this rust-colored piece of arm candy. With the signature flaps on the side dominating their fall-winter collection – you definitely wouldn't mind having all that extra material to deal with – because this handbag is simply divine!
{{#comments_count}} Show Commnents ({{comments_count}}) {{/comments_count}}