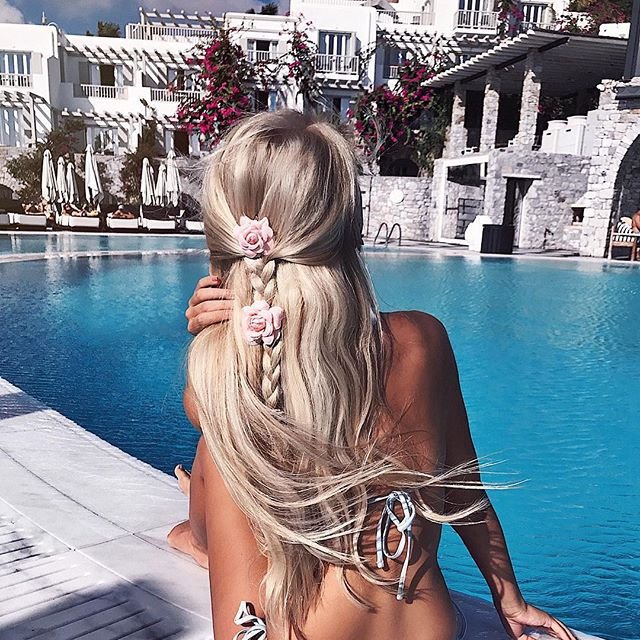 Clinique is launching their Summer 2008 collection in April and it has some interesting products in it. The collection is called Long-Last Bronze and the products in it are all meant to meant to help you get as much wear as possible during the day. As they say "from the beach to a BBQ".
The stars in this collection are the Shimmering Tones Powder Quad (limited edition) in Golden Bronze, Brush-On Cream Liner in Bronze (also limited edition), the introduction of Quick Eyes Cream Shadow (l-l-l-love them!) and new Long Last Glosswear lipglosses. I received some samples from this collection and so far, I like what I've tried. The quad is going to be perfect for summer with it's low sheen and shades will look great on all all skin tones... there's something for everyone in this quad for eyes and cheeks. My small 188 brush really comes in handy here, the shades don't mix. This collection also includes Clinique's Touch of Bronze Moisturizing Body Lotion for a self-tanning color.
What's interesting about this new Long Last Glosswear is that it claims to provide long-lasting shine, up to 8 hours worth. I can't attest to that but I can definitely say that this gloss made it through 2 lattes, a smoke break and lunch. After all of that, I still had some color and shine on my lips. I can't even imagine how it would perform if I didn't drink or eat anything during the day. If someone ends up putting this lipgloss to the test, I'd love to hear your results. The texture is a teensy bit sticky but I would expect a gloss that tries to hang on for dear life to be that way, even just a little. The shades vary from sheer to fuller coverage in varying intensities from cream to pearl. Shades include:
Nudes: Goldspun, Brandy Twist, Knockout Nude, Sunset
Taupes: Cabana Crush, Juicy Apple, Bonfire, Guavagold
Pinks: Clearly Pink, Fireberry, Bamboo Pink, Air Kiss, Kissyfit
Violets: Mystic, Whisper, Tenderheart, Stellar Plum, Rock Violet
These have to be my favorite part of this collection. I'm drawn to anything "long lasting" and these shadows have are certainly that. I stopped paying attention after I realized I was about to enter the 14th hour and I still had eyeshadow on. These Quick Eyes Cream Shadows are going to be very good friends with my favorite new base. They have a light texture to them so the color is sheer at first but it's completely buildable. I have 2 shades so far but I know I'll be buying some more once the collection hits counters. Shades include Cocoa Shimmer, Sparkling Nude, Sunlit Palm, Lucky Penny, Starlit Pink, Muffin, Rock Violet, Truffle and Sea Shell.
Clinique is also including their Lash Power Mascara as part of this collection. With this, you have everything you need thissummer for makeup that stays put.
{{#comments_count}} Show Commnents ({{comments_count}}) {{/comments_count}}