Now that the winter festivities are over, does it mean our party face should subside? Well take a look at these Fabulous MakeupTrends for****spring-****summer, and you can decide.
---
1

Be Mysterious with Chanel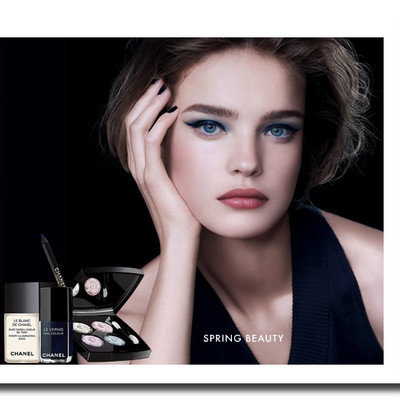 If you're aiming for a sultry yet sophisticated look, what could be better than this sexy cat-eye and subtle pout? Oh, and smooth, radiant skin doesn't hurt either. This look is dramatic, so it's appropriate for an evening event, but too intense for daytime, so save it for your next dinner party. So what do you need to create this look?
How to Create the Chanel Look
1. Using the Chanel Quadra Eye Shadow in Radiant Gems or Bleu Célestes, apply the lightest shadow up to the brow-bone.
2. Next, using the medium shade, apply on the eyelid up to the crease, but slightly smudge it up toward the brow-bone.
3. Then with the darkest shadow, swipe on the lower half of the eyelid, slightly extending to the outer edges of the eye.
4. Then using the Intense Eye Pencil in Graphite, line the upper lashline carefully, drawing a thicker line as you draw outward, slightly extending past the edge of the eye to create a winged effect for the perfect cat eye.
5. Then apply 2-3 coats of Extracils Super Curl Lengthening Mascara.
6. Line your lips with Precision Lip Definer in Tawny and follow withRouge Hydrabase Creme Lipstick in Soft Mink.
7. Lastly, finish off this look with Irreellee Blush Silky Cheek Colour in Tea-Rose.
2

Get a Romantic Yet Mesmerizing Touch with Dior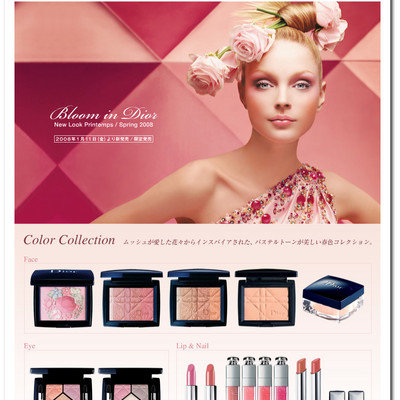 The freshly blossomed flowers won't be the only thing illuminating this season when your face blooms with warm-weather worthy makeup by Dior. This enchanting look is suitable for day or night- it even makes a "beautiful bride" look, so if you're big day happens to be this season, then you've come to the right place, girlfriend.
No weddings on your agenda? Then take this look to any formal occasion.
**
How to Create the Dior Look**
1. For this look, you'll need to start off with a good base, like Dior Diorskin AirFlash Spray Foundation followed by Dior Diorskin Forever Compact Flawless & Moist Extreme Wear Makeup SPF 25.
2. Next apply Dior Dior Flower Blossom (blusher) on the apples of your cheeks, then blend toward the hairline.
3. For mesmerizing eyes, using the Dior Dior 5-Colour Eyeshadow in Pink Idol 770, apply the golden pink shadow on the lids up to the crease.
**4. **Next, apply the deep purple shadow only on the crease, blending up. Then with the rose sheen shade, apply just above the crease, blending up.
5. Then, just underneath the brow, apply the shimmery pearl shadow.
**6. **Finish with Dior Diorshow Mascara.
7. For kissable lips, apply in Pink Protege or Sheer Rose, then dab someDior Dior Addict Ultra Gloss Reflect in Pink Liberty or Cotton Petal on the center of your upper and lower lips to create a fuller effect.
---
3

Pop with Colour Fizz by Clarins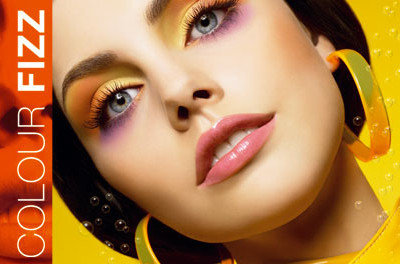 It's all about the eyes in this look. Bright, vibrant colors paired with flirtacious lashes, soft dewy skin and a subtle mouth. Due to this eclectic theme, it's too bold for a casual environment, but will add a funky flair to your look for any shindig.
How to Create the Clarins Look
1. If you want to pop with vivid hues like this, apply Single Eye Colour in 13 Sunny Yellow all over the lid from lash-line to brow-bone. Next carefully apply 11 Sweet Melon shadow on 3/4 of the outer lid, blending up to the brow-bone.
2. Next, line the upper lash-line with Eye Liner in 03 Chocolate Brown or 02 Plum.
3. Then, carefully apply 14 Sweet Lilac just underneath the lower lashes and smudging downward.
4. Finish off with Wonder Length Mascara.
5. Top off this look with Gloss Appeal in Lilac.
---
4

Get an Attitude with Givenchy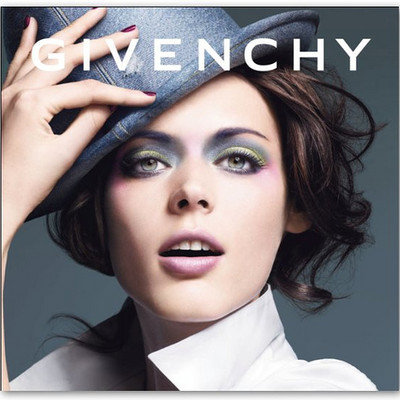 Despite Givenchy's Denim Fetish campaign for this look, you may not be wearing your favorite Sevens and a tee-shirt with this catwalk queen look that is smashing for the red carpet. With barely there lips and cheeks, emphasize your eyes like this with these makeup tips:
How to Create the Givenchy Look
This is a very smudged look, so you don't need careful precision to achieve this look.
1. Using the
Accessor'Eyes Powder & Cream Eyeshadow Quartet in 02 Indigo Denim apply the soft peach cream all over the lid up to your brow-bone.
2. Next, apply metallic navy blue above the crease, but just below the brow-bone, extending to the inner corners of the eyes, blending.
3. Then swipe yellow with flecks from the lash-line up to the crease, blending up with the metallic navy for a smudged effect.
4. Then using a small shadow brush, slightly dampen it with a little water and dip it in the metallic navy, then apply on the lower lash-line.
5. Lastly, apply Captiv'Eyes Mascara in Purple Black.
**6. **Finish this look with Rouge Interdit Satin Lipstick in 25 Rose Caprice or 26 Voluptuous Nude.
---
5

Be Sweet and Chic with Guerlain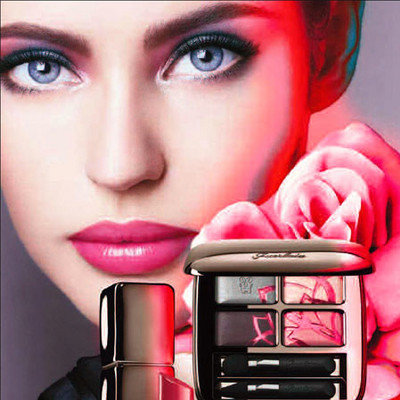 Smokey eyes, contoured cheekbones and sheer, kissable lips are the epitome of chic. Attempt this look for an upcoming spring or summer event.
How to Create the Guerlain Look
---
1

Using the Eyeshadow Palette in Voilette Du Soir, apply the 2nd lightest shade all over the lid just up to the crease. With the palest shade, sweep just under the brow as your highlighter. With the 2nd darkest shade, apply from lash-line to crease, blending up slightly past the crease softly. Then using the deepest shade, apply on the upper lash-line, gently smudging, then sweep the same shade as closely to the lower lash-line as possible
---
---
---
4

Lastly, accentuate your cheekbones with Blush Eclat Blusher
---
Comments
Popular
Related
Recent