It seems everywhere I look this season, from the runway to catalogs to my favorite shops, t-strap shoes are there. They're so hot, and can give even the most boring outfit a much-needed style boost. I've been searching for a new pair to go with my favorite skinny jeans, and here's what I've found… here are 9 pairs of gorgeous t-strap shoes!
1

Grazing Main Street Heels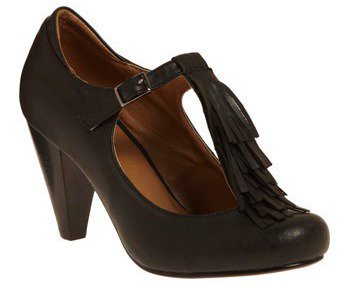 Price: $49.99 at modcloth.com
These t-straps would be so perfect for work, with a ruffled blouse and skinny-cut pants, or with patterned leggings and a long tunic. I love the ruffled strap, and the color is gorgeous, a pearly, vibrant black.
2

Chicka Chicka Blue Bloom Heel
Price: $127.99 at modcloth.com
Will you have enough room in your closet for these pretty blue t-straps? I hope so! I love the little blue rosette on the toes, complete with a single green leaf. The heel is stacked and short, perfect for a day when you know you'll be doing some walking, but you still want to look chic.
3

Pros and Contrast Heel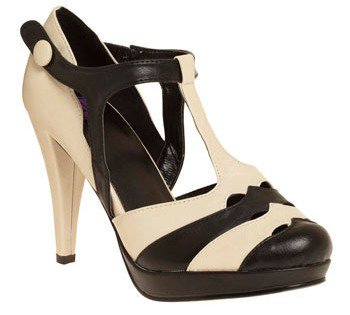 Price: $54.99 at modcloth.com
So many of us fall back on the basic black heel when we're wearing our little black dresses, but why? Add some visual interest with these black and white graphic heels… I love the stack effect, and the button at the side. I'd wear these with a short LBD or even to the office with something red.
4

Ready for Royal Heel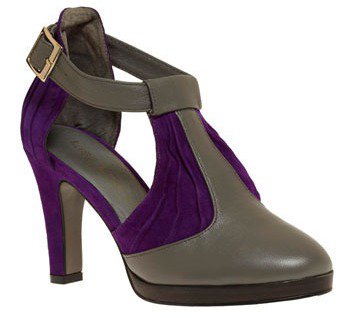 Price: $159.99 at modcloth.com
Purple has long been the color reserved for royalty, but now even princesses-in-training can wear it. Pair with a printed silky ruched top or halter dress and a slouchy Boho bag… and a faux fur detail, like a stole. If you have a tiara, feel free to wear that, too!
5

If It Ain't Got That Bling Heel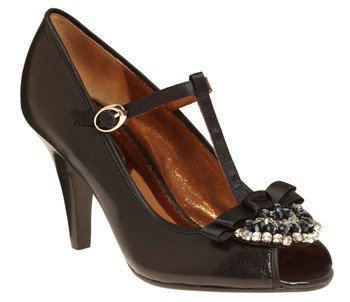 Price: $104.99 at modcloth.com
Dazzle at your next formal event with these blinged-out t-straps. They're basic black, but with a sweet peep toe, silver bucle, and a pretty bow with rows of black and silver jewels at the toe.
6

She Bows What She Wants Heel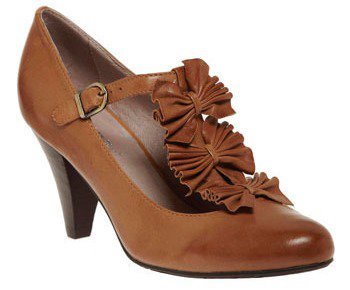 Price: $139.99 at modcloth.com
Is there anything sweeter, or sassier, than these low-heel t-straps? Pair with a slightly schoolgirl look or with your best pencil skirt for work, or with shorts or a romper and knee socks for fun.
7

All aboard Heel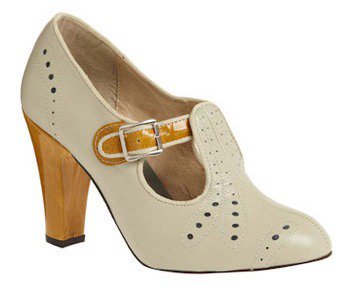 Price: $199.99 at modcloth.com
Make a dash for that plane, train, ship, or bus in these gorgeous retro-inspired t-straps. I love the contrasting heel and side strap, and the holey detail at the toe. Wear with a veiled fascinator, of course, and white wrist gloves, if you can… and your favorite red lipstick.
8

Watching the Clock Heel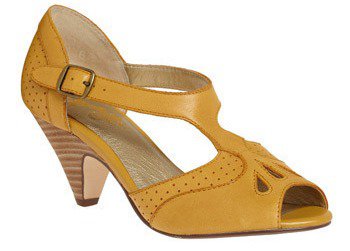 Price: $89.99 at modcloth.com
Your swing class begins on Thursday night at 5, and you count the minutes which can't tick away fast enough. These pretty deep yellow shoes would be perfect with a pleated swing skirt or high-waisted trousers and a white blouse: the ideal swing costume!
9

Next Step Heel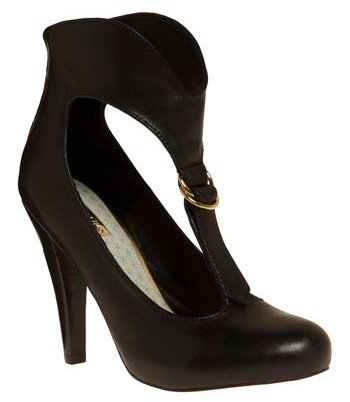 Price: $142.99 at modcloth.com
Are they booties? Heels? Or both? Definitely both! I love the urban-chic of these inky black shoes, with the shiny gold details and the funky high-stepping style. I'd pair with a super-short dress or skirt, lace tights, and a dramatic top and bag.
So many t-straps, so little time! I can't decide which of these I need first, though I'm leaning towards the black and white heels… they're so gorgeous and unique! Which of these t-strap shoes do you like best, and what would you wear them with? Please share!