Every year in the middle of October, while everyone else is frantically preparing for Halloween, I'm anxiously awaiting one of my favorite publications: the new Hallmark Keepsake Ornaments catalog. I give at least a dozen as gifts every Christmas, and I'm always excited to see which of my favorite characters and series I can add to my (and everyone else's) collections. This year's catalog is delightful and festive, with Keepsake ornaments for everyone on my, and your, holiday shopping list, no matter what their interests and hobbies. Here are 8 great Hallmark Keepsake Ornaments for 2010.
---
1

Festive Santa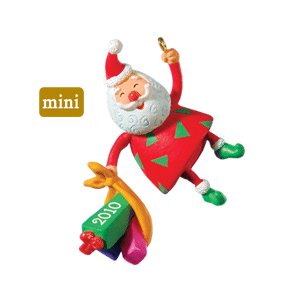 Price: $7.95 at hallmark.com
My little girl has her own pre-lit mini tree in her room, and every year we add one or two (or five) new mini ornaments to her collection. This is the second in the series of bright, cheerful mini Santas, and I love how he hangs at a jaunty, jolly angle. He measure less than 2 inches tall, but what he lacks in size, he makes up for in good cheer.
---
2

Checking It Twice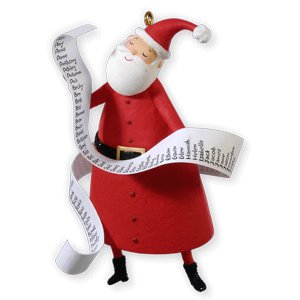 Price: $12.95 at hallmark.com
This is one of my favorite Santas this year, proudly perusing his "nice" list… checking it twice, planning his route to bring all of the good children their gifts! I love that the list contains actual names, not just illegible scribbles — and look! My name's on there!
---
3

One of a Kind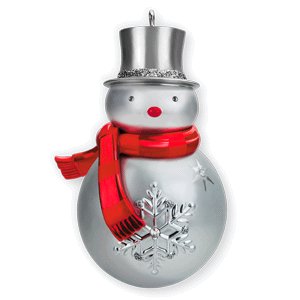 Price: $12.95 at hallmark.com
This Keepsake ornament is gorgeous, so elegant! He's just a chubby snowman, all done in shining silver with touches of festive red for his scarf and nose. Pair him with your best silver-and-red bulbs for a unique, beautiful tree.
---
4

Hide 'n' Seek Pickles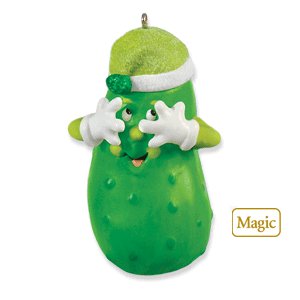 Price: $16.95 at hallmark.com
Do you know the legend of the pickle? It's a German holiday tradition — the child who finds the pickle ornament on the tree Christmas morning gets an extra little gift. Most pickle ornaments are plain blown glass, pretty enough I suppose, but this clever little fellow offers a bit of magic, too, calling out for kids to find him.
---
5

All I Want for Christmas is My Two Front Teeth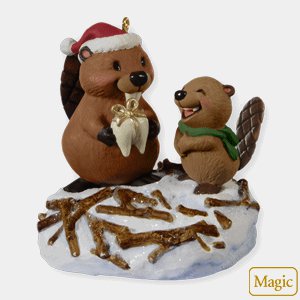 Price: $16.95 at hallmark.com
A week ago, my little girl lost her two front teeth, so this ornament is perfect, and I suspect it will end up in her stocking. It plays the Spike Jones version of "All I want for Christmas is my Two Front Teeth," and features an adorable beaver waiting for his wished-for holiday chompers. So cute!
---
6

Eastern Bluebird
Price: $14.95 at hallmark.com
This gorgeous, richly-detailed bluebird is the sixth I the Beauty of Birds series. He measures 4" wide and would look so handsome perched on your tree with his little blackberry! There's also a tiny goldfinch in the mini-size; display them together for a little extra charm.
7

Tinker Bell
Price: $24.95 at hallmark.com
Peter Pan's partner-in-fun was Tinker Bell, beloved by generations of little girls and boys alike for her spunk and spirit. Add a little of her sass to your tree with this collectible Precious Moments Tinker Bell, a possibly life-sized 3" tall.
---
8

Always Remembered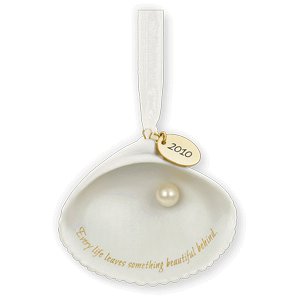 Price: $16.95 at hallmark.com
The sentiment inked on this delicate shell is so true: every life leaves something beautiful behind. If you're missing someone this Christmas, celebrate their life with this graceful porcelain ornament, and always remember.
There are dozens more of these festive, beautiful ornaments to add to your tree, or under your tree as gifts, one for every interest, hobby, and pastime imaginable! The full catalog of Keepsake ornaments is available at the Hallmark website, and once you start browsing you'll have your holiday shopping done in no time! Which of these ornaments do you like best, or is there another one you've found that you like more?
---
Popular
Related
Recent