Who doesn't love a perky or rustic reindeer to help keep things festive during the holidays? Of course I don't mean an actual real-life reindeer (that could be messy!) — I'm talking about cute or artsy reindeer décor! If you love them, too, keep reading! Here are 8 great pieces of reindeer décor, perfect for decorating during the holiday season.
---
1

Metal Reindeer with Bow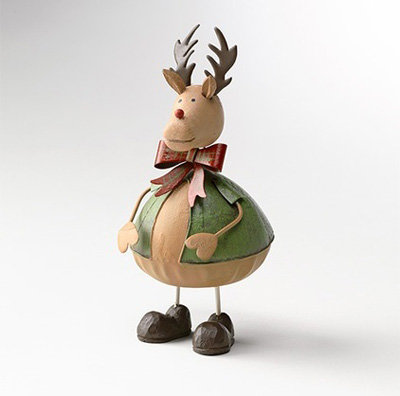 Price: $12.95 at coldwatercreek.com
This stout little reindeer has obviously taken a diet cue from Santa, and he has the waistline to prove it! No matter, though, he has an entire season's worth of sleight-pulling training to get him back in shape… or I suppose he could hang out on your mantel, bookcase, or shelf instead, just to add some holiday cheer…
2

Stuffed Reindeer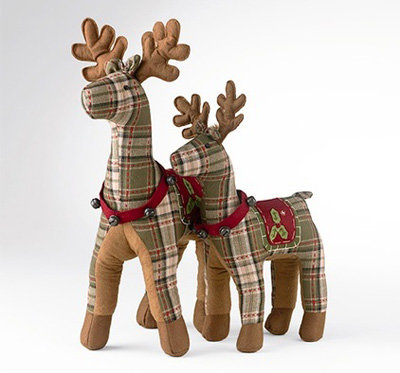 Price: $29.95 to $39.95 at coldwatercreek.com
Available in bright red or emerald green plaid, this pair of reindeer would make a welcome addition to all of your holiday gatherings. Place them proudly on the hearth (not too close!) or in an entryway to make a festive statement. Buy them one at a time, or as a jolly pair.
---
3

Enchanted Buck Measuring Cups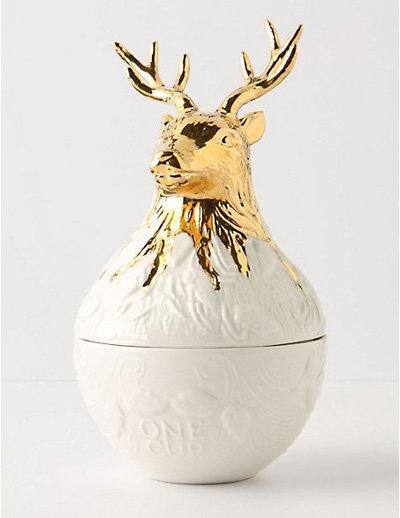 Price: $48.00 at anthropologie.com
These elegant, regal measuring cups, topped with a gold-tipped reindeer buck, nest inside of each other for easy storage and for display. They're made of creamy new bone china, and would even make a lovely hostess gift!
---
4

Winter Dancing Deer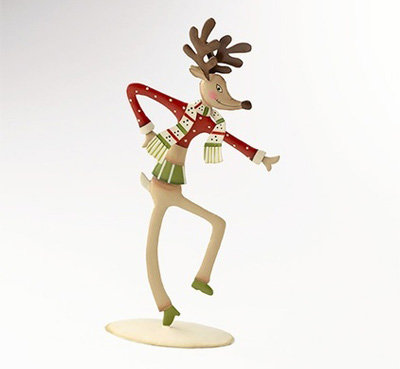 Price: $12.95 at coldwatercreek.com
This sprightly little fellow can cut a rug! Let him boogie all night long across your mantel or on your coffee table… his favorite song? "Rudolph the Red-Nosed Reindeer," of course!
---
5

Wooden Grazing Deer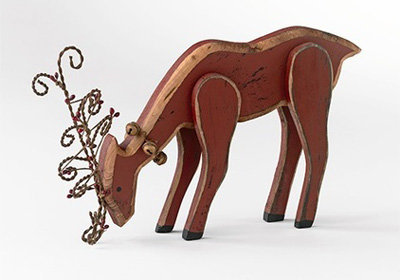 Price: $16.95 at coldwatercreek.com
There are three gorgeously rustic reindeer in this set, but we've caught this one mid-graze. I love his gorgeous antlers, and the antiqued jingle bells around his neck. Display him alone, or with the rest of his herd (in repose and stretching proudly).
6

Deer Creature Kingdom Hook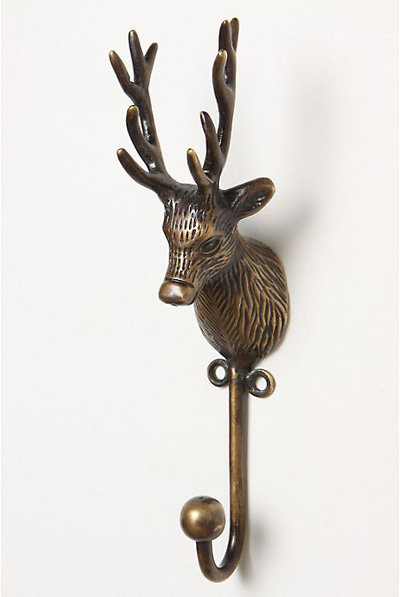 Price: $20.00 at anthropologie.com
Mount this rich-looking hook at your entry way to hang coats or to display a wreath or swag, alone or in a set of three. He's made of brass, and measures nearly 8 regal inches tall.
---
7

Blooming Reindeer Pillow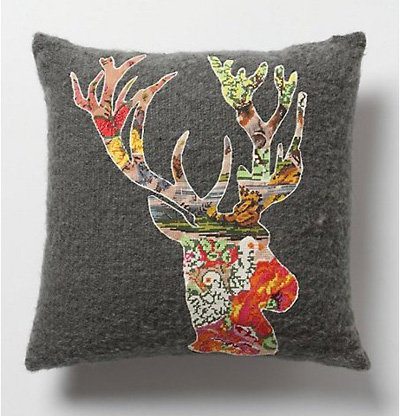 Price: $88.00 at anthropologie.com
This generous 20" grey wool pillow features a proud 12-point buck on one side and a gorgeous plaid on the other. The buck is done in gorgeous multi-hued needlepoint, and would look pretty on any couch or chair.
---
8

Repurposed Reindeer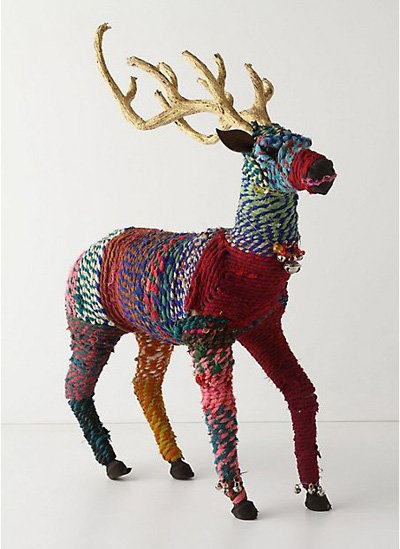 Price: $68.00 at anthropologie.com
What can be done with all of those old scraps of fabric, discarded and unloved? They've been made into this gorgeous reindeer, all recycled and repurposed cotton, wood, and metal. He's ready to provide a little whimsical cheer to any corner, table, or shelf in your holiday home!
These 8 little reindeer would love a place at your holiday table… or on your hearth… or just about anywhere else! Which of these reindeer decorations do you like best, and where would you display him? Or is there another reindeer that's stolen your heart this year? Please share!
---
Popular
Related
Recent