While there's something to be said for a modest one-piece swimsuit— they do forgive a multitude of sins — I am a big fan of the bikini, too. It's hard to find one that's not too revealing, or in some ridiculous unflattering neon pink leopard print, though, so I recently spent an afternoon scouring my fave fashion sites looking for one for the new season… and I've actually ended up with an entire wish-list full! Here are 8 beautiful bikinis…
1

Long Soak Bikini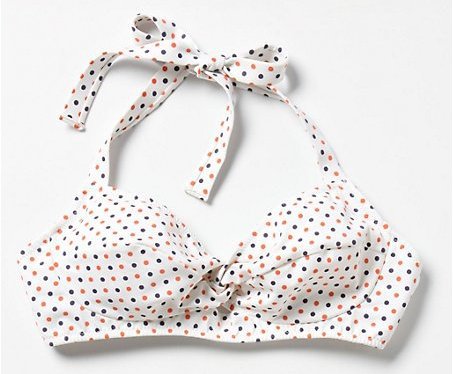 Price: $136.00 at anthropologie.com
This bikini by Pex D'Or offers the most flattering cut and pattern, either in tiny blue-and-orange polka dots or navy and white stripes, strategically placed to flaunt the curves you love and disguise the ones you're not so happy about. It's high-waisted with a generous halter-top that ties at the neck and in the back.
2

Maine Event Bikini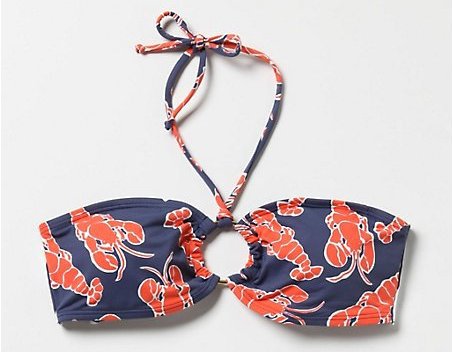 Price: $182.00 at anthropologie.com
Brilliant red lobsters swim across a deep blue sea… or, rather, across a nylon/spandex blend bikini by Ondademar. The top features a ring in the center, removable light pads, and a removable halter that ties behind the neck. The bottoms are modestly but adorable boy shorts… but be warned… this bikini runs very small.
3

Cross Currents Bikini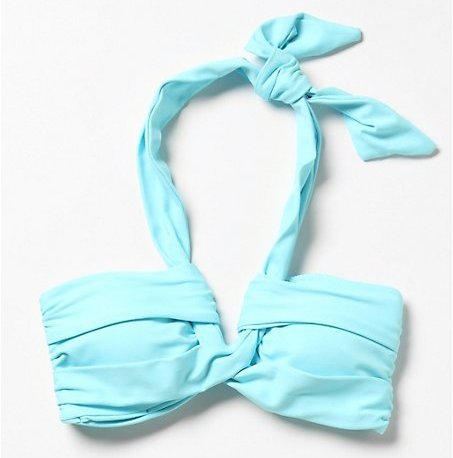 Price: $176.00 at anthropologie.com
This is a bikini by Seafolly is made for a woman who's not afraid of attracting some attention. It comes in two colors (pale turquoise or sleek black) and features a plunging bandeau top with a twist in the center and a similar twist at the waistband. The cups are molded and there is light boning in the sides (to keep the girls under control)… I'd wear this with an ikat-print sarong and strappy wedges.
4

Peaceful Seas Bikini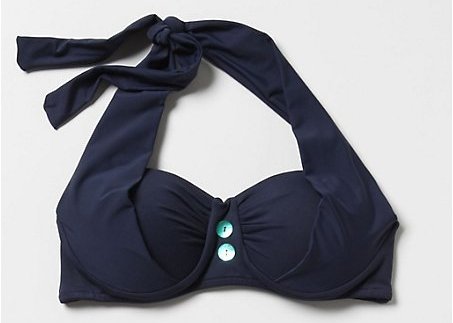 Price: $166.00 at anthropologie.com
Clearly inspired by the beautiful figure-flattering bikinis of the 1950s, this two-piece by Anika is a true navy blue with pretty green shell buttons for accents. The bottoms are high-waisted, the top a convertible bandeau/halter. Wear with a polka-dot banded sunhat and bring your beach blanket!
5

Carefree Bikini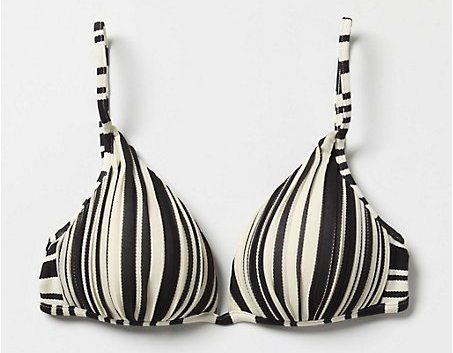 Price: $156.00 at anthropologie.com
Aqua De Coco's addiction to my list is a brilliant striped and floral-print set, a traditional bikini with softly molded cups and a low-slung bottom. I adore the little sash attached to the bottoms, made of the same black-and-white fabric as the top… the contrast is stark and very, very pretty!
6

Sea Finds Bikini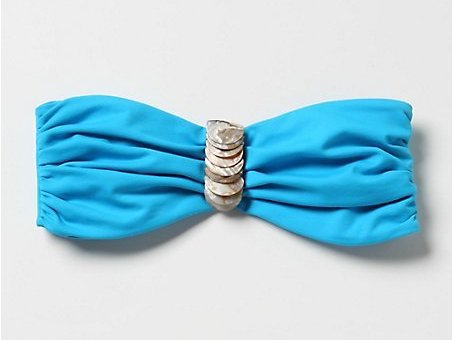 Price: $156.00 at anthropologie.com
What sets this bikini apart from others, perhaps more eye-catching at first glance? Look again, and notice the frilly row of mother-of-pearl shells down the center of the bandeau top, in perfect contrast to the bright turquoise color. If a bandeau top makes you nervous, no worries — there's a detachable halter strap included, too.
7

Bar None Bikini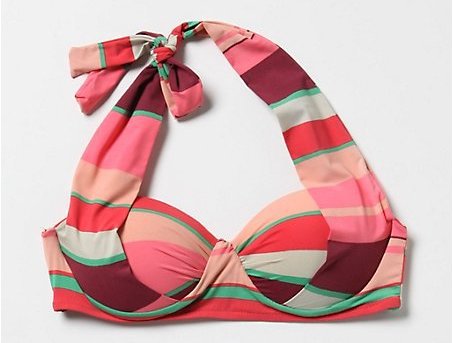 Price: $156.00 at anthropologie.com
What a pretty bikini, all in lush red, pink, and blue stripes! This bikini by Anika has it all, from the print to the colors to the uber-flatting cut. The top is a retro-inspired halter with molded cups, the bottoms a ruched-sided boy short. Add a pair of tortoiseshell sunglasses and a paperback novel, and you're ready for a day at the beach… or poolside!
See? Not a single hoochie-mama swimsuit, not one in an annoying over-the-top print! Aren't these all gorgeous? I love the one with the little red lobsters… which do you like best, and what would you wear it with?