7 Inexpensive Ways to Express Your Love for Somebody ...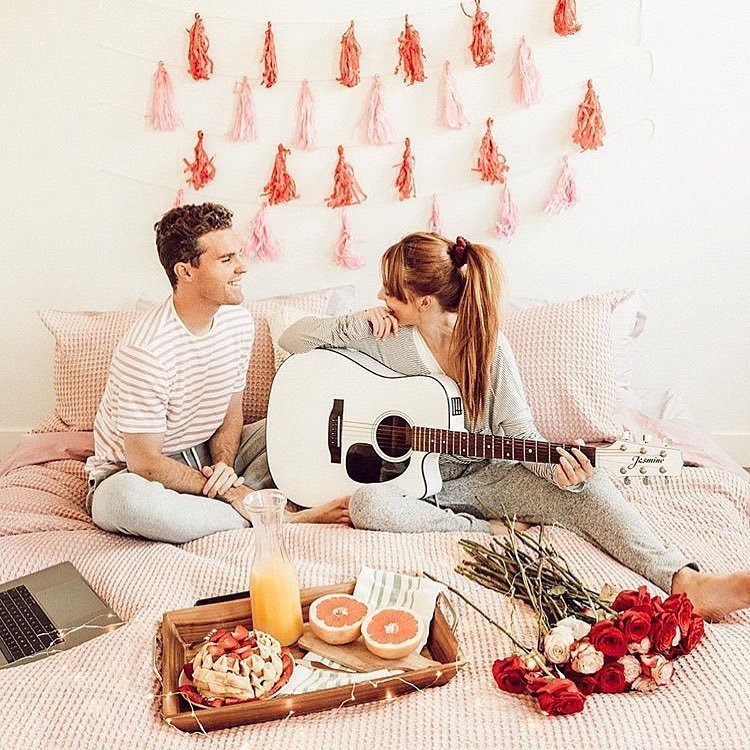 Love comes in many forms and expressing it doesn't mean you have to break the bank. Sure, your best friend, mom, child or a significant other could certainly use an expensive perfume, state of the art gadget or a piece of expensive fashion but don't let the commercials fool you – your love is not proportional to the amount money you spend on a present! In fact, a personalized, handmade gift says much more. You know why? Because the amount of time you spend trying to put a smile on your loved one's face is proportional to the love you have for that person. I, therefore, bring you 7 solutions that won't break your bank and will definitely make your special person feel even more special.
1.

"Why I Love You" Scrapbook
Photo Credit: cappuccino_iv
Reminding somebody that you love them is great but specifying why they deserve your love is even better! Let your boyfriend, husband, mom or child know you appreciate all those little things they do for you like making you coffee on Sundays, being there for you when you are sad, offering a good piece of advice whenever you feel indecisive… Maybe they have the prettiest smile you've ever seen, maybe it's how they look at you and maybe it's all that plus much more. They deserve to know and remember that so make a scrapbook that contains pictures of your special moments, lyrics, your own words…
2.

Favourite Music, Movies or TV Shows
Photo Credit: cobalt123
Burn a CD with all his favourite songs, get the tickets for that new movie he's dying to see or secretly tape the TV show you know he loves but is not able to watch every day. These original personalized gifts are definitely the best way to demonstrate that you care, listen and know what your loved ones like because we often forget that saying "I love you" doesn't mean much if there is no solid proof to back those words up.
Photo Credit: SureWil
Spending some time in the kitchen to make that special treat you know your significant other loves is definitely worth it because it sends a clear message – I love you, care for you and I want to do nice things for you. Add some candles, chill the bottle of his favourite wine and play his music. You can even prepare a romantic toast, rewrite or repeat your vows or just whisper "I love you" and look deep into his eyes.
Photo Credit: David Clow - Maryland
Your mom, sister or a best friend would probably enjoy a relaxing spa day, right? The only problem is that those all-day spa treatments don't exactly come cheap. Well, instead of feeling bad for not being able to afford it, get some scented candles and aromatic oils and turn your house into a spa centre! Send her a save-a-date note, Google some great homemade fruity skin care recipes and don't forget to prepare her favourite drink and sweets! And don't get surprised if this " DIY girl time" turns out to be better than the actual trip to the spa.
5.

Recreate Your First Date
Photo Credit: Www.CourtneyCarmody.com/
Believe it or not, 90% of the couples had a very ordinary first date. No fancy dinners or other over-priced outings, just a regular coffee or maybe a movie and a hot dog. Find out if there is a cinema that re-runs old movies or ask if you could borrow somebody's garage-turned-into-a-private-cinema for the night. Or, take him out for a cup of that same coffee in the same coffee shop the two of you used to check each other out some years ago.
Photo Credit: miahalf0
Invest in some special paints for clothes, get colourful beads and rhinestones and turn that skirt your little princess doesn't like into a cool, unique piece of fashion she won't be able to resist! If you have a sewing machine and a passion for making things, I'm sure you've already figured out a DIY present for every kid in your family – stuffed toys, Barbie outfits, heart shaped pillows and action hero costumes will make every small child happy while older kids could sure appreciate unique, fashionable, as-seen-in-the-magazine outfits, cool hobo bags and even room decorations like custom-made paper lanterns or lazy bags.
Photo Credit: Smaku
Getting a big, heart-shaped box of Belgium chocolate and marzipan candies could be out of your price range but making one yourself definitely isn't. Browse the Internet and your cookbooks to find 2-3 different recipes, get the moulds and the ingredients from the supermarket and visit a dollar store or a gift shop for that perfect box. Now all that's left to do is prepare the chocolates, chill them and wrap them up! A gift like this doesn't say "I'm cheap" or "I don't have enough money" it says "I love you and I'm ready to put myself out there for you."
What do you think about these ideas? Would you be game to give them a go and do you think your loved ones would like getting a unique, handmade present? Do you have other cool ideas for inexpensive and yet great-looking things that scream "I love you"?
Top Photo Credit: Rahxy
{{#comments_count}} Show Commnents ({{comments_count}}) {{/comments_count}}