I love the look of vintage tees this fall, for layering under blazers and over print leggings. But it's so hard to find good vintage-inspired tees, unless you know where to look! That's why I've been searching out online shops that carry a selection of unique vintage and retro-inspired tees, so I'm not stuck wearing that same Coca-Cola tee as everyone else... if you're a fan of vintage tees, then I'm sure you already know about some of these stores... but for everyone else, here's my list of 7 great online shops for retro tees...
1

ShanaLogic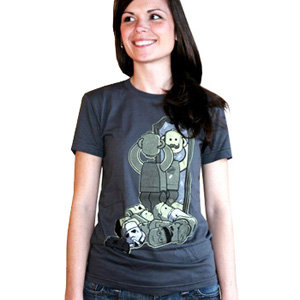 Website: shanalogic.com
Wishlist Tee: Identity Crisis Tee, $21.00 at shanalogic.com
I loved playing with Legos, but never stopped to think what my endless building and tinkering might do to my toy's psyche. Poor fellow, he can't decide who he is. The tee is grey and black, perfect for mixing and matching into you fall wardrobe and confusing him further... I'd pair with distressed-wash red skinny jeans and black accessories, just for fun... spend a little time at the ShanaLogic site and you'll see lots of vintage tees and other great vintage and indie accessories!
2

Urban Outfitters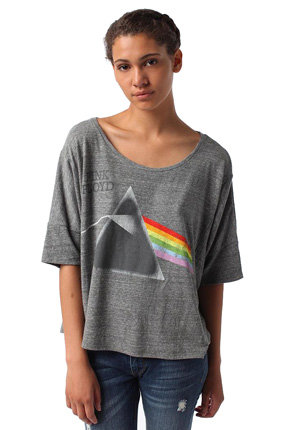 Website: urbanoutfitters.com
Wishlist Tee: Pink Floyd Oversized Tee, $24.00 at urbanoutfitters.com
Pink Floyd's "Dark Side of the Moon" is inarguably one of the best rock albums ever made, and if you agree, let everyone know by wearing this ultra-soft cotton tee. It's very over-sized, so it looks great with leggings and boots and a few punk bracelets, or under a boyfriend blazer. In fact, the whole Urban Outfitters site is loaded with great vintage-inspired tees and more...
3

Threadless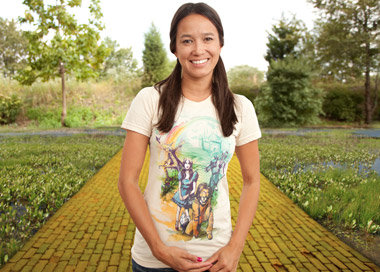 Website: threadless.com
Wishlist Tee: Where Dreams Come True Tee, $18.00 at threadless.com
I love the Threadless mantra of "Nude No More." Their shop boasts literally hundreds of retro-inspired tees, and I love this one in particular, a modern update of the traditional "Wizard or Oz" scene. All of the characters are sleek and cool. I'd wear this layered under a fitted blazer and top it off with a pretty felt hat.
4

PlasticLand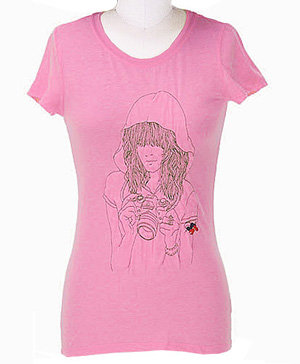 Website: shopplasticland.com
Wishlist Tee: Embroiderted Camera Girl Tee, $16.25 at shopplasticland.com
I love this tee, a throwback from the era of film, not digital. The girl on the tee is embroidered, not just printed, and the short itself is made of tissue-thin pink cotton, perfect for layering with a black cami and skinny jeans. The whole PlasticLand site is loaded with merchandise like this, but this tee is my favorite!
5

ModCloth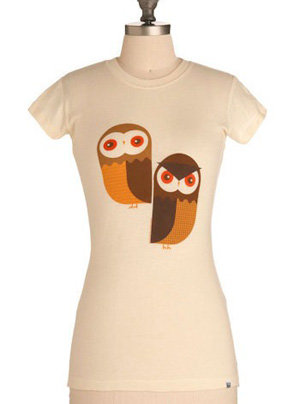 Website: modcloth.com
Wishlist Tee: Hoot Point Tee, $29.99 at modcloth.com
This pair of clever owls reminds me of my mother's kitchen when I was little, all done in browns, harvest gold, rust, and avocado green. She had two macrame owls with brown wood bead accents, and there must be their distant cousins. The tee has a flattering shape and I love the soft cotton and vintage colors. The ModCloth site is full of other vintage tees, and some of them are actual vintage from decades ago. Fun!
6

Loops & Pluto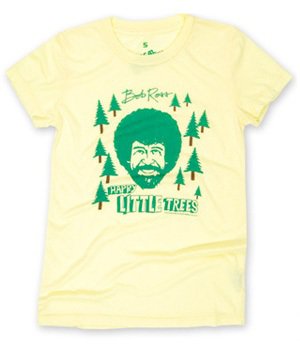 Website: loopsandpluto.com
Wishlist Tee: Bob Ross "Happy Little Trees" Tee, $20.00 at loopsandpluto.com
I used to love watching Bob Ross paint on PBS, mostly because of his gentle, kind personality. When he would say "happy little clouds," or "happy little trees," I'd giggle and try my best to imitate his brushstrokes. I love this tee, celebrating his unique brand of joy... I'd wear it with a print skirt, knee socks, and bright flats or sneakers. Loops & Pluto is a great site for vintage tees because they have a little bit of everything, from the Golden Girls to Lionel Richie!
7

Palmer Cash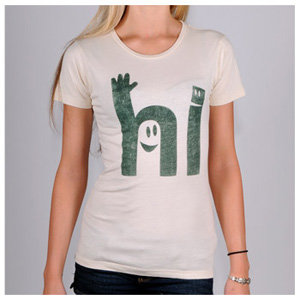 Website:
Wishlist Tee: Cream "Hi" Tee, $24.97 at palmercash.com
I love this little guy, so reminiscent of the moving, animate numbers and letters on Sesame Street. All that's missing are the Muppets. The shirt is made of light-weight, super-soft cotton, and would match absolutely anything you already own, wear, and love. Browse the Palmer Cash site for five minutes and you'll find at least a half a dozen vintage tees you must have!
Bookmark these sites and come back every week or so to see what new vintage tees and other retro goodies they just added to their stock... and keep in mind vintage tees make great gifts! Which of these shops do you like best, and which of their retro tees are on your wish list? Please let me know!