Your bedroom is your very own space, that one place where you get to express your creativity and individuality! Feel free to spice it up and go all out. If you lack inspiration, here are some to get you started. Check out 7 cute room ideas you will love!!
1

Cute Cubicle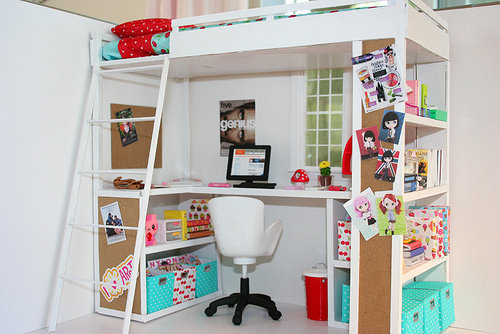 Photo Credit: ellabellasmommy2004
If you have your own computer, give it a home! I love the crisp, fresh feeling of this office/bedroom! It's sweet and colorful, young and fun! If you don't have a lot of space to work with, this is a good way to use every bit of it. The bookshelf on the end offers great storage space and the corkboards give you a place to tack up cards, memos, drawings and schedules. Great for the organized teen!
2

Friendly Fireplace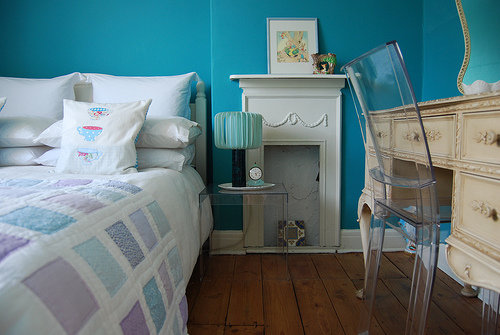 Photo Credit: Candy Pop
If you have a fireplace in your room, don't despair over what to do with it! This offers the perfect solution! If you don't use it, cover it with paper as shown here and paint it a contrasting color so it will be bold and stand out against the colors of your room. It will offer a unique contribution to your bedroom and inspiration to all who enter!
3

Rockin' Records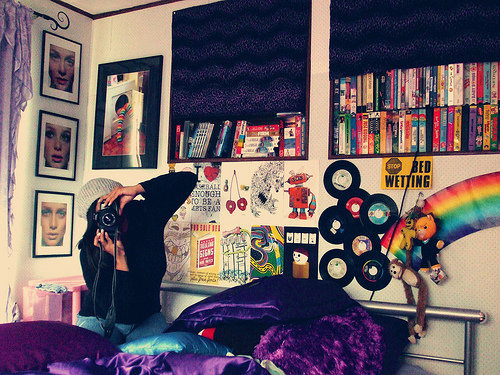 Photo Credit: crazylazykcee
This is a brand-new, awesome way to rev up your old bedroom very inexpensively! Ask your parents if they have any old records, then take them and hang them on your walls! As you can see, it's a very colorful, hip idea to brighten up your room! You could even hang them at varying lengths from the ceiling with clear thread or hang them in a straight row above a closet or a window or a mirror. Super creative!
4

Lovely Lights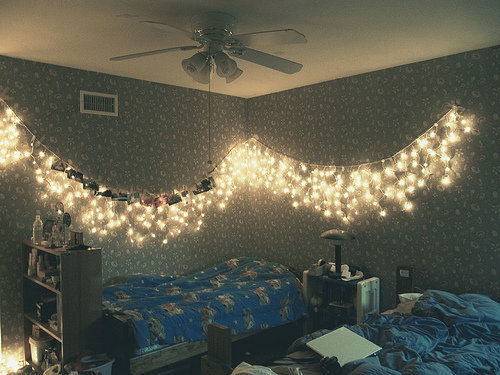 Photo Credit: celeste li
Stringing up lights can change the entire appearance of your room! You could string them along the wall as shown here, or string them above windows, around mirrors or right above your door. Be spontaneous! Try colored lights or mini-paper lantern lights! You could even take 6 or 7 strands of Christmas lights in the color of your choice, and hang them vertically from the ceiling to the floor, all in a row very close together to create a waterfall of lights in one wall or in a corner!
5

Vintage Victorian
Photo Credit: noodles!
For all you girly-girls out there, this room is the ultimate endearing hide-away! I love the rustic atmosphere and the Victorian feeling it creates. The wallpaper on the footboard and headboard of the bed is a great idea and one that you could copy. Sweet rosy bed linens and a soft lamp would be easy to find and would complete your look!
6

Charming Canopy
Photo Credit: Dizzy-Kitty
Having a canopy over your bed is the most charming thing ever! You could tuck the edges behind your headboard or pull them around the bed, whichever you prefer. Either way will add a fresh style and feeling to your space. Wall-pops are another great idea. You simply peel them off and stick them wherever you want. They come in a variety of colors and designs! I love the arrangement of the ones pictured here, so colorful and creative!
7

Peppy Polka Dots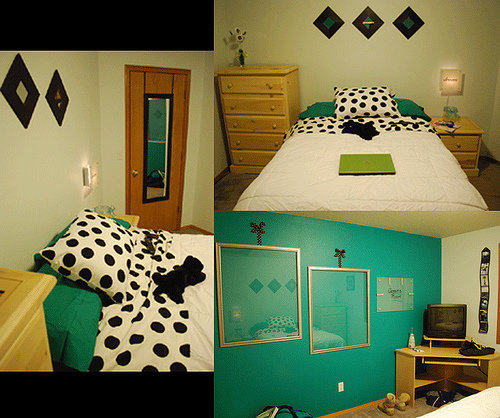 Photo Credit: cassie_jean
Choose an unusual color theme that goes together, but is unexpected! Mix solids with a pattern, you could choose stripes, checkers or plaid. Paint one wall a bright bold color, but leave the rest white. This adds a pop of color, and keeps the room fresh and different. It's also a lot less work! Have fun experimenting and finding the perfect combination for you!
Re-decorating is fun! Express yourself and think of different ways to be creative! You'll be able to relax much easier in a space that feels comfortable and you will enjoy having friends over to party in your new space! So, did you get any inspiration?
Top Photo Credit: 8 SίMpLe RuLeS