Need inspiration to get in shape for the coming bikini season? How about some fantabulous magazine covers with beautiful celebs? Sure, sure these covers are Photoshopped but you have to admit, they can, to a degree, inspire you to get off your behind and head to the gym. Or you know, take better care of your skin.
---
1

Kristen Stewart for Eva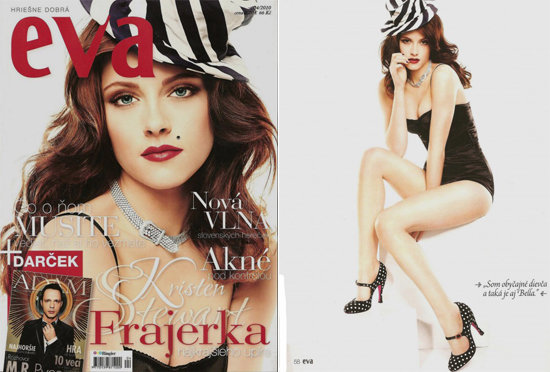 All right, this is the first time I have heard of Eva but I want to hug every person who works for the magazine because this is the first cover photo of Kristen that I really really love. Granted,I did not recognize her. But seriously, the firs time I saw the photo I immediately thought, "Pretty!" And love the shoes.
2. Tina Fey for Esquire
**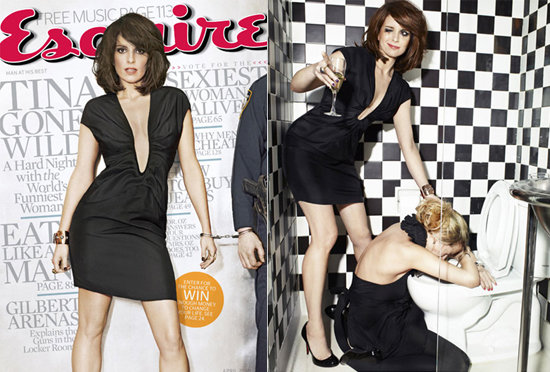 **
I love Tina Fey. Who doesn't? For this particular shoot, the concept was a "wild night out" with her. Of course, she had to set limits because she claims that she doesn't do wild nights. The photos turned out great. And here are fun quotes from the interview: "What I've come to realize is that when people say, 'The thinking man's whatever' — there's no such thing. The thinking man also wants to f-ck Megan Fox." "My parents are going to be like, Why did you curse that much in that Esquire article?"
---
3

Demi Moore for Harper's Bazaar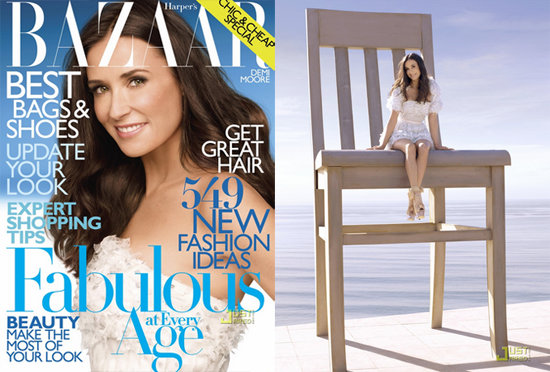 Oh, to be in my late 40's and still be THIS hot. Many people have issues about her denying that she's had some work done. I don't care that much because it's pretty obvious anyway. Besides, I like her because she seems to be a lovely wife and person. Here is a sweet quote about the start of her relationship with Ashton: "But when you don't know someone, you can't just jump and say, 'I love you.' 'Nice to meet you, I love you!' Yeah. No. We used to end our calls or emails with 'And everything we don't say.' It just seemed too much, too soon." And everything we don't say? Too cute.
---
4

Kara DioGuardi for Women's Health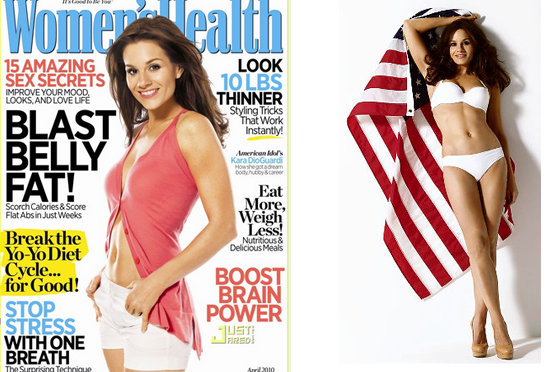 First off, I didn't know she's 39 (!). And secondly, I didn't know she helped write some pop songs I actually like. One example is "I Do Not Hook Up" by Kelly Clarkson. Here's what Kara had to say: "I wrote this with Katy Perry on my kitchen floor. Originally the line was 'Keep your thing in your pants, your heart on your sleeve,' which I really liked. But Kelly hanged it to 'Keep your head in my hand and your heart on your sleeve." Okay, I can just imagine Katy sitting on a kitchen floor somewhere and writing a song. How fun!
---
5

Heidi Klum for Allure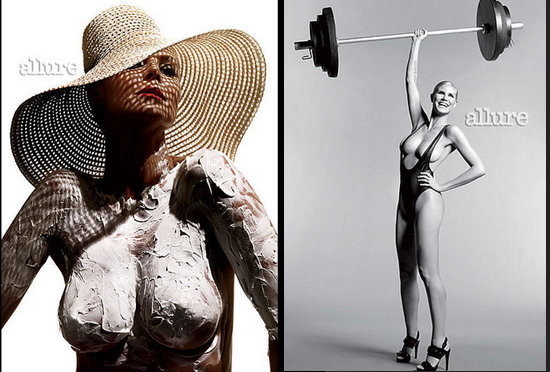 Look at her! Just ridiculous. How many women can pull off a look like that with just a pretty hat and not look cheap! I must keep in mind some little gems from her interview. Some examples are to drink milk and stay out of the sun. Still, she's lucky she has great genes. Case in point: "I didn't get stretch marks during my pregnancies, and I wasn't even moisturizing myself like a maniac." Life is unfair.
---
6

Gisele Bundchen for Vogue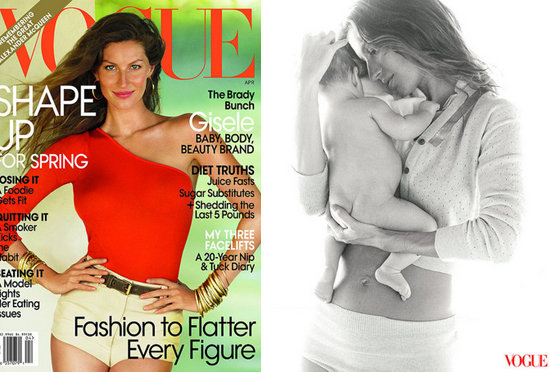 Why, hello there, 90's. I'm not so sure how I feel about this 90's cover but the other photos are wonderful. And look how cute baby Benjamin's butt is! I shall also add that it's ridiculous that she got back to fighting (model) form so soon after giving birth. Of course, it helps that she stayed healthy. "I did kung fu up until two weeks before Benjamin was born, and yoga three days a week. I think a lot of people get pregnant and decide they can turn into garbage disposals. I was mindful about what I ate, and I gained only 30 pounds. I think it's muscle memory."
---
Comments
Popular
Related
Recent