2010 is just around the corner and the fashion industry is always a jump ahead on all things trendy. This is no different with the** wedding industry**. To help you stay ahead here are 5 of the hottest**wedding dress**** trends** for 2010.
---
5

Little Flowers...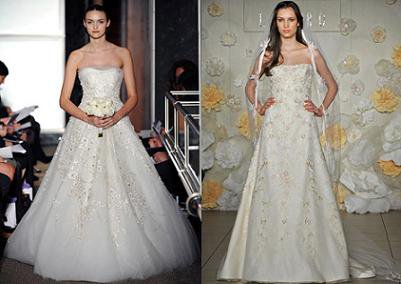 Big flowers are always going to be in style, but now designers like Carolina Herrera(left) and Lazaro (right) have created beautiful wedding gowns dazzled with intricate little flowers that make their own big statement. Herrera's ivory gown also includes tulle, which is another big trend. Lazaro's matching chapel veil is the perfect piece for all you brides who need a veil for your silk organza A-line. Bring spring to life with little flowers on your wedding dress in 2010.
---
4

Bold Prints...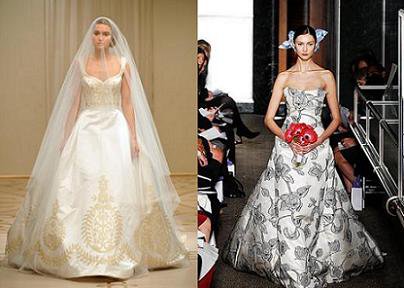 Stand out in remarkable bold prints like the ones on these dresses by designers Reem Acra(left) and Carolina Herrera(right). Whether it be in a floral print of ivory and black roses or a golden work of art, dare to be the bride of the year in either of these gowns. I love the unique look of the prints, could you see yourself throwing the bouquet in a bold print?
---
3

Soft and Elegant...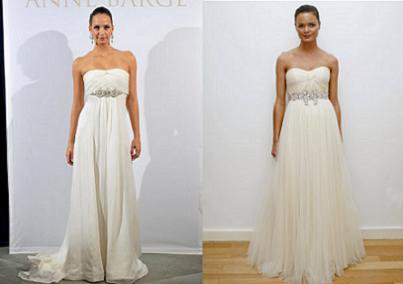 Both Anne Barge(left) and Jenny Packham's (right) gowns look** soft** to the touch and would make a fabulous beach dress. I love how the sparkles just below the bust grab your attention and help to make the bottom of the dress flow smoothly. Pair the gown with cute flat sandals and a sun tan and you'll be ready to say "I do".
*5 Hot Jewelry Pieces for Every Bride...
---
2

Wrapped in Tulle...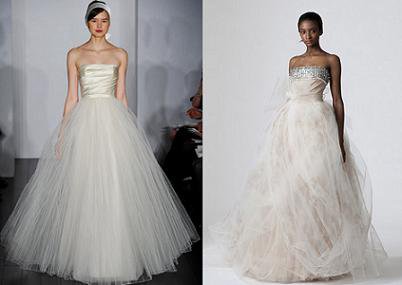 Tulle is a style that you either love or love to hate and on Amsale(left) and Vera Wang's(right) gowns I love to love it! The satin bodice with the tulle skirt on Amsale's A-line reminds me of a dress a princess would be proud to wear and all she needs now are her glass slippers! Vera Wang always amazes me with her** stunning details** like the tulle on this gown that flows on top of a pink skirt and crystal beadwork that beautifully lines the bust. Everyone will definitely be asking who you're wearing as you walk down the aisle in Amsale or Wang's dresses.
---
1

It's All about the Hat...

Carolina Herrera (left) has put together another trend along with Oscar de la Renta (right) with the astonishing**hats** that these models are wearing with their wedding gowns. The hats match so well with each dress that without them it wouldn't be a complete ensemble. The polka dot fabric and design of Herrera's dress has a vintage feel while Oscar de la Renta's dress has a 2010 trendy feel all over with the tulle and v-neck bust. I'm still not sure what to wear with my own gown, could a hat be it?

*****5 Hot Ways to Trash the Wedding Dress...

*Top 8 Wedding Dresses for a Fall Wedding …

** **

**Which trend is right for your wedding? **

** **

**Photo Credit: **MarthaStewartWeddings.com, Coutorture.com
---
Comments
Popular
Related
Recent