Do you enjoy wearing sequin dresses? Do you have a big event coming up in the near future and you would like to shine and wear a sequin dress? If so, then you should pay attention to this post as I am going to give you 16 best little sequin dresses for Fall-Winter 2009 – 2010…
---
16

Stella McCartney Sequin Silver Dress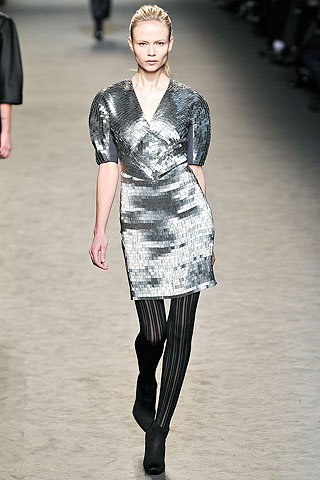 This is a silver, sequin dress that comes right above the knees. It has a V-neck line and is not sleeveless. I believe this would be a perfect dress to wear for dinner and a movie. Wearing colorful leggings under it is a great addition to it.
---
15

Balmain's Rhinestone Cowgirl Silver Sequin Dress with Black Stripes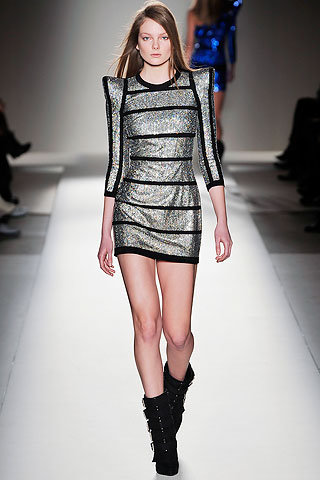 This silver sequin dress is one hundred percent adorable. It is not for those women that like short dresses/skirts as it is pretty short. It has silver sequins on it with black stripes going around it. The shoulders of this dress will give them that pointy look. The sleeves come just below the elbow.
---
14

Alexandre Herchcovitch Stripes It Rich Black and Gold Striped Sequin Dress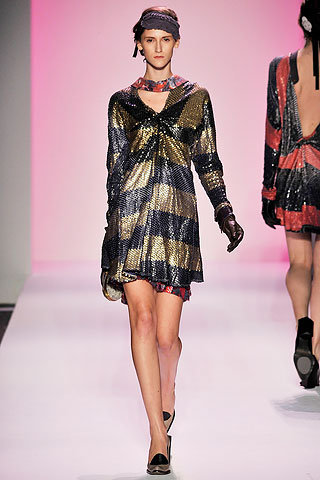 This dress really is adorable. It has wide black and gold stripes on it. It is not the average tight sequin dress and is a bit on the baggy side. This dress is also pretty short, but is great for an outing on the town.
---
13

Grid Lock at Jen Kao Sequin Dress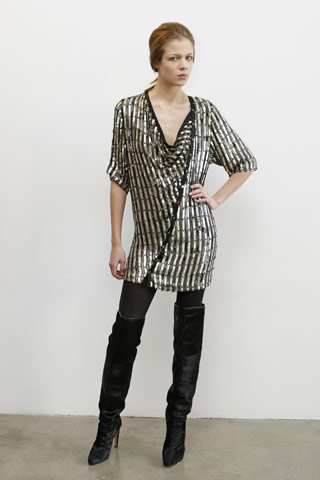 This dress has the lovely up and down black stripes that many girls like. It also has a big black line going catty corner across it. It will give any girl that sophisticated look. I believe it would look great with knee length boots. What do you think about it?
---
12

Grid Lock at Jen Kao Short Sequin Dress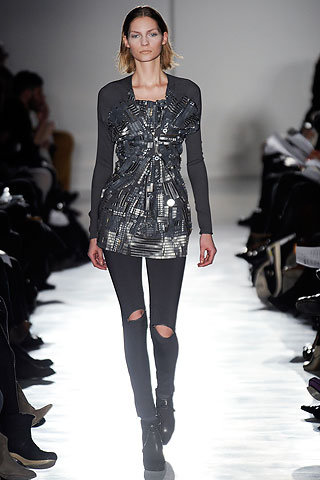 This is a dark sequin dress that is very short. Wearing it with leggings and a black under shirt is a great idea. From the pictures, it appears to be sleeveless, does it look that way to you? How do you think it would look with red leggings and a red shirt for a Christmas event I will be going to?
---
11

Feeling (Snow) Flake-y at Antonio Berardi Sequin Dress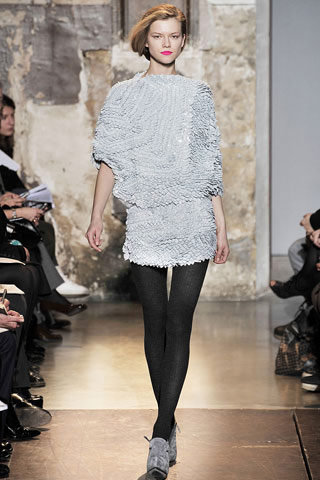 You know, when I look at this dress, there is just something that grabs my eye. I have been thinking about getting it for so long. It just has that fluffy look that you do not normally see in sequined dresses. The upper part of the shirt looks kind of like a shawl as you can barely see the sleeve line.
---
10

Louis Goldin's Short Black Sequin Dress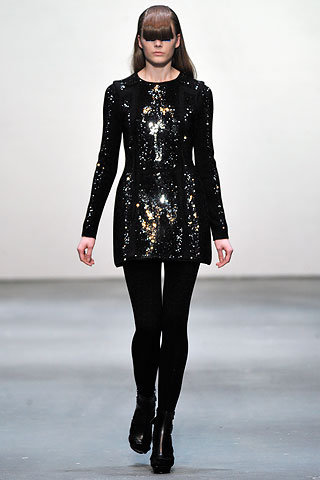 This black sequin dress will be sure to turn heads. It is short in length and is perfect if you like short stuff. The sleeves are long and skinny. It's like your average dress, but has sequins on it.
---
9

Nicole Miller Dark Sequin Dress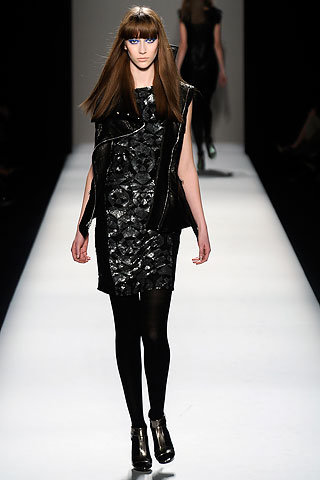 This looks like one of those dresses you would only find on a runway model. The dress itself comes right above the knees. The dark sequins really do add something to this dress. This dress also has a unique design on it and I think it would be great for any event this fall or winter.
---
8

Davidelfin's Fiesta Wear Black Sequin Dress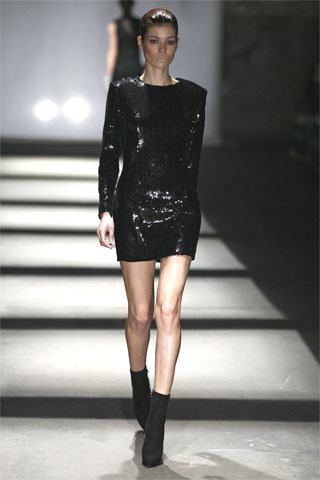 This black sequined dress is short in length and has long sleeves. The neckline is not droopy and basically hugs the neck. The only thing this dress reveals are the legs and it is perfect for those that have long, sexy legs and like to show them off.
---
7

Fresh Cuts at Twenty8Twelve Turquoise Sequin Dress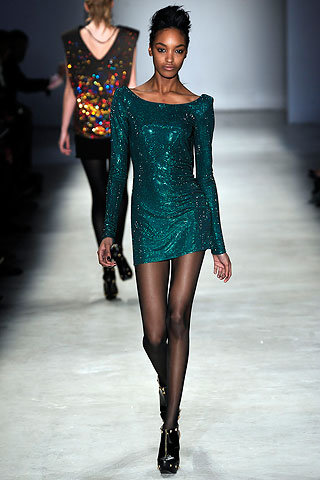 One thing that I have notices is if you have light skin, wearing turquoise will make you look really pale. I think this dress would look great on those who have tans. It's a short dress with long sleeves and many sequins that will keep you glistening all night long.
---
6

Disco Dancing at Gucci Short Sequined Dress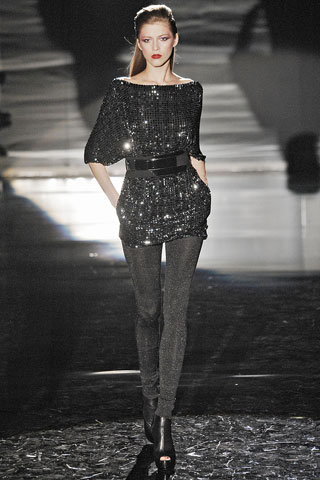 This dress is so short that you will definitely need to wear something under it. It has those type of sleeves that reveal the shoulders and just makes you look sexy all together. The sleeves are baggy as well. When you add a wide black belt to this dress, you just finish it off. What do you think about this dress? What would look good with it?
---
5

Up in Armor at Alexander Wang Black Sequin Dress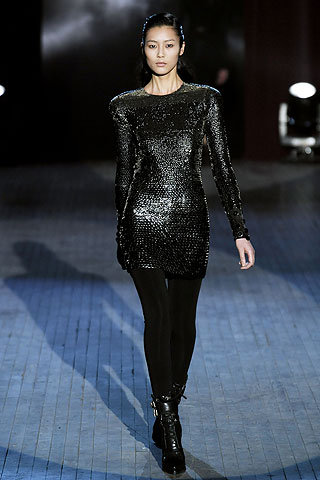 If you have a big event coming up in the near future, then this dress will be sure to fit in. For some reason, the sequins that are on this dress are extremely shiny. It does not have a revealing neckline or anything like that. It also has long sleeves. It is short in length, but if you do not like short dresses, then wearing tights under it will look great. It will also help to keep you warm…
---
4

Barbara Bui's Midas Touch Gold Sequin Dress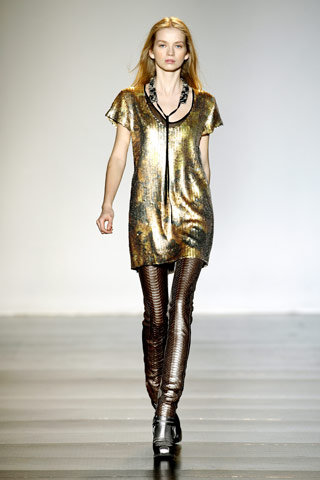 This dress is short and gold in color. It also has cute little black designs on it. The sleeves are short and the neckline is low enough to wear a short necklace. This dress would be great for a Thanksgiving event…
---
3

Macqua's Copper Tone Short Black Dress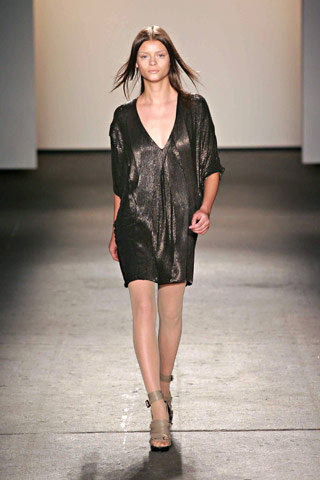 This is a short, black sequined dress that appears to be pretty baggy. It has a low V neck line and would look great with a black beaded necklace around the neck. The sleeves are medium in length and also baggy. What do you think about this dress? Do you like it?
---
2

Threeasfour's Space Odyssey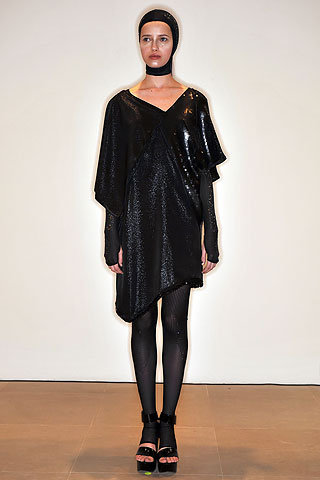 The bottoms of this dress are lopsided. It is not cut straight across, like normal dresses. Actually, the right side of the dress (the whole thing, including the sleeves) are longer that the left side, which really adds a unique look. What do you think about this dress?
---
1

Caviar Dreams at Michael Kors Long Black Sequin Dress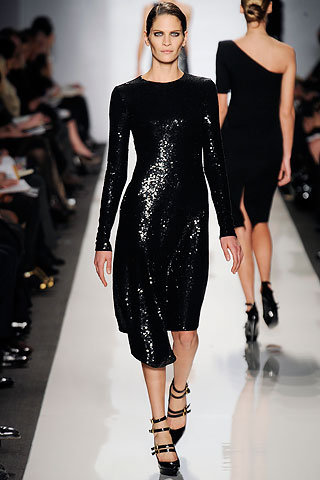 When I look at this dress, it seems like the bread winner to me. What do you think? I mean, this is very beautiful. It has everything I like in a dress. The sleeves are tight, it's tight, but at the bottom, it has that lose look. The sequins also add something to this black dress. What do you think about this one? Is it the winner?
Okay girls, I want you to pick out the dress for me. I want you to tell me which one won you over…
More Fabulous Posts on Fashion:
Winter Fashion:
• 35 Most Fashionable Winter Coats
• 46 Most Luxurious Fur Coats for This Winter
• Winter Shoes Trends …
• Winter Shoes - 77 Most Fabulous Picks
• 9 Hottest Fashion Trends for Winter 2009
• 18 Brands to Buy Perfect Skinny Jeans from
• 18 Best Denim Brands for Every Budget
• 5 Steps to Buying Perfect Jeans
• 47 Hottest Purple Bags
• 34 Winter Bags to Die for!
• 10 Hottest Gucci Handbags
• Prada Hanbags - Hot 16!
• Top 10 Balenciaga Bags for Fall-Winter
• 6 Runway Fashion Trends for This Winter
Summer Fashions:
• Great Summer Clothes - Top 35 Picks …
• Top 10 Bathing Suits for Summer 2009 …
• 7 Runway Fashion Trends for Spring-Summer 09 …
• 15 Most Daring Shorts for Spring-Summer 09 …
• 27 Coolest Platform Shoes for Summer 2009 …
• 12 Coolest Cut-Out Shoes for This Summer …
• 17 Most Fabulous Flats for This Summer …
• 16 Coolest Wedges for This Summer …
Jewelry & Fashion Accessories:
• 60 Most Fashionable Accessories for This Spring-Summer …
• 15 Hottest Big Earrings for This Spring-Summer …
• 7 Best Dior Diorette Rings …
• Which of 3 Harry Winston Diamond Rings Would You Choose?
• 14 Hottest Designer Sunglasses …
Handbags:
• 12 Top Designer Handbags …
• 10 Hottest Gucci Handbags …
• Prada Handbags - Hot 16!
• Chanel Classic Bags …
• 9 Signs Your Frenemy's Designer Bag Is Fake …
• 5 Reasons to Buy a Louis Vuitton Speedy Bag …
More
Comments
Popular
Recent