With so many celebrity breakups, divorces, and scandals we either laugh or smile when we hear about another celeb wedding or engagement. Loving weddings as much as I do, I only really want to know who made the bride's dress! But I do wish the new couple the best of luck and love for a lifetime. Here are 10 celebrities who have stuck their tongues out at Hollywood and tied the knot despite all the critics.
---
10

Beautiful Pregnant Bride to Be...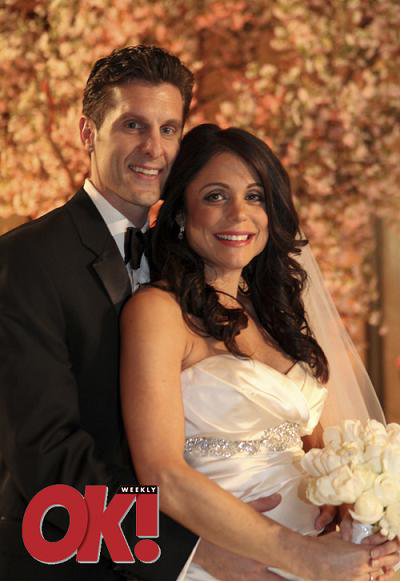 Photo: CelebrityBrideGuide.com
Bethenny Frankel got married! If you want to see her wedding to Jason Hoppy tune in to Bethenny Getting Married? next thursday on Bravo. This sweet couple married on March 28th at Four Seasons Restaurantin New York City. She wore a stunning mermaid style Amsalegown that showed off her beautiful baby bellythat disappeared on May 8th when Byrn Hoppy was born. I love the sparkle of Bethenny's gown, it reminds me of my own wedding gown!
---
9

Happy and Gleeful...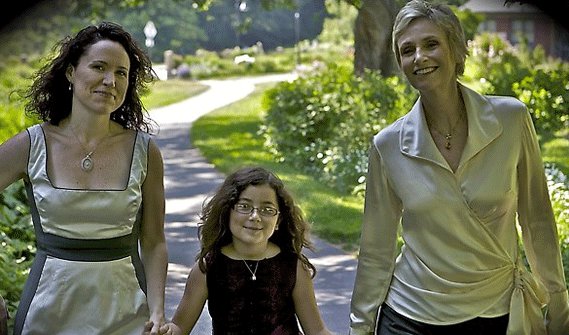 Photo: CelebrityBrideGuide.com
"Glee" star Jane Lynch created an intimate and loving wedding day at the Blue Heron Restaurantin Massachusetts on Memorial Day when she married Dr. Lara Embry. Close friends and family including Embry's daughter helped to celebrate the special day with the new couple who later honeymooned in Europe. I wonder if there were any Madonnasongs on their playlist?
8

Mexican Beach Wedding...
Photo: CelebrityBrideGuide.com
After calling off their wedding in 2009CSI Miamistar Eva LaRue finally married fiance Joe Cappuccio on a beautiful Mexican beach on June 26th. Her sexy** one shoulder gown** was made byOday Shakar, which LaRue helped design. The bride and groom along with their children (from other marriages) and guests danced to the live music of the Gipsy Kings, who flew to Mexico just for the wedding! I love the bright colors of her bouquet and how they stand out against her white gown. Will your wedding flowers be full of color?
---
7

Project Runway Groom to Be...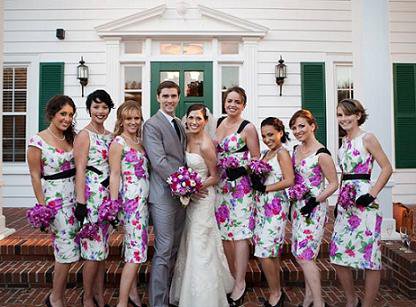 Photo: CelebrityBrideGuide.com
If your husband-to-be were to design your bridesmaids' dresses would they look as remarkable as Jesse LeNoirand Brittany Berkowitz's girls did? LeNoir may not have won Project Runway Season 7 but he did win the heart of his bride and bridesmaids! He bought the beautiful floral print in Hong Kong and with the advice of his bride-to-be made seven unique bridesmaid dresses to fit each girl's body and style. The couple wed on March 13th in Orlando, Florida at the Estate House at Cypress Grove as 210 guests looked on in amazement! Don't forget about the bride's dress, she is wearing a beautiful strapless Melissa Sweet gown, not made by her new husband!
---
6

90210 Playboy Gets Married...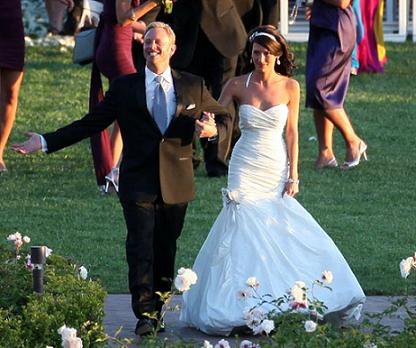 Photo Credit: CelebrityBrideGuide.com
Ian Ziering's character on Beverly Hills 90210was definitely not the marrying type. Good thing for his bride Erin Ludwig that life doesn't imitate the 90's TV show. Memorial Day weekend along with many other holidays are very popular for weddings as it was for their Jewish celebrationthat took place on a beautiful oceanview lawn outside the Pelican Hill Resort in California. Ziering's 90210 friends like Jason Priestley, Jennie Garth, and Brian Austin Green we among the guests. I love the fit and flair style of her gown from Jobyna's Bridal. What does your wedding gown look like?
---
5

A Supernatural Wedding...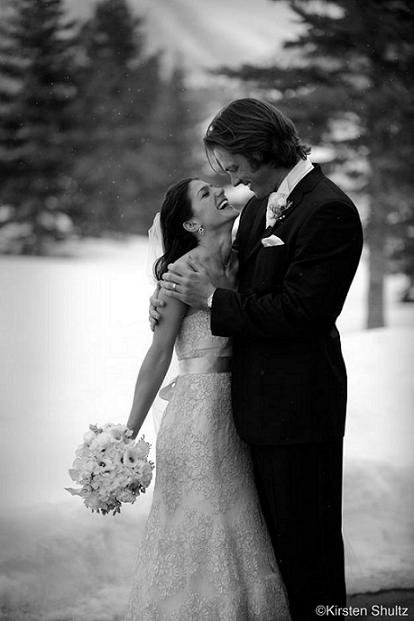 Photo Credit: CelebrityBrideGuide.com
Some brides and grooms wish for clear skies on their wedding day, but for Supernaturalstar** Jared Padalecki** and his bride Genevieve Cortese from **FlashForward **snow was exactly what they were wishing for on their winter wonderland wedding day. The bride looked elegant in herMonique Lhuilliergown on February 27th in her hometown of Idaho at the Valley Club where they danced in the snow and felt the warmth of each other's love and the love of their friends and family. What seasonwill you plan your wedding for?
---
4

Love in Italy...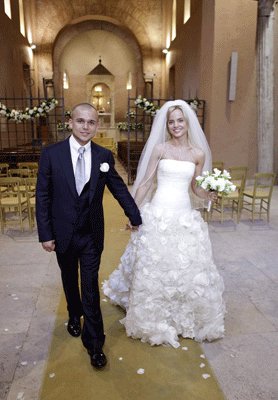 Photo Credit: CelebrityBrideGuide.com
Italy is magical and full of romance, which is why actress Mena Suvari and her record producer husband** Simone Sestito** planned a dream come true wedding there. Their ceremony was held at a beautiful church in Vatican City while they followed in the footsteps of Tom Cruise and Katie Holmes to hold their reception at the amazing Odescalchi Castle. Suvari was another celebrity bride who helped design her own gown when she worked with Stacey Bendet of Alice and Olivia. I love the floral skirt, she looks like a beautiful princess! Will you design your wedding gown?
---
3

An Easy Going English Wedding...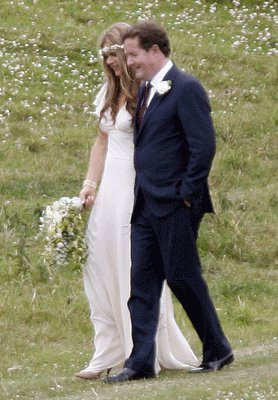 Photo Credit: CelebrityBrideGuide.com
Just because you're a celebrity judge on America's Got Talentdoesn't mean that you have to have a wedding as big as your show. Piers Morgan and his beautiful bride Celia Walden, who wore a delicate daisy chain headband and carried a wonderful bouquet of wild flowers, said their vows at St. Mary's Church in Swinbrook, England and then headed to a local pub to celebrate! What more could a bride and groom want than to get married and drink beer? A low key wedding is perfect for many couples who have busy lives like Morgan and Walden. How big is your wedding?
---
2

All in the Family...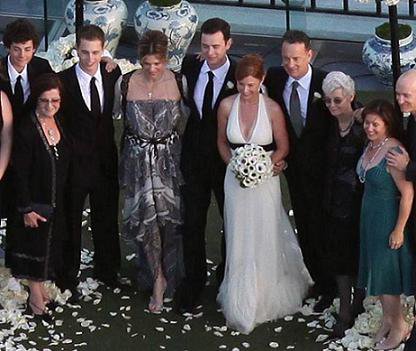 Photo Credit: CelebrityBrideGuide.com
When you have guests like Reese Witherspoon and Alyssa Milano at your wedding you know your a celebrity! The father of the groom, actor Tom Hanks, along with his wife Rita Wilsoncelebrated the beautiful wedding of son Colin Hanks and** Samantha Bryant** on the rooftop of theLondon West Hollywood Hotel. I love how the bride's bouquet perfectly matches the white and black colors of her gown. After the ceremony they enjoyed a cocktail hour by the spectacular rooftop pool, hopefully no one pushed the new couple in! Will you have your wedding on a rooftop?
---
1

A Fairytale Wedding...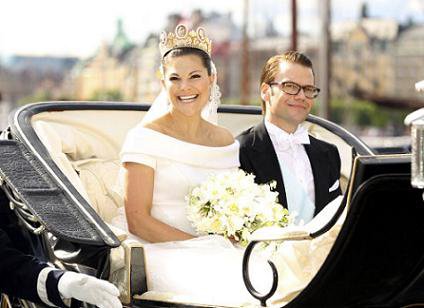 Photo Credit: HuffingtonPost.com
We haven't seen a wedding this magnificent since Princess Dianamarried Prince Charles but on June 19th 500,000 people gathered on the streets of Stockholm to see the stunning** Crown Princess Victoria** in all her glory, who showed us what it's like to be a real princess! The bride married her former fitness trainer Daniel Westling, which was at first disapproved by the king, who eventually came around and walked his daughter down the aisle. On her wedding day Victoria wore the same shining Cameo tiara that her mother, Queen Silvia, wore at her own wedding in 1976. Her off-the-shoulder sleeved Pär Engsheden gown speaks of the class and sophistication she holds, while the carriage ride speaks of the fun fairytale wedding every bride wants!** Could you wear a 16.5 foot train like the one Princess Victoria wore? **
**What celebrity wedding are you looking forward to? **
Top Photo: Hot107.ca
(**Katy Perry** and Russell Brand are planning to wed later this year after he proposed in January on their trip to India.)
---
Comments
Popular
Related
Recent